Russian School circa 1800
A Group Portrait of the Bookseller Ernst Wilhelm Ziemssen with his Family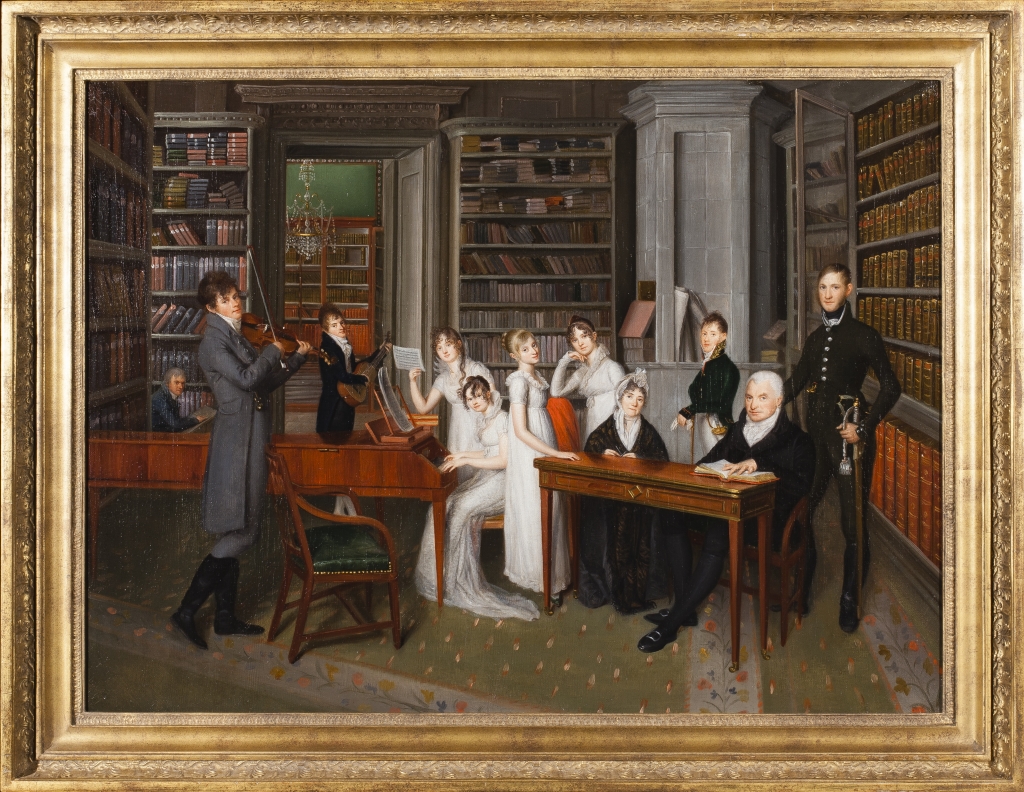 Medium:
Oil on Canvas
Dimensions:
50(h) x 66.5(w) cms
Essay:
Ernst Wilhelm Ziemssen was born on 18th of March 1750 in Stralsund, the son of master carpenter Johann Christoph Ziemssen and his wife Margarethe. His family was highly regarded in Pommern having produced many important clergymen. Ziemssen was the godfather of the writer and freedom fighter Ernst Moritz Arndt. He worked as office clerk in Putbus, then served as tax officer in Stralsund until 1795. From 1796 he lived in St. Petersburg, where he founded the first German library, combining it with an art gallery. He died in 1810 at the age of sixty.
The painting shows the art dealer and librarian surrounded by his family. Beside his wife and the seven children an employee (sorting books) and a music teacher can be seen on the left side of the painting. The amount of books refer to Ziemssen's profession as a librarian. While the instruments being played by the children demonstrate the importance of music-making to the family, the two sons in uniform, standing behind their parents, symbolize their father's pride in their success. The folding table at which Ziemssen sits, is decorated with bronze and is a typically Russian piece of furniture of this period, as is the chair. By contrast, the pianoforte shows stylistic elements from Western Europe and has probably been brought from the previous home of the family. Perhaps the most valuable piece of the interior is the large, surely Russian, chandelier seen in the room at the rear. Comparable examples to this are known from Ostankino or Pavlovsk.
On the back of the picture is pasted a historical newspaper cutting, which refers to an advertisement of the bookseller:
"one hundred years ago- on 5th of June 1803
(77th Annual Edition of the St.Petersburg Newspaper).
Advertisement. The booksellers Ernst Ziemssen, in the Verezhouse by Police Bridge near the Nevsky Prospect, distribute cataloges of French and German books. There one can subscribe to the reading library, which contains a collection of German and French books and always stocks the newest editions in both languages. Some new English works have also arrived for sale."
Provenance:
Private Collection, Germany