Karl Girardet
1813 - 1871
A Landscape on the Banks of the River Marne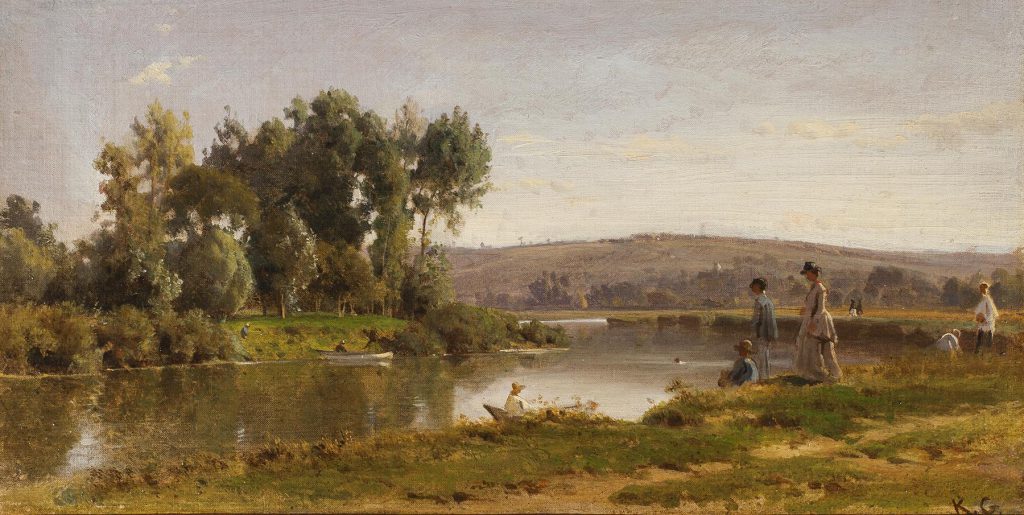 Price:
£ 18,000
Medium:
Oil on Canvas laid on Panel
Category:
Dimensions:
19(h) x 36.5(w) cms
Signed:
Signed with Initials 'K.G.'
Inscribed verso 'No de la catalogue de 1872. 323. / paysage au bord de la marne. / dhy.fr'
Exhibitions:
Essay:
Karl Girardet was born in the village of Le Loche, then in the French republic (it was accepted into the Swiss Confederation in 1816). He was the eldest son of the lithographer Charles-Samuel Girardet.
Karl moved to Paris at the age of nine where he became apprenticed to Louis Hersent and Léon Cogniet at the Ecole des Beaux-Arts. During a study trip to Switzerland in 1833-5, he met the painter Maximilien de Meuron and through his well heeled connections he gained a commission for two panoramas of Lausanne. Shortly afterwards he exhibited his first paintings at the Salon and it was here that he was noticed by King Louis-Philippe.
He began his career as court painter as a copyist but soon gained further recognition when he won a distinction at the Salon of 1837. A successful collaboration with Cogniet on two vast battle scenes at Versailles allowed him to travel across Europe. He went to Düsseldorf, the Tyrol, Croatia and Italy. A further distinction at the Salon of 1842 gained him regular commissions from the Neuchâtel Friends of Art.
The King sent him to Egypt in 1844 with his brother Edouard and after this six month sojourn he was rewarded with several significant state commissions by Louis-Philippe. At the same time he was illustrating important books (including Adolphe Thiers's Histoire du Consultat et de l'Empire).
In July of 1848 he was witness to the fall of the monarchy and he fled to Brienz in Switzerland where he concentrated on landscape painting. He returned to France in 1850 and began by illustrating Alfred Mame's, Bibliothèque de la jeunesse chrétienne. La Touraine. It won a first class medal at the Exposition Universelle of 1855 and gave Girardet many more commissions from Mame.
In 1857 his studio moved to the Montmarte quartier of Paris and remained here until his death. Despite regular trips to the mountains and a steady stream of work, the Prussian invasion of France but him into a deep depression. His eye was wounded during the Parisian seige while he was sketching Prussian positions. Fearing blindness he died alone in his apartment in Montmartre. His estate left over 100,000 francs which is testament to his popularity and success.
His work was firmly rooted in the tradition of Romanticism and were it not for Royal patronage his landscapes would have dominated. His prolific drawings and sketches during his journeys show him to be an especially talented draughtsman as well as the ethnographic reports he submitted and had published by the many travel journals of the day. His important contribution to European landscape was to compel Swiss artists to develop their landscape art and give it broader international recognition.
Provenance:
Acquired directly from the artist's workshop (vente atelier), according to a lacquer seal on the reverse, 19th-20th April 1872, Hôtel Drouot, lot 323;
Sale Versailles, 10 July 1963, cat nº 7;
Collection of Georges and Solange Delauney;
by descent to Jean-Claude Delauney