Dirck Van Delen
1605 – 1671
A noble Family and its Entourage in a Palace Courtyard, a Group of Men playing a Ball Game beyond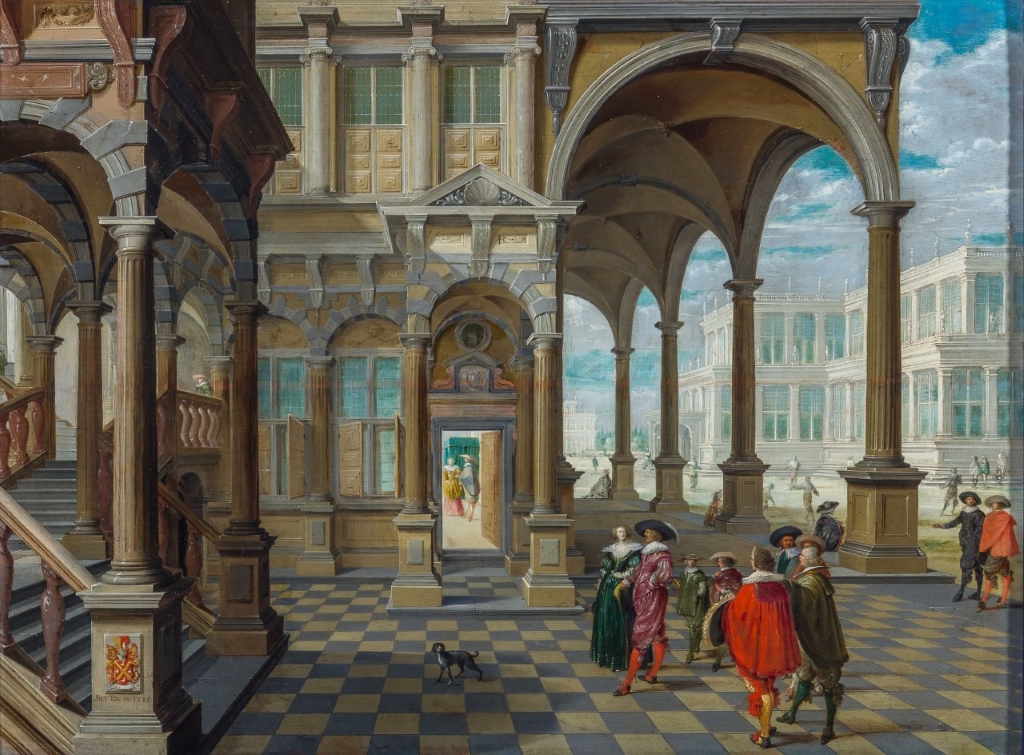 Medium:
Oil on Panel
Category:
Dimensions:
48.9(h) x 66.2(w) cms
Signed:
Remains of signature bottom right
Essay:
The present work, dated 1631, compares closely with a group of paintings depicting opulent baroque architectural settings inhabited by elegant figures, dating to the 1630s, such as the Architectural fantasy, in the National Gallery, London (dated 1634) and An elaborate architectural capriccio with Jepthah and his daughter (dated 1633) sold at Sotheby's, New York. This type of finely painted fanciful setting, carefully constructed according to perspectival rules and populated with richly dressed figures, was probably painted for aristocratic and courtly patrons connected with the Court of Orange in the Netherlands, as the coat-of-arms on the plinth, lower left, seems to indicate. Van Delen drew inspiration and even borrowed motifs from the graphic work of Hans and Paul Vredeman de Vries (see for example his DORICA AVDITVS for his series of the Five Senses, fig. 1), the Dutch father and son who worked at the court of Rudolf II in Prague, in a style influenced by that of Hendrick van Steenwyck the Younger (died 1649). He often worked together with figure painters, such as Jan Olis and Anthonie Palamedesz., who animated the picture plane with figures which almost became the focus of the painting. We are grateful to the Central Bureau of Genealogy and Heraldry at the Hague for identifying the coat-of-arms in the painting as that of the Rijnders family of Amsterdam.