Dirck Van Delen
1605 – 1671
A Palace Courtyard with elegant Figures and Sportsmen playing Kaatsen in the middle Distance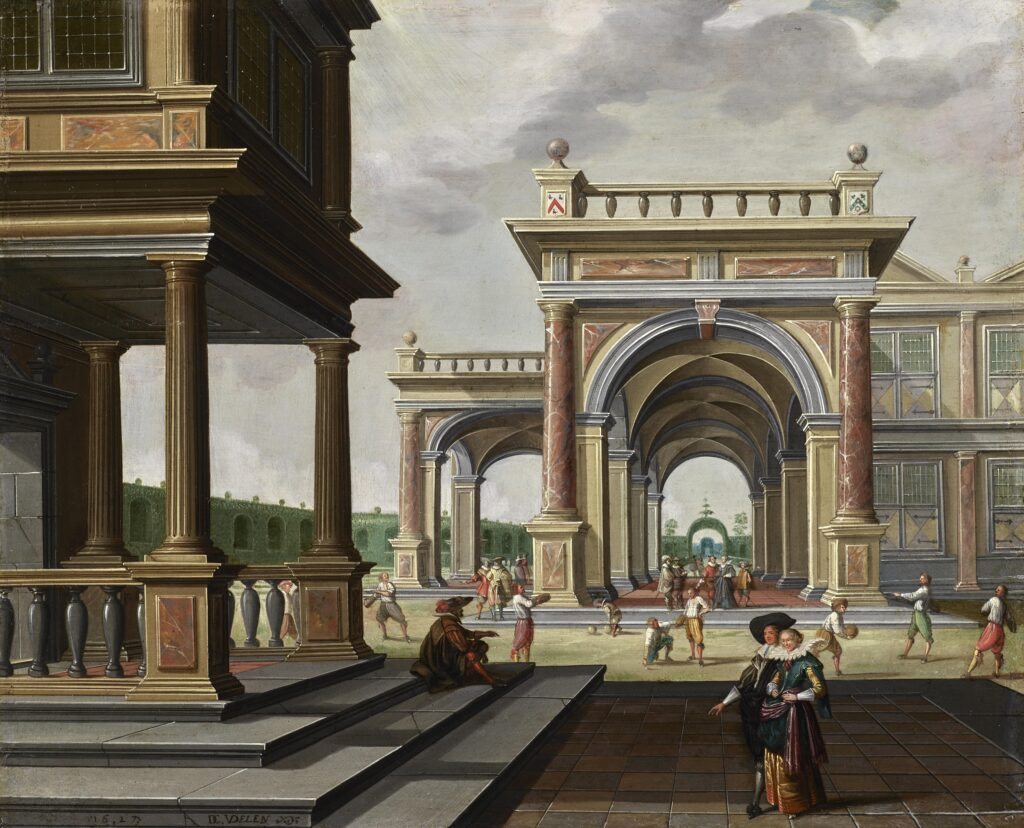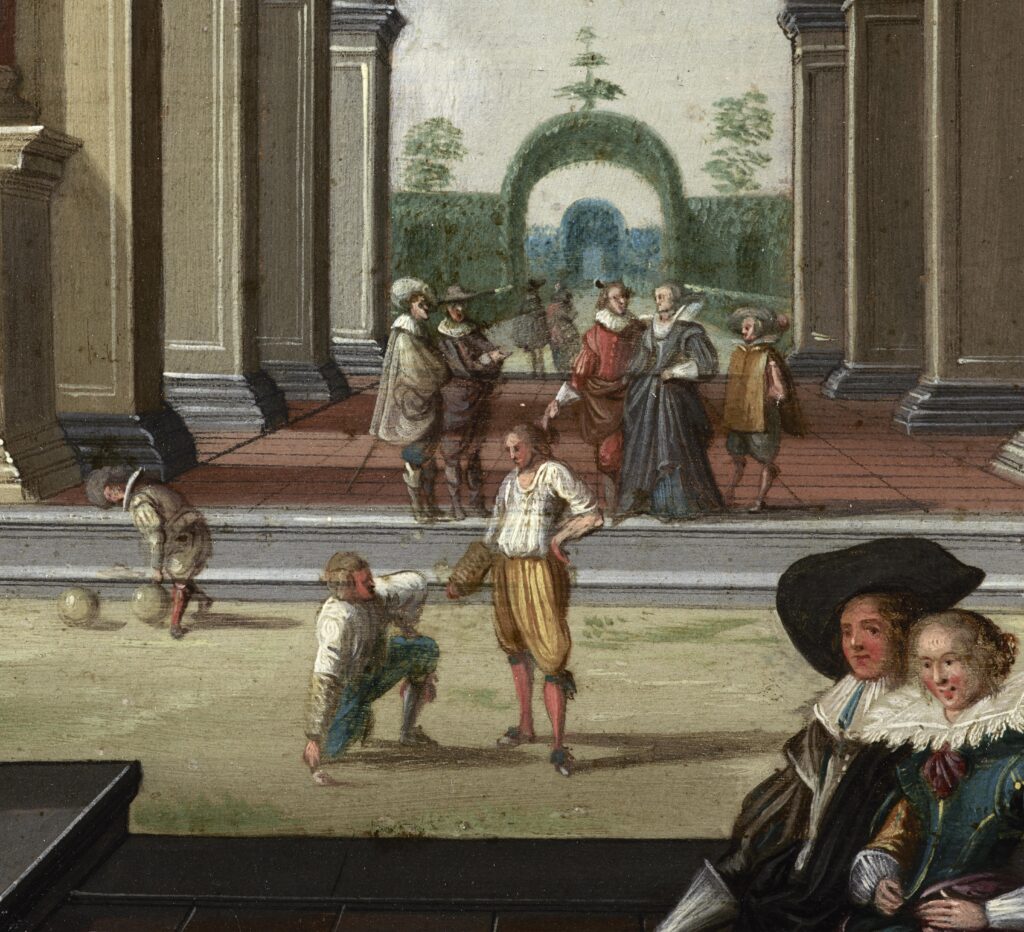 Medium:
Oil on Panel
Dimensions:
29.2(h) x 36.8(w) cms
Signed:
Dated and signed lower left '1627/ DC VDELEN'
Essay:
Dirck van Delen discovered his abilities as a remarkable painter of architectural compositions at a young age working from the prints of Hans Vredeman de Vries (1527 – 1609). He concentrated on painting interiors of palaces, great halls, fictitious church interiors and extensive garden panoramas with consummate skill. His paintings show the same attention to architectural detail as those of the celebrated master of this subject, Hendrick van Steenwijck (c.1580 – 1649).
In 1639 van Delen was elected a member of the Guild in Middelburg and records show that he paid his annual subscription there until 1666. In his early years van Delen travelled to Italy and it is probable that he was there in 1623, but by 1625 he was married and back in The Netherlands, living in Middleburg. However, he was to settle in nearby Arnemuiden, where he became master of the toll house. From 1628 he was almost continually a member of the town council, usually as a burgomaster. From September 1668 to September 1669 he is recorded as living in Antwerp. He was widowed three times and had at least one son, though no child survived him. At his death in 1671 his estate was quite considerable, clearly augmented by his success as a painter.
In van Delen's palace scene the imaginary Italianate baroque architecture has been populated by well-to-do Dutch men and women who stroll, play, or sit leisurely amongst the clean, pastel colours of the courtyards and porticos. Van Delen studied the work of Dirck Hals (1591 – 1656) and Hendrick van Steenwijck in the 1620s, teaching himself to paint figures to populate his architectural scenes. It has been suggested that the young couple are a motif borrowed from Hals, and in 1628 Delen would go to work in Hals's studio. Kaatsen players had already featured in a collaborative work dated to 1623 by Delen and Steenwijck today in the Hermitage, St. Petersburg.
The diagonal lines of the steps in the left foreground draw the eye to the vanishing point through the vaulted arches giving an irrepressible sense of depth. Horizontal lines of shadow and light neatly divide foreground, middle, and background to create an orderly composition blessed by an Italianate light. Van Delen's choice to include arches and pillars in the composition lifts the weight of the buildings off the ground, allowing light to filter in and a sense of airiness to pervade. It also provides ample space for the game of kaatsen being played in the middle distance which is watched with some interest by the sitting gentleman while the young couple walks away from the games and into the picture plane.
The coats of arms of the van der Gracht family and the Becker family have been depicted on either side of the portico. Aelbrecht van der Gracht (? – 1639) - a merchant who worked for the Dutch East India Company - married Susanna Becker (1596 – 1651) on 28 April 1620. Van Delen presumably painted the artwork for the couple. He was distantly related to Aelbrecht.
We are grateful to Bernard Vermet for his help in preparing this catalogue entry.
Provenance:
Private Collection, USA