Alexandre Gabriel Decamps
1803 – 1860
A Partridge Hunt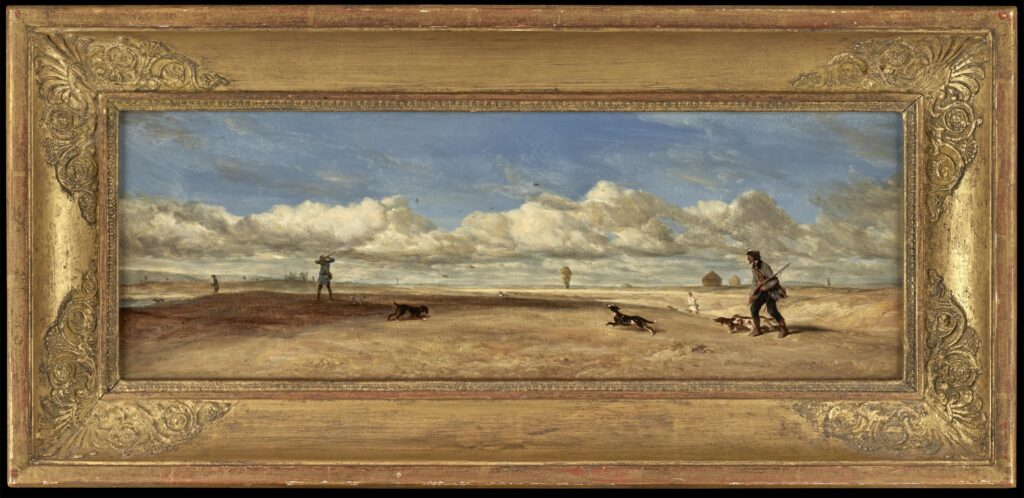 Medium:
Oil on Board
Category:
Dimensions:
15.5(h) x 42.4(w) cms
Framed Dimensions:
25(h) x 52(w) cms
Signed:
Signed and dated lower left 'DECAMPS 1843'
Essay:
Alexandre Decamps was born in Paris but spent his early years in an almost deserted valley in Picardy. After three years he returned to Paris where he studied briefly with Étienne Bouhot (1780 – 1862), later joining the studio of the history painter Abel de Pujol (1785 – 1861). Decamps was to receive advice and encouragement from Baron D'Ivry, an enlightened amateur. During his lifetime Decamps was lauded for his bold Orientalist paintings which were highly influential from the 1830s onwards. He was ranked along with Ingres and Delacroix as one of the leading French artists of the age.
Decamps developed a passion for travel that took him from Switzerland, then to the South of France, the Orient, Asia Minor, and finally, Italy. He was sent on an official mission to Greece and Turkey to collect documentation on the Battle of Navarino (1827). He collected enough sketches and souvenirs to sustain his whole career as a painter of oriental subjects. Decamps first exhibited at the Paris Salon in 1827 where his subject matter, brilliantly innovative and fresh for the age, made him the most influential artist among the new generation of Orientalist painters. Over his career he came to be highly regarded as a painter of landscapes, still lifes and, especially, animals (notably monkeys, which he referred to as his 'mania').