Wouter Pietersz Crabeth II
c. 1594/5 - 1644
A Portrait of a Gentleman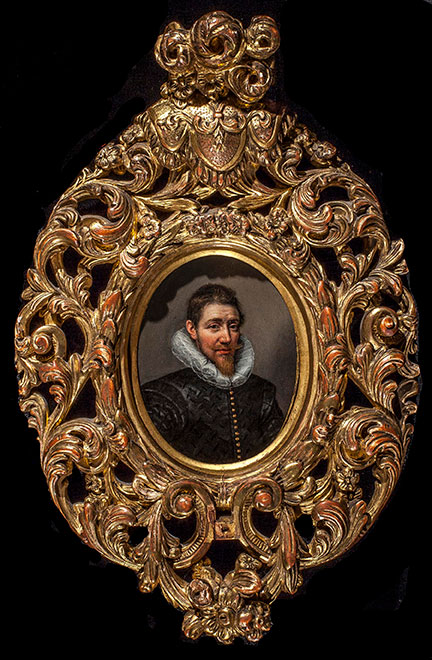 Medium:
Oil on Copper
Category:
Dimensions:
8.5(h) x 6.5(w) cms
Signed:
Signed and Inscribed verso: 'Wouter Crabeth / A 46'
Essay:
Recorded at the RKD under IB00103216
Wouter Crabeth was the son of the writer and politician Pieter Woutersz Crabeth. His grandfather, Wouter, had been a renowned glassmaker. He is thought to have been the pupil of Cornelis Ketel as well as Abraham Bloemaert in Utrecht, although this is a matter of some conjecture.
In 1613 he left Holland and travelled to Paris in 1615 and Aix-en -Provence a year later (possibly with the artist, Leonaert Bramer). He had reached Rome by 1619 and was to remain here as a member of the Bentvueghels for ten years. He lived with Bramer in the Strada della Croce and earnt the nickname 'Almanack'.
In 1626 on his return to Gouda he was a member of the militia or schutterij, a post he evidently enjoyed as he became a captain two years later, the same year he married Adriana Gerritsdr. Vroesen.
His later work is characterised by the significance of his commissions, usually on a grand scale and for major religious institutions. The influence of Rome and particularly that of Caravaggio is very prevalent in these dramatic paintings, the 'Doubting Thomas' of c. 1628 (SK-A-1965) in the Rijksmuseum being a particularly good example.
Provenance:
Private Collection, France;
Sale, Sothebys, Monaco, 2nd December 1989, lot 406;
Sale Sothebys, London, 21st April 1993, lot 146;
Private Collection, Italy