Circle of Robert Peake
c 1551 - 1619
A Portrait of a Girl, Half Length, in a Lace Cap and a Ruff wearing an elaborate jewelled Necklace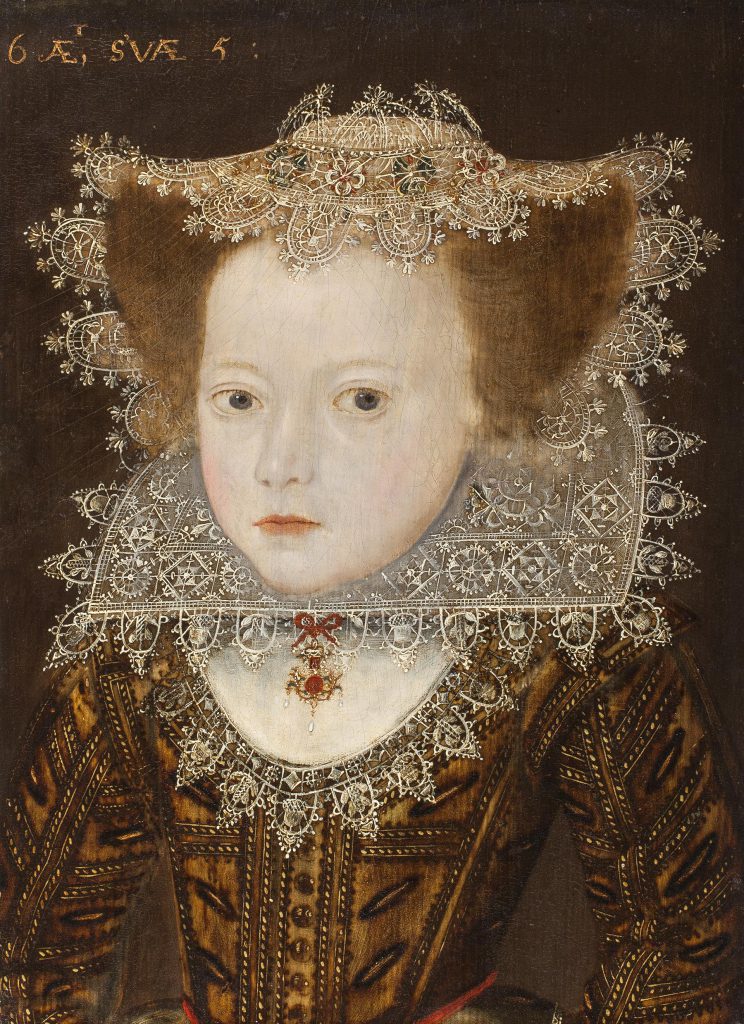 Medium:
Oil on Panel
Category:
Dimensions:
40.1(h) x 28.5(w) cms
Signed:
Inscribed upper left: '6 ÆT, SVÆ 5:'
Exhibitions:
Essay:
Robert Peake was an English portraitist who worked as Court painter to James I at the same time as his contemporary, John de Critz. It is believed he trained under Laurence Woodham and was subsequently apprenticed to the Goldsmith's Company where he became a freeman in 1576. His first documentary mention is in this same year where he is recorded as receiving payment from the Office of the Revels which oversaw court festivities for Elizabeth I. According to Roy Strong he was a well established portrait painter in London by the late 1580s. Rutland accounts record payments to him in the 1590s at Belvoir.
From 1607 he worked at Court with de Critz. It is thought his extensive work for Prince Henry encouraged the King, to employ Peake. He painted a number of portraits of both James I and Charles I as well as working on numerous private commissions that he received through his noble connections.
Peake's only signed work, entitled 'A Military Commander', dated 1593, is now in Yale (B1979.16) while the Metropolitan Museum in New York houses his double portrait of 'Prince Henry as Prince of Wales with Sir John Harington', (Acc.no. 44.27) a masterpiece of Elizabethan portraiture and painted in 1603.
His son, William Peake was a well-known painter and print dealer as was his grandson, Robert Peake the Younger.
Provenance:
The Berkeley Collection, Spetchley, Worcestershire.
Literature:
Spetchley Inventory, 1949, in the Library (as School of Gerhaerdts [sic], Mary Queen of Scots as a child)