Circle of Marcus Gheeraerts the Younger
1561 - 1636
A Portrait of a Girl of 5 years feeding a white Rabbit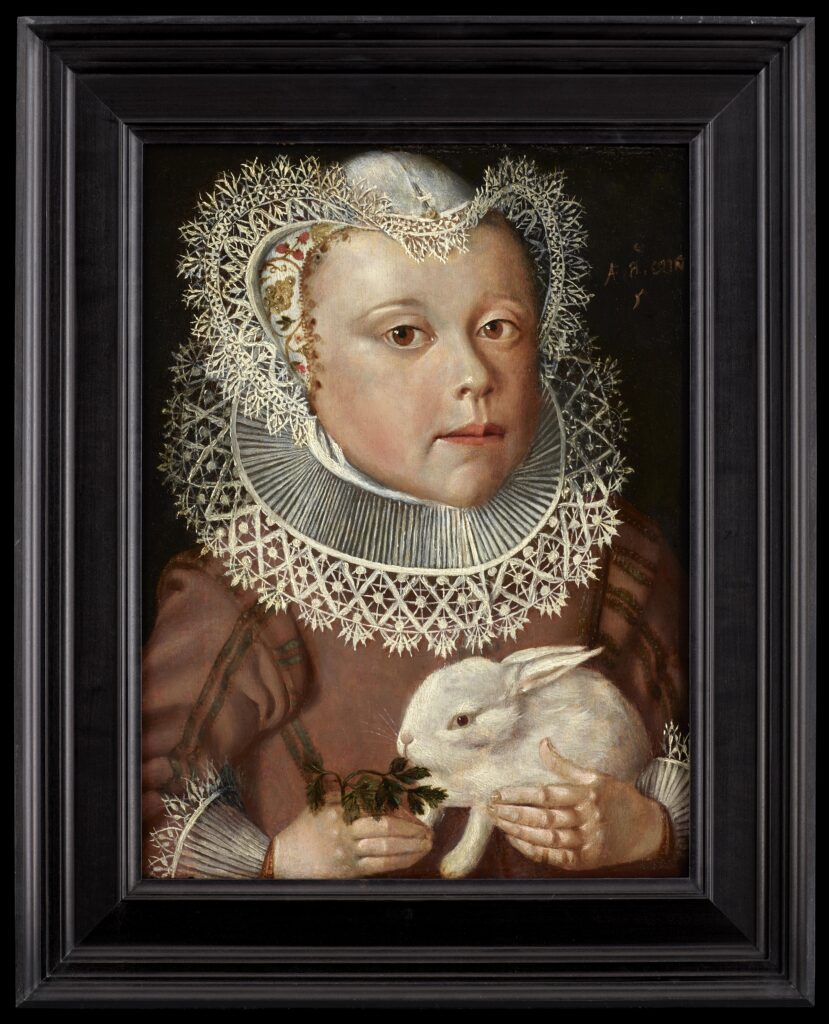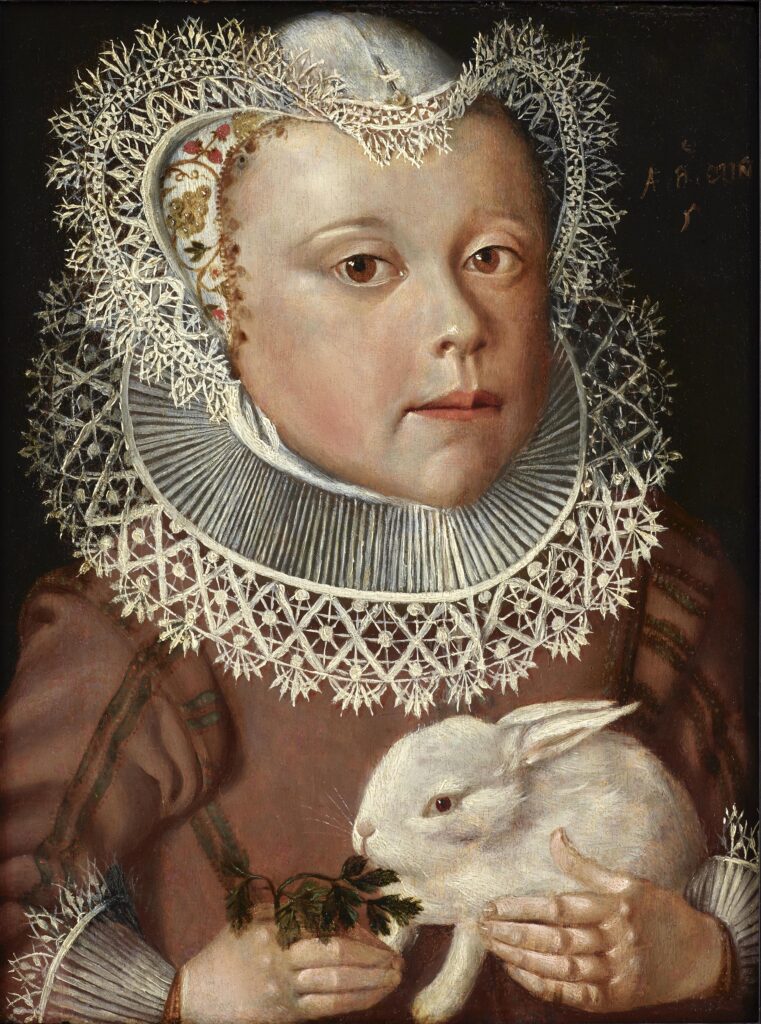 Medium:
Oil on Panel
Category:
Dimensions:
35(h) x 27(w) cms
Framed Dimensions:
46(h) x 37(w) cms
Signed:
Inscribed upper right: 'etatis sua 5'
Essay:
Marcus Gheeraerts the Younger was brought to England as a child by his Flemish father in 1568. He found early success painting in the court of Elizabeth I during the 1590s with some help from other Protestant Flemings who had likewise fled from Antwerp during the Dutch revolt. He married Magdalena de Critz, the sister of another expatriate Flemish painter, John de Critz (1551 - 1642).
It has been suggested by Roy Strong that Gheeraerts travelled to Antwerp for his training in the company of the portrait miniaturist Isaac Oliver (1556 - 1617) where they were influenced by the portrait style of Frans Pourbus the Elder (1545 - 1581). On his return to England Gheeraerts led a "revolution" in English portraiture. As Strong describes, Gheeraerts introduced increased naturalism, tonality, and enhanced the modelling of his sitters. He could also produce large scale portraits by relying on canvas rather than panel which up until then had been the convention in England.
Among Gheeraerts's regular clientele was Sir Henry Lee a great champion of the artist. Gheeraerts also painted Queen Elizabeth, the Earl of Essex Robert Devereaux. In the Jacobean era he painted Queen Anne, Lady Scudamore and Lady Jermyn in charming and often remarkably intimate portraits. His works can be found in many historic houses around Britain and abroad with some of the best and most important examples lining the walls in London's National Portrait Gallery.
The Latin inscription states that the young sitter is 5 years old and the lace ruff and pinned bonnet help to date the portrait to c. 1600. The cap delightfully decorated with strawberries and grapes is perhaps a padded cap meant to shield the child's head should she fall.
A full-length portrait of a boy aged 2 by Marcus Gheeraerts the Younger at Compton Verney dated 1608 provides a useful comparison. In both of these portraits, and in other paintings of children by Gheeraerts, pets such as rabbits, birds, and dogs occasionally appear. Their symbolism is not entirely clear, but the inclusion of animals may indicate the innate innocence of the children. They may also of course represent real-life pets which the children doted on. In our portrait the child cradles the white rabbit and holds parsley for it to nibble on. A depiction of a living rabbit during a period replete with hunting and game pictures is rather rare and refreshing to see.
Provenance:
Collection of the late Lt. Col. Guy Blewitt D.S.O., M.C. (1884-1969)