David Teniers The Younger
1610 – 1690
A Portrait of a Nobleman after Lambert Sustris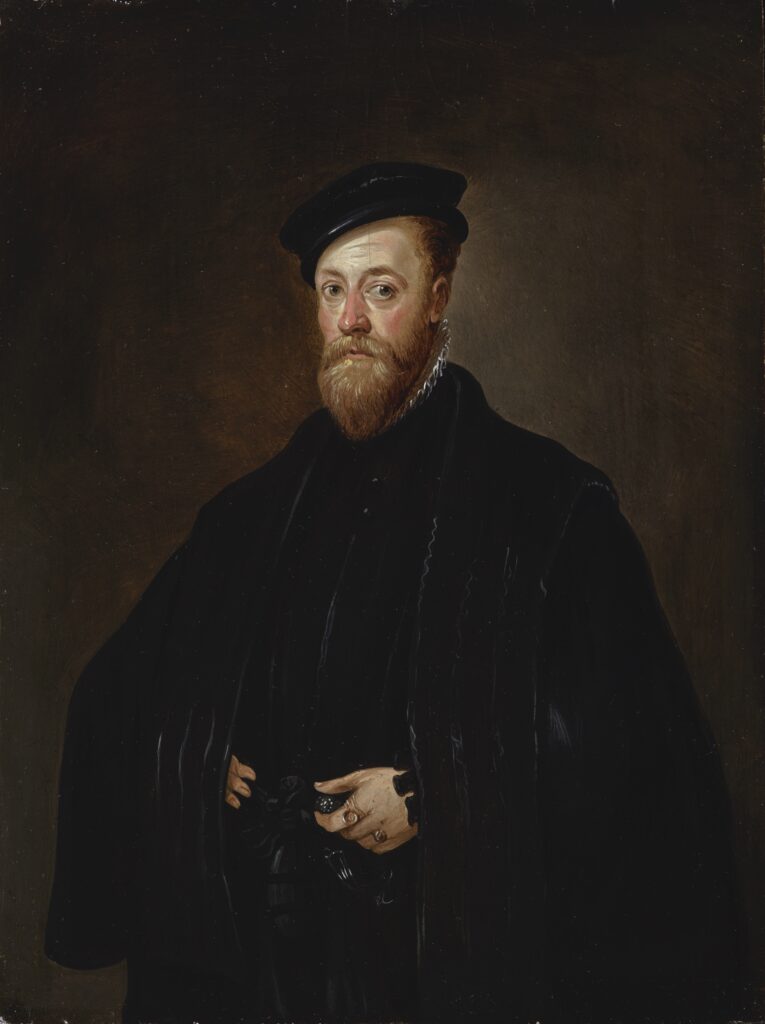 Medium:
Oil on Panel
Category:
Dimensions:
23(h) x 17.2(w) cms
Signed:
Numbered and inscribed verso
Essay:
David Teniers was the son and pupil of David Teniers the Elder and lived in Antwerp, joining the Guild in 1632. In 1637 he married Anna, the daughter of Jan Brueghel I. His output was prolific, and it seems this success was in part due to his good working relationship with the Antwerp art dealers. David Teniers became a central figure in Antwerp, holding the prestigious post of Master of the Chapel of the Holy Sacrament in the St. Jacob's Kerk from 1637 to 1639. He also became dean of the Guild of St. Luke from 1644–5. These positions in turn gained him many important commissions from highly important and wealthy patrons in the Southern Netherlands, notably Antonine Triest, Bishop of Bruges.
By 1647 Teniers was working for Archduke Leopold Wilhelm and was made his court painter in 1651 (Teniers paintings of his private Gallery are amongst some of the best known images in western art). In 1650 he moved from Antwerp to Brussels to be nearer his illustrious patron. Teniers was devastated by the loss of his wife in 1656 and remarried very quickly to Isabelle de Fren. In 1663 he was one of the founders of the Academy in Antwerp and was appointed its first director. His second wife died in 1683.
Teniers is known as an important painter of landscapes, genre scenes and portraits. His early style was like that of Adriaen Brouwer, who was a great influence on him, but his later personal style is lighter, with stronger local colours and well-drawn figures which became of increasing importance within his landscapes. The fulfilment of his work can be seen in the many variations of harvest and village dancing scenes. His later work is less inventive, and the colours lose their vibrancy and tone. His depiction of wine kegs, kitchen utensils and furniture are detailed, with small areas of some paintings constituting still-lifes in themselves. He painted religious subjects, mythology and scenes of ghosts and witches and, of course, his well-known genre-type pictures of anthropomorphic cats and monkeys.
Even in his own lifetime, paintings by Teniers were highly prized and he is known to have contributed figures to the landscapes of several contemporary artists, especially those of Jacques d'Arthois.
His paintings can be found in most major and minor institutions around the world.
This panel was painted by Teniers after the canvas previously attributed to Titian in the Kunsthistorisches Museum (GG77) and now given to Lambert Sustris. It was engraved by Lucas Vorsterman (1595–1675) as one of the plates for the Theatrum Pictorium, numbered 86.
David Teniers worked on the Theatrum Pictorium in the 1660s. It was a record of the most important Italian paintings in the collection of the Archduke Leopold Wilhelm of Austria. He had amassed one of the greatest art collections of the age while governor of the Netherlands and Teniers had become its curator after the death of Jan van den Hoecke in 1651. This catalogue of paintings numbered 243 items. Each painting was depicted in miniature by Teniers and then engraved by an army of engravers (12 in all), the largest contributors being Jan van Troyen, Lucas Vorsterman the Younger, Pieter van Lisebetten, Theodoor van Kessel and Coryn Boel.
The series of paintings done by Teniers of the collection in situ in Brussels are now spread amongst the great European Institutions. They depict the Archduke standing proudly amongst his possessions and in discussion with various courtiers. They are profoundly important documents to understand collecting tastes of the day, as well as important paintings in their own right. The Archduke's collection now forms the basis of the Kunsthistorisches Museum in Vienna.
Literature:
George Scharf, 'Catalogue Raisonné or A list of the Pictures in Blenheim Palace,' Part I, London, 1862, p.165, no. 86 (Vaughan Thomas no 43);
'A Collection of 120 Paintings by David Teniers from Blenheim Palace', Charles Davis Gallery, London, January 1885, no. 86