Thomas van der Wilt
1659 - 1733
A Portrait of a small Boy in blue with a feathered Cap tempting a Bird into a Cage with a Piece of Pretzel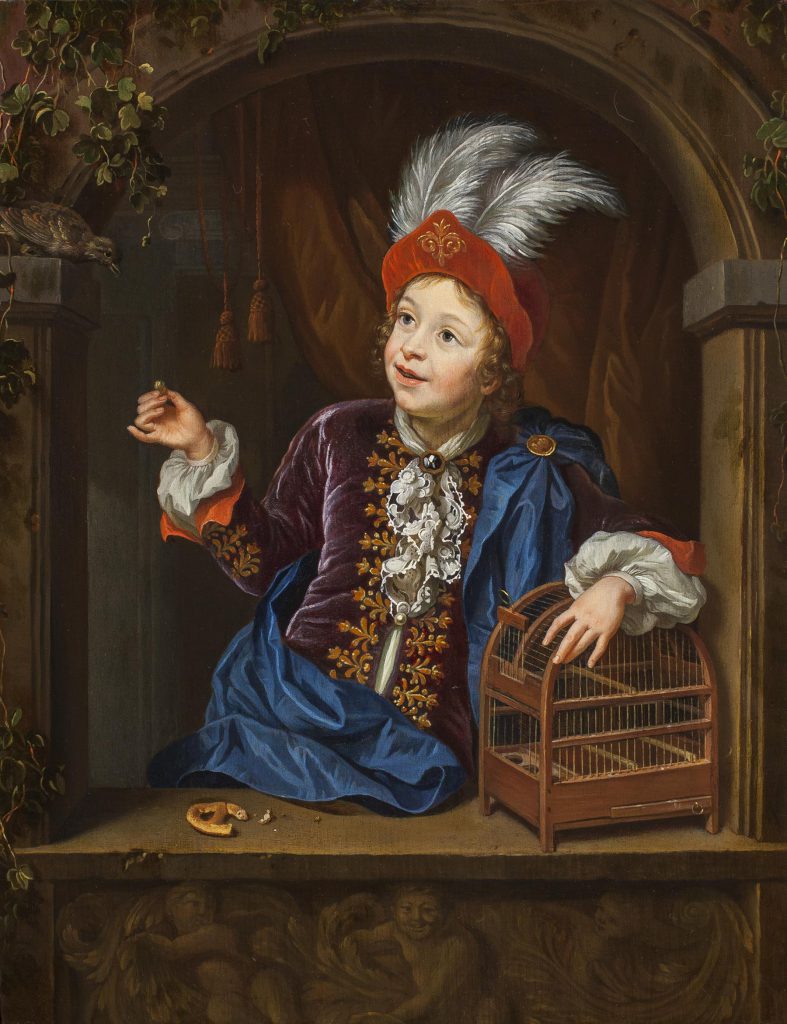 Medium:
Oil on Panel
Category:
Dimensions:
27.9(h) x 21.8(w) cms
Signed:
Indistinctly Signed: 'T. v.n W..'
Exhibitions:
Essay:
Thomas van der Wilt was the son of a draper, Willem, in the village of Pershil, near Korendijk. His mother was Emmerentie van der Staf. He began his career as a pupil of Jan Verkolje (1650 - 1693). He lived and worked in Delft and his masterpiece, 'The Anatomy Lesson of Abraham Cornelisz. van Bleyswijck with a Self Portrait' is in the Museum Het Prinsenhof, Delft (inv/cat.nr. PDS277). Like his master, most of his works are on a small scale and are always executed with the utmost care and diligence. His sense of draughtsmanship is excellent and in his own time his work became much sought after. At times some of his portraits resembled the work of Eglon van der Neer and, some of his group portraits and genre scenes on dark backgrounds, for a time, recalled the works of Casper Netscher and Adriaen van der Werff.
This painting is a likely pendant to the signed and dated work of 1695 by Van der Wilt, which depicts a girl leaning out of an identical arched window, feeding a parakeet and dated 1695. That panel, of the same dimensions, was sold at Sothebys, 26th June 1974, lot 51, but if the paintings were originally a pair they must have been separated by at least 1801, when our picture was sold at Christie's.
Provenance:
Charles Joseph, Count Lichtervelde (d. 1803), Ghent;
His sale, London, Christie's, 29-30 May 1801, lot 30 (as Mieris), for £4-14s. to John Edward Breen;
Mrs Luke Foreman;
Sold, London, Christie's, 9 July 1822, lot 65 (as Mieris), for £8-2s. to John Bartie;
The Berkeley Collection, Spetchley, Worcestershire.
Literature:
Berkeley Collection, Spetchley Inventory, 1949, in the Library