Paulus Moreelse
1571 - 1638
A Portrait of a young Lady in an elegant Black Costume with Gold Embroidery, a fine Lace Cap and a large Millstone Collar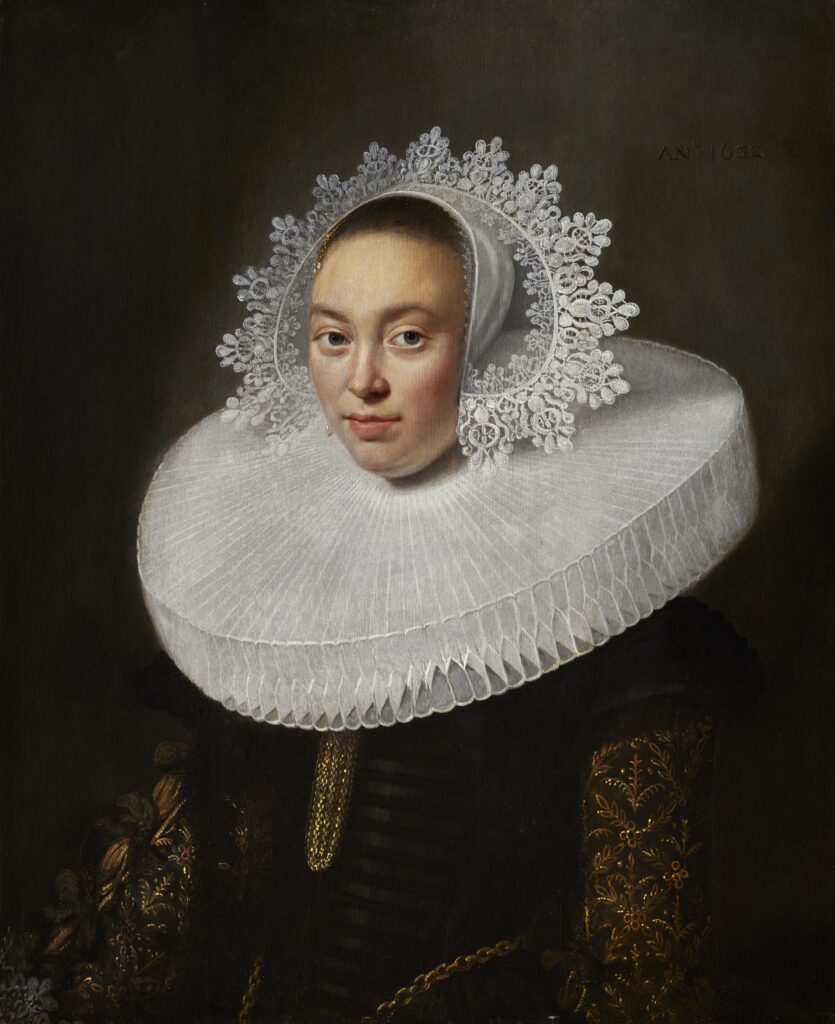 Medium:
Oil on Panel
Category:
Dimensions:
76(h) x 62.3(w) cms
Signed:
Signed and dated 'M f. 1632'
Exhibitions:
Essay:
Paulus Moreelse was the son of Jan Jansz Moreelse, a cooper from Louvain. According to van Mander, he was apprenticed to Michiel van Miereveldt, the well known portraitist from Delft. After leaving the studio of Miereveldt he travelled to Italy some time before 1596, where he received a great deal of commissions for portraits. It is for his portraiture that he is best known today. However, he also produced many religious, mythological and history paintings.
He joined the Saddlers Guild of Utrecht in 1596 (the Guild of St Luke was not founded until 1611). Moreelse was one of the founder members of the St Luke Guild and was the Dean no less than four times. He was also a teacher at the Drawing Academy alongside Abraham Bloemaert, who was to be a great influence on him.
In 1602, Moreelse married Antonia van Wyntershoven, by whom he had five children, and three years later he bought a large house on the Boterstraat. Moreelse had become a wealthy and well respected figure in Utrecht. He owned several houses and became embroiled in the city's politics, gaining a seat on the city council in 1618 when both he and Joachim Wtewael petitioned the town council to resign. This seat afforded him many new opportunities as well as important civic commissions. He became a church warden, a captain of the Civic Guard and the Chief Treasurer of the City. He also turned his hand to architecture, designing a new enlargement of the city and a new city gate. Morover, he was instrumental in the founding of Utrecht University in 1636.
Moreelse was a central figure in Utrecht city life, both artistically and politically. His art was infused with the influence of Miereveldt, combined with the exuberance of Mannerist painting in Utrecht.
This painting is typical of the work of Paulus Jansz. Moreelse in the early 1630s. Moreelse's Portrait of a Lady in Carnegie Museum of Art in Pittsburgh (Inv.-Nr 64.11.29), oil on panel, 80.3 x 65 cms is dated 1625 and employs a similar composition and identical dress and accesories to those seen in our painting.
Provenance:
Auction Charpentier, Paris, 12.6.1956. Lot 171;
Private Collection, Switzerland