Roland Muys
c. 1520 – c. 1593
A Portrait of an Elegant Lady, possibly Anne of Austria, in a black Dress with a Lace Collar and a red and white Sash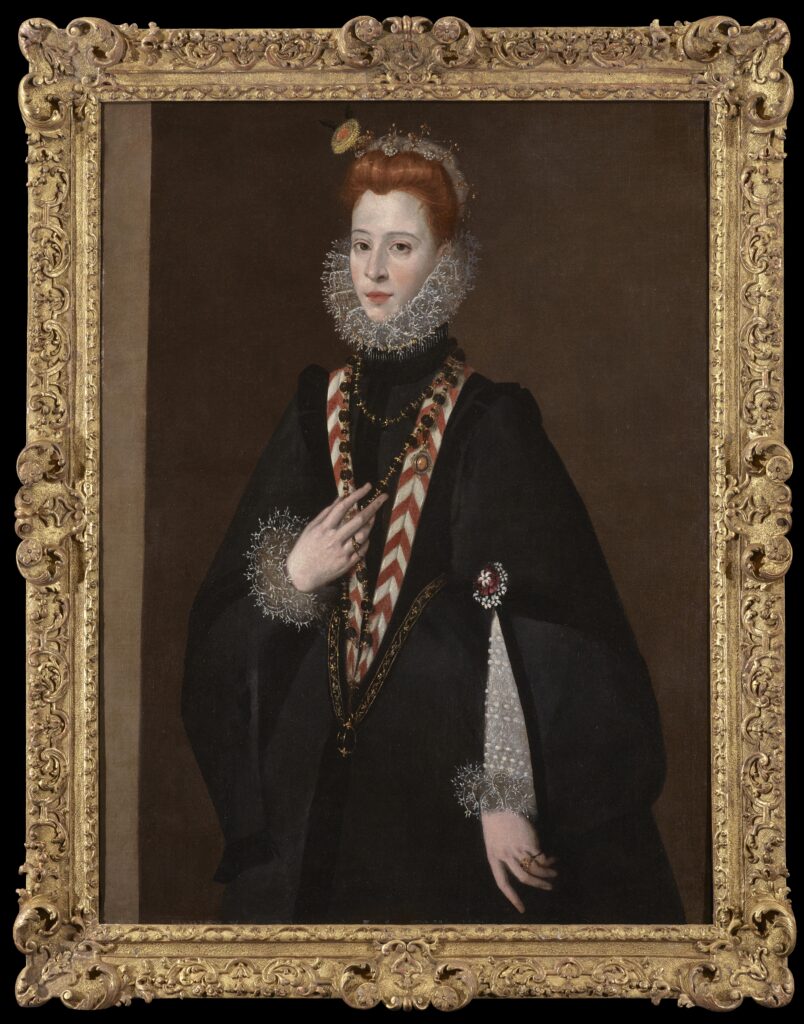 Medium:
Oil on Canvas
Category:
Dimensions:
113(h) x 82(w) cms
Framed Dimensions:
131(h) x 103(w) cms
Exhibitions:
Essay:
This portrait may depict Anne of Austria (1549 - 1580) the fourth wife of Philip II of Spain. The marriage served to reinvigorate the ties between the Austrian and Spanish Hapsburgs and by all accounts the marriage was a happy one. Anne was considered a great beauty and her outgoing and cheerful nature made her a popular queen. Though Philip II had already had three wives, he did not have a male heir. Anne was able to remedy this and the couple had a son who would become King Philip III in 1598.
The portrait could perhaps represent Isabel Clara Eugenia (1566 - 1633), the daughter of Philip II and his third wife Elisabeth of Valois who was herself the daughter of the French King Henry II and Catherine de'Medici. Often depicted with red hair, there is a resemblance between the sitter in the present picture and the portrait by Frans Pourbus the Younger in the collection of the Groeninge Museum in Bruges.
Roland Muys was a contemporary of Alonso Sanchez-Coello at the Royal Court in Madrid. He was of Flemish origin and arrived in Spain with the Duque de Villahermosa who was to commisssion many portraits from the artist. Indeed, some of his earliest works were executed in Valladolid where he had been sent to work by his patron the Duque.
Muys was to become a favourite artist at court and it was said that all the noble families vied with each other to be portrayed by him -especially the ladies. He was a good friend of Alonso Sanchez-Coello (c. 1531 – 1588), the leading portrait painter in Madrid at the time. He was highly applauded by many and was to have a large school of pupils, all of whom apparently held him in very high regard. He was to establish his home in Zaragoza where he lived most of his life.
Roland Muys is also known as Roland de Mois or Rolán de Moys.