Workshop of Daniel Mytens the Elder
1590 – 1648
A Portrait of Henry de Vere, 18th Earl of Oxford (1593-1625), in a silver embroidered black slashed Doublet and Hose, standing, full Length, on a Persian Carpet, his Rod of Office propped against a draped Table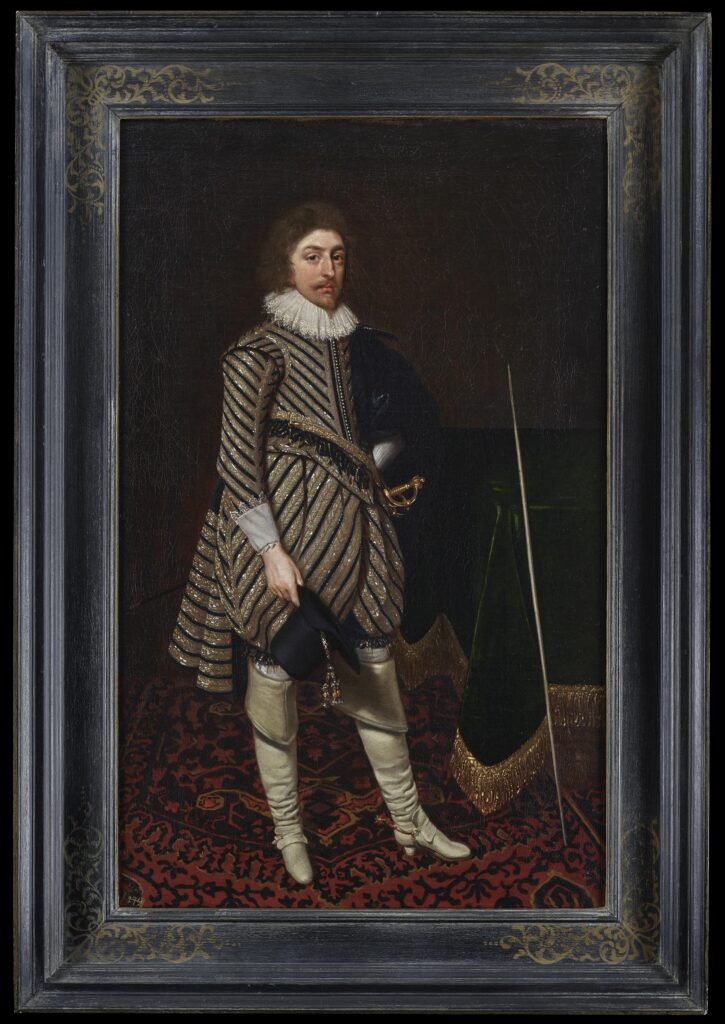 Medium:
Oil on Canvas
Category:
Dimensions:
62(h) x 39(w) cms
Framed Dimensions:
58(h) x 53(w) cms
Signed:
with inventory number lower left: '279'
Essay:
Daniel Mytens probably began his career in Antwerp but at an early age travelled to London. Here he was quickly accepted by royalty and nobility and gained a fine reputation. He was to execute various commissions for King James I and later worked extensively for his son Kings Charles. On the 30th May 1625 he was elected the official court painter. Here he was to hold the highest position until the arrival of Anthony van Dyck.
Later Mytens was to return to the Hague and the art historian Houbraken notes that he executed a commission for the ceiling of the Town Hall of that city. King Charles the First's Collection contained twelve paintings by the artist.
This artwork is a replica of the full-scale portrait by Mytens in the collection of Lord Wakehurst (see Strong, under Literature, reproduced Vol. II, fig. 477).
A courtier and soldier, de Vere inherited his title in 1604 at the tender age of eleven at the death of his father who left him with no estate. Despite a chronic lack of funds he was described as being 'very debauched and riotous'. His mother Elizabeth Trentham complained he was led astray by bad company 'of noe worth, but extremely needy, and beggarly in his state, and noe lesse dissolute and prodygall in his life'.
Once his mother died in 1613 the young man finally had the funds for a foreign tour. He travelled to Brussels and from there through France to Venice and on his return to London was granted the hereditary office of Lord Great Chamberlain. He appears to have gained some reputation for military ability while abroad. In 1620 fought in the Palatinate phase of the Thirty Years War against Spain and the next year was named to the King's Council of War.
It was around this time that de Vere made an enemy of James I's favourite George Villiers, 1st Duke of Buckingham. De Vere was sent to the Tower of London for several weeks for injudicious words about the proposed match of Charles I with the Catholic Infanta Maria Anna of Spain, a choice put forward by Villiers. De Vere seems to have been rather hard headed as he was imprisoned a second time in the Tower, this time for twenty months, for complaining bitterly about Villiers' influence over the King.
De Vere's fortunes changed after he was released in December 1623. He married the beautiful and wealthy Lady Diana Cecil who brought him a fortune of £30,000. Unfortunately however, he died the next year from a fever contracted in the Flanders during another campaign in the Thirty Years War.
Provenance:
The Collection of The Marquess of Lothian
Christie's London, 19 October 1951, lot 47 (as 'a Nobleman')
Sotheby's Amsterdam, May 1999
With Rafael Valls Ltd. until Nov. 1999
Collection of Mrs Barbara Overland.
Literature:
R. Strong, 'Tudor & Jacobean Portraits', 1969, London, Vol. I, p. 240, no. 950 (as 'a small version' of the Wakehurst picture)