Salomon van Ruysdael
Naarden c. 1600 - 1670 Haarlem
A River Landscape, with Figures in Boats casting a Fishing Net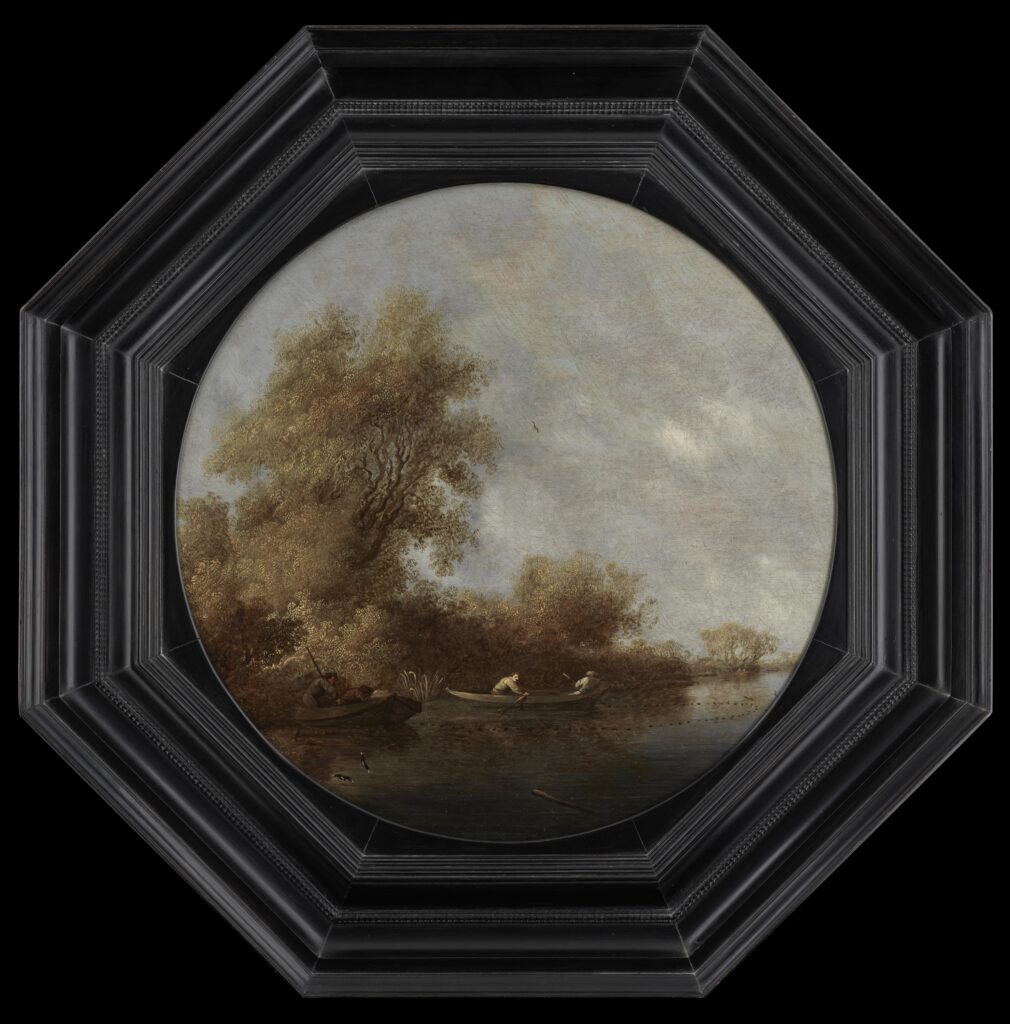 Medium:
Oil on Panel
Category:
Dimensions:
38.5(h) x 38.5(w) cms
Framed Dimensions:
55(h) x 55(w) cms
Signed:
signed and dated 'S.VR/ 1635' lower left
Essay:
The panel which this work is painted on is a tondo (circular).
Salomon van Ruysdael was the father of Jacob Salomonsz and the uncle of Jacob van Ruisdael. He resided in Haarlem for virtually his entire life, and entered the Guild there in 1623. His teacher is not known, although the influence of Esaias van de Velde (who practised in Haarlem from 1610 until 1618) is apparent. Salomon's early work also has an affinity with his contemporary, Jan van Goyen, in that they both chose a modest subject matter of flat dune landscapes with trees, rendered in restrained tonalities. Salomon was also influenced by Jan Porcellis and Esias van de Velde. Salomon was notable for his subtle use of colour, and adeptness at achieving a natural atmosphere in his paintings.
This is a typical early work by Salomon van Ruysdael in his so-called 'tonal phase' which spans c.1632-40. Many of his pictures from the 1630s are stylistically and thematically similar to his contemporary Jan van Goyen. It was during this period that both artists used a subtle palette of greys, greens, yellows, blues and browns to depict their landscapes, creating a harmonious effect. Riverbanks were a popular subject and the subtle diagonal composition provided by the foliage provides a sense of distance.
A similar though rectangular painting from 1635 hangs in the Louvre (RF 1950 48), with the fishermen swapped out for a ferry scene.
Provenance:
Sale, Brussels, 17 May 1923, lot 87
With P. de Boer, Amsterdam
With Dr. H Schäffer, Berlin
Possibly, Private Collection, Hamburg
Sale, Galerie Commeter, Hamburg, 27 April 1940, lot 30 (vendor, 'Lmck', not indicated as 'nichtarischem Besitz')
With Kunsthaus Malmedé, Cologne, 1940 (according to an RKD mount)
Sale, Charpentier, Paris, 3 December 1959, lot 23
Sale, Tajan, Paris, 24 June 2004, lot 26
Literature:
W. Stechow, Salomon van Ruysdael, Berlin, 1938, p. 79, no. 78
W. Stechow, Salomon van Ruysdael, Berlin, 1975, p. 79, no. 78