Jan Fyt
1611 – 1661
A Still Life of a Jay and two Grey Partridge with Grapes, Pears, Apples and a wan-li kraak Bowl in a Basket on a Table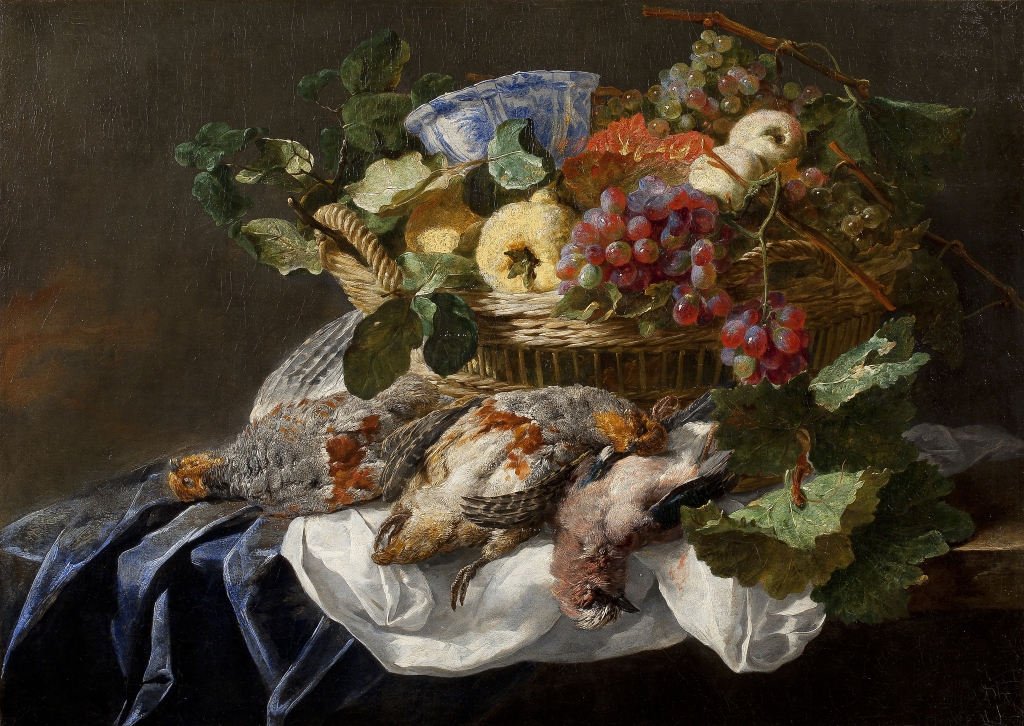 Medium:
Oil on Canvas
Dimensions:
64.2(h) x 89.6(w) cms
Signed:
Signed: 'Joannes.Fyt"
Essay:
As with many of Fyt's larger still lives the notion of texture is important. Here the combination of crisp white cloth, the feathers of the birds, the hard wicker basket, the fruit and leaves and the hard but smooth wan-li bowl show us all manner of texture possibilities. Fyt was a master of rendering these details, particularly in the soft downy feathers of the birds as well as the colour contrasts of the different elements of the still life. He often used Chinese porcelain painted in vivid blues to set off the other elements of the still life.
Mostly known for game still lives his masterly fruit compositions are no less accomplished and display his unique stylistic talents. The influence of his Flemish upbringing and particularly of Frans Snijders are all too clear in this still life, which conveys a sense of drama through the elaborate arrangement of fruit and rich colouring. Similar compositions exist of this type, notably the example in the Philadelphia Museum of Art (inv.nr. 705).
Provenance:
Collection of A. Langen;his Sale, Riegner & Helbing, Munich, 5th June 1899, lot 35;Private Collection, Lille, France
Literature:
F.G.Meijer, 'Stillevens uit de Gouden Eeuw', Boymans-van Beuningen Museum, Rotterdam 1989, p. 126