Juan Van der Hamen y Leon
Madrid 1596 - c. 1632
A Still Life of a Melon and Pomegranates and Grapes in a Basket on a Stone Ledge A Still Life of an Artichoke, Cherries, Blackberries with Plums hanging from their Branches as well as Plums and Apples in a Basket on a Stone Ledge.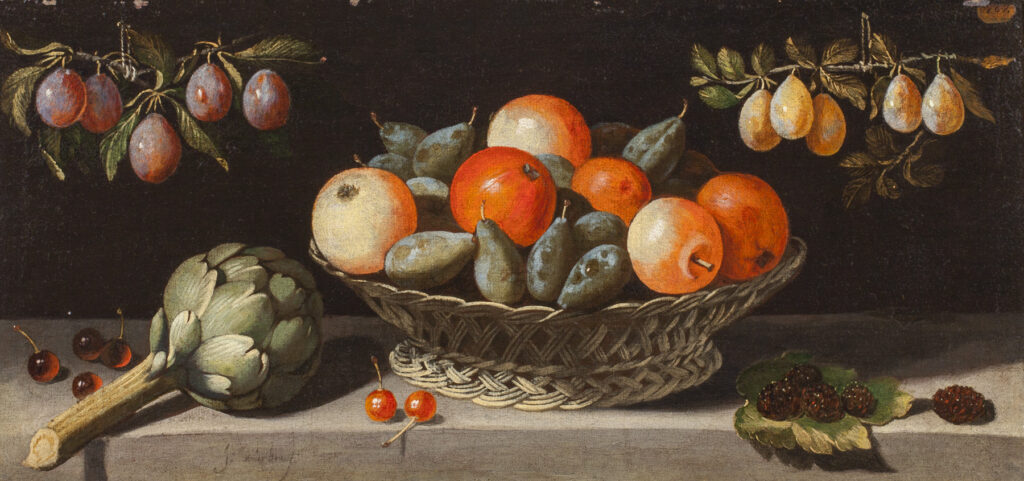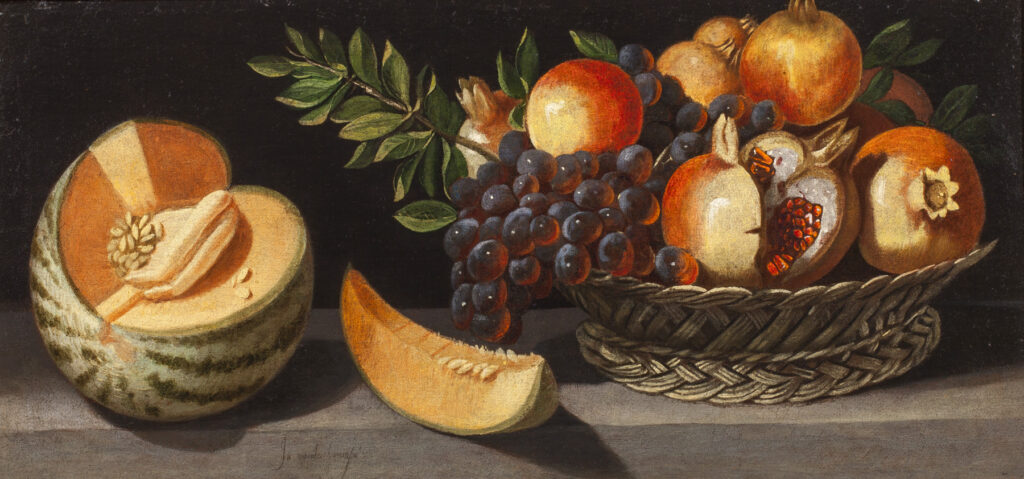 Medium:
Oil on Canvas
Category:
Dimensions:
33(h) x 68(w) cms
Signed:
Both Signed: "Jů van der hamen fe"
Essay:
This pair of previously unpublished still lifes by Van der Hamen has the same dimensions (33 x 68 cm each) as the pair from the Guitarte Bequest in the Academia de San Fernando, Madrid [figs. 1 and 2]. That pair dates from around 1621, which could well be the approximate date of these small canvases given that they are the only ones known of this size and were probably part of the same series. The baskets are the ones characteristically depicted by Van der Hamen while only two of the pieces of 'grenery' reappear in the same way in other works; the open melon in Basket of Fruit, Melon and Pomegranates (on deposit from the Prado at the Museo de La Coruña), and the artichoke that protrudes over the ledge which is to be seen in Basket of Peas and Cherries with Vases of Flowers (private collection, Barcelona), also signed and dated 1621. The artichoke reappears in a work dated 1629 in the Myriam Lapique collection in Madrid. For all these reasons the present pair can be considered particularly interesting within Van der Hamen's oeuvre due to their unusual nature.
Provenance:
Ex Collection of the Conde de Montarco, Madrid