Adriaen Verdoel
circa 1620 – 1695
A Still Life of a Plumed Helmet, a Skull, Shells, a Candle, an Hourglass, Books and other Objects on a draped Table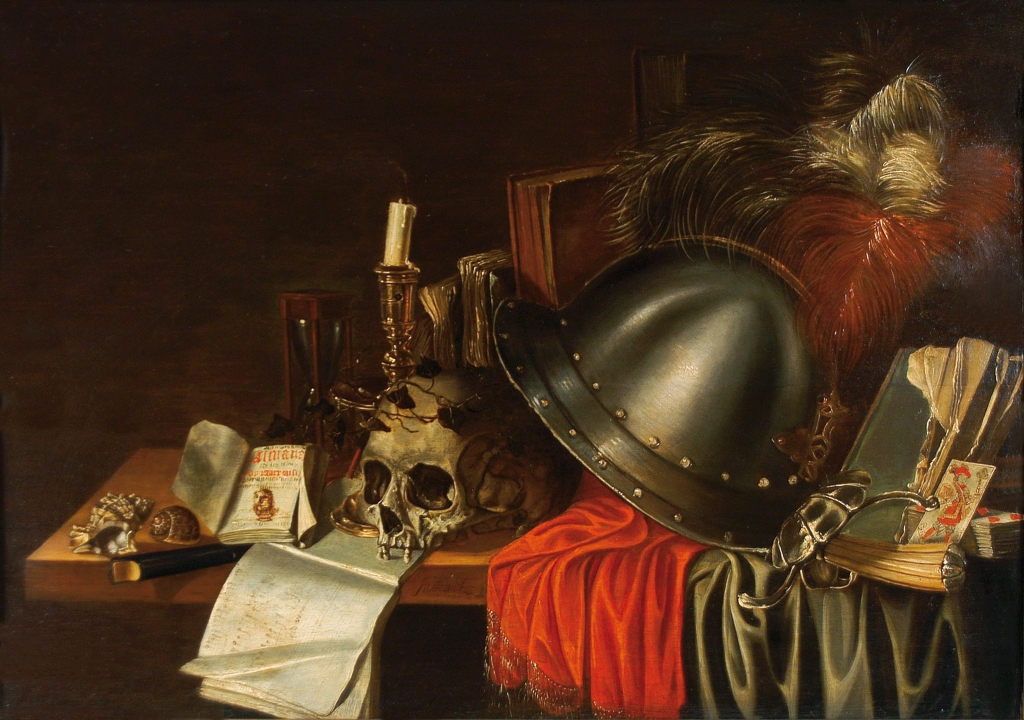 Medium:
Oil on Panel
Category:
Dimensions:
56.9(h) x 80.2(w) cms
Signed:
Signed: "AVerdoel f"
Essay:
Adriaen Verdoel was a Dutch painter who was part of the school of Rembrandt. According to art writer of the time Arnold Houbraken (Dordrecht 1660- Amsterdam 1719), A. Verdoel was Rembrandt's student from 1640 to 1642. Other experts of the time affirm he worked with Leonard Bramer and J. de Wit. In 1649, Verdoel was admitted to the Guild of Haarlem and in 1675 he moved to Flushing where he became a well-known poet. It is also said that the artist was Dirck Hals' student and his works resemble those of his teacher. The themes represented in his works are biblical scenes in which Rembrandt's influence is very evident. Within the wide school of Rembrandt, Verdoel was an exquisite colourist who used brown, reds, and warm golden hues masterfully to create special light effects. The figures represented in his works are lightly defined with a suggested background. The painter's work focuses on genre scenes and vanitas subjects. It is interesting to note that only twenty works by the artist have been clearly identified, as they are often mistaken for those of J. de Wit and J. Marienhof. Works by the artist have also been confused with those of his son, who not only shared his surname but who also painted with a very similar technique.
Adriaen Verdoel enjoyed a very prestigious career as as a painter and as a poet. He taught van der Groots in his studio and he even became an art dealer himself.
Vanitas are a type of paintings depicting symbolic elements that relate to the ephemerality of life. Typically still lifes, they act as a reminder of the transitional nature of humans, their inevitable ageing and, ultimately, their death. The concept of death is always present in these works; for example by including a skull, an hourglass or candles the artist demonstrates how life is short and how relentlessly everyone is approached by death. In reference to the literal meaning of vanitas, the seashells and the lavishly plumed helmet show beauty, wealth and luxury as something vain.
Provenance:
Sale, Halifax, Christie´s, London, 13 November, 1936
Sale, Foster, London, 17 March 1937, lot 148b
Sale, Forter, London, 29 June 1938, lot 108b
P.H. Noordhoff Collection, Wassenaar
Matthiesen Gallery, London, 1953
Exhibitions:
London, Mattieshen Gallery, Rembrandt's Influence in the Seventeenth Century, February 20th – April 2nd 1953, no. 61;Dordrechts Museum, July 17th – August 31st 1954 "Netherlandse Stillevens Uit Vier Eeuwen" ("Dutch Still Life in Four Centuries") cat. No. 96