Miguel Parra
1780 – 1846
A Still Life of Flowers, Jewellery and a Silver Cup on a Marble Table Top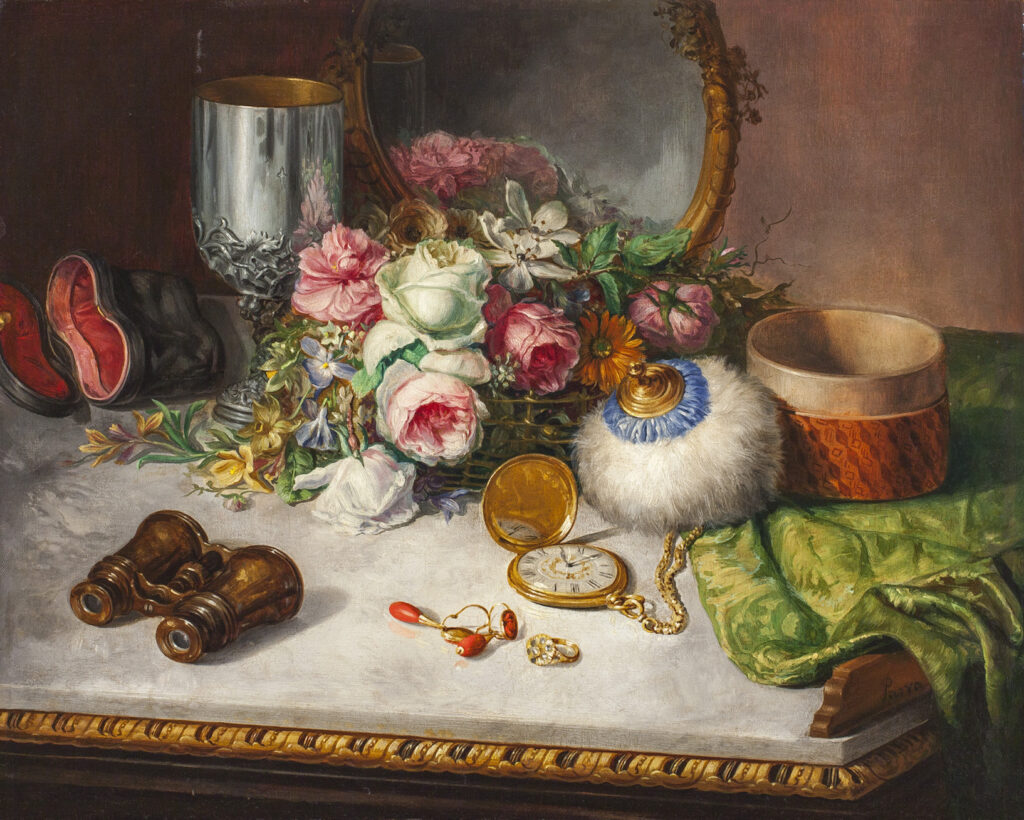 Medium:
Oil on Panel
Category:
Dimensions:
27.2(h) x 34(w) cms
Signed:
signed lower right: "Parra"
Paired with:
Essay:
Miguel Parra was born in Valencia in 1780 and at a very early age of 12 he was to join the Sala de Principios de la Academia de Bellas Artes de San Carlos. Here his formal apprentiship was to take place and he was to win numerous prizes in the competitions in 1795 and 1798. In 1801 he was to be awarded the first prize for his floral composition presented that year. We know that he was a pupil of Benito Espinos as well as Vincente Lopez. On 10th July 1803, he was nominated an Academico de Merito of the academy of San Carlos.
Thanks to family connections with Vincete Lopez, he was to receive commissions from the court and in 1818 King Fernando 7th appointed him court painter. In the same year he was also to be appointed Academico de la Real Academia de Bellas Artes de San Fernando.
Much appreciated in his own lifetime, his paintings were to be described by the critic, Elias Tormo, as the Vincente Lopez of flower paintings. The highest accolade in his life was to be awarded in 1823, when he was to be awarded the position of Director General of the Academia Valenciana.
Miguel Parra's paintings are always distinguished by a fine sense of colouring and draughtsmanship into which he always liked to incorporate architectural elements.
Provenance:
Private Collection, Spain for at least two generations