Cornelis de Heem
1631 - 1695
A Still Life of Fruit with a Melon, Grapes and Celery together with Oranges and Peaches, an Artichoke, Walnuts and Corn on a Ledge with Butterflies and Snails, a Stone Grotto and a Landscape beyond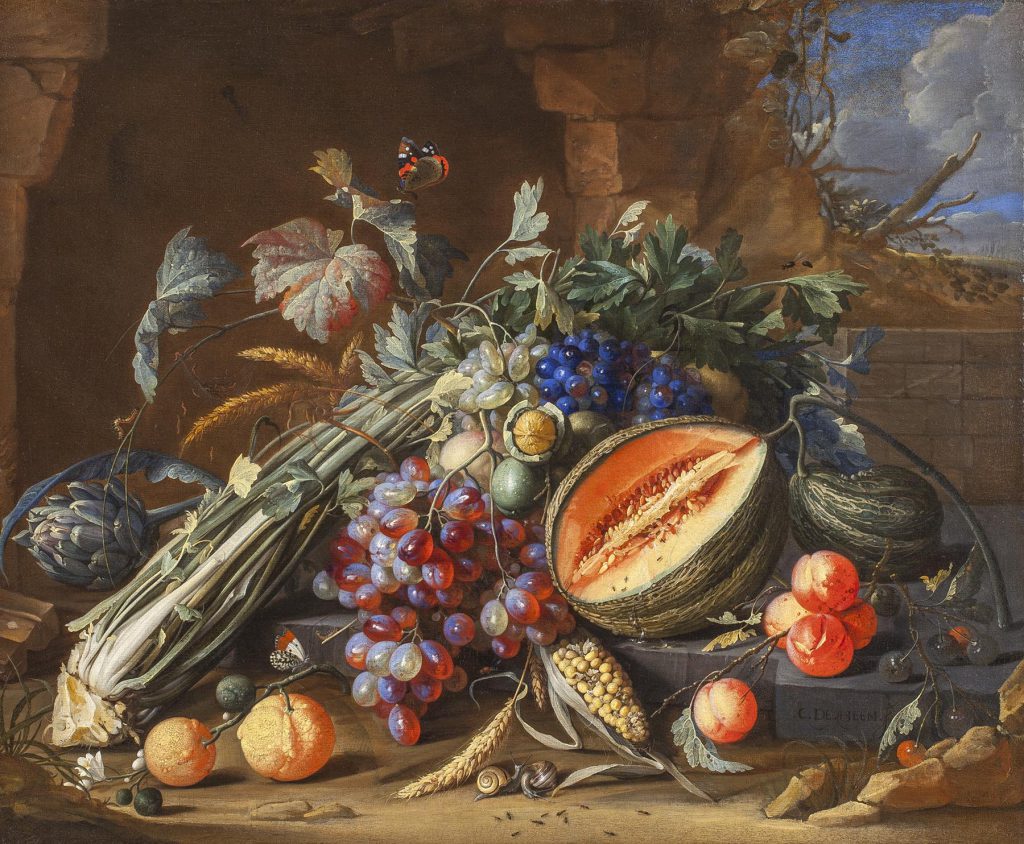 Medium:
Oil on Canvas
Category:
Dimensions:
64.4(h) x 78(w) cms
Signed:
Signed: 'C. DE. HEEM. f.'
Essay:
The discovery of this beautifully preserved and detailed canvas makes an important addition to a small group of exceptionally high-quality early works painted by Cornelis de Heem in the mid- to late-1650s. These works were all painted in Antwerp, where the very young Cornelis had moved from Leiden with his family. At this early date, while he was still in his twenties, Cornelis worked and studied in his father's studio. This crucial and formative phase of his career lasted until 1660/61, when Cornelis was admitted to the Guild of Saint Luke in Antwerp as a painter in his own right.
Given his father's mentoring, it is no surprise that Cornelis de Heem's youthful work was closely modelled on that of his father, and the present painting is no exception. What is less expected is that on occasions such as this he could come close to matching the quality of his father's work. Many elements in the present design, such as the celery, artichoke and melon, have been taken and adapted from a larger Still-life of fruit and flowers in a landscape, of 1655, painted by Jan Davidsz. de Heem (Hermitage, Saint Petersburg, Inv ГЭ-1107). Cornelis did not simply copy his father's work, but freely wove elements from his paintings into his own designs.
Dr. Fred G. Meijer has suggested a slightly later date for the present canvas to around 1657. He notes that a comparable arrangement of fruit and vegetables is used again by Cornelis in a signed and dated copper of 1658 today in the Städel Museum in Frankfurt-am-Main (Inv Nr 721).
While the Frankfurt picture differs in its garden setting, the use of the rocky grotto found in the present work recurs in another related Still life with fruits and a wan-li porcelain bowl sold New York, Christie's, 15 April 2008, lot 340, which Meijer again dates to around 1658. This particular landscape device was most likely derived from similar features in the background of Jan Davidsz. de Heem's painting in Saint Petersburg, or his earlier Fruit piece of horizontal format from 1653, today in the Staatsgalerie in Schleissheim.
Provenance:
Probably Mr J. Kneppelhout (1814–1885), Hemelsche Berg, Oosterbeek;
Probably by descent to the grandparents of the present owner in the 1920s;
By descent to the previous European noble owner