Jan van Os
1744 – 1808
A Still life of Roses, Auricula, an Iris and other Flowers on a Ledge with Bird Nests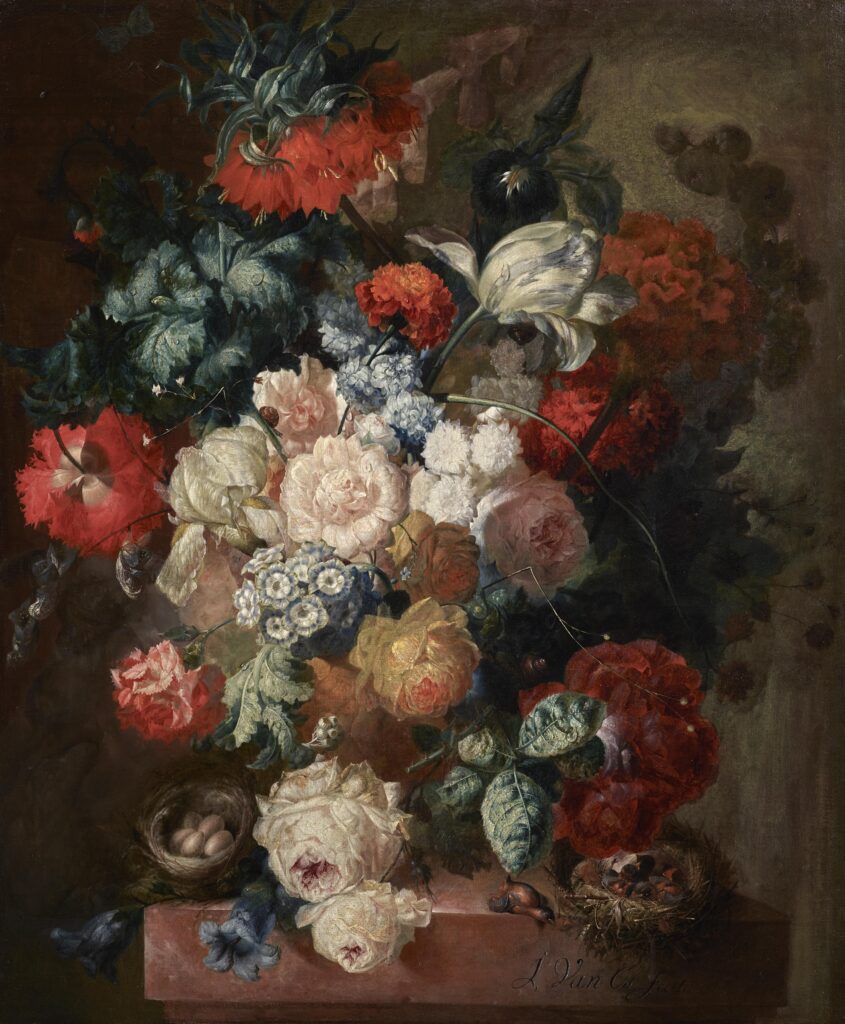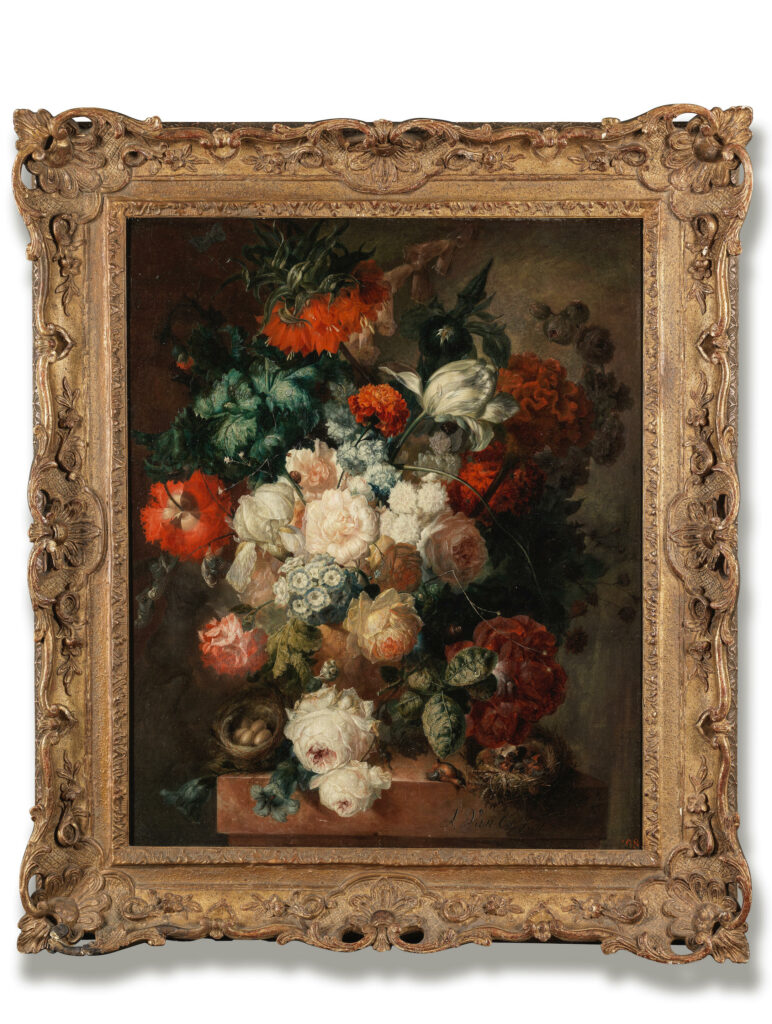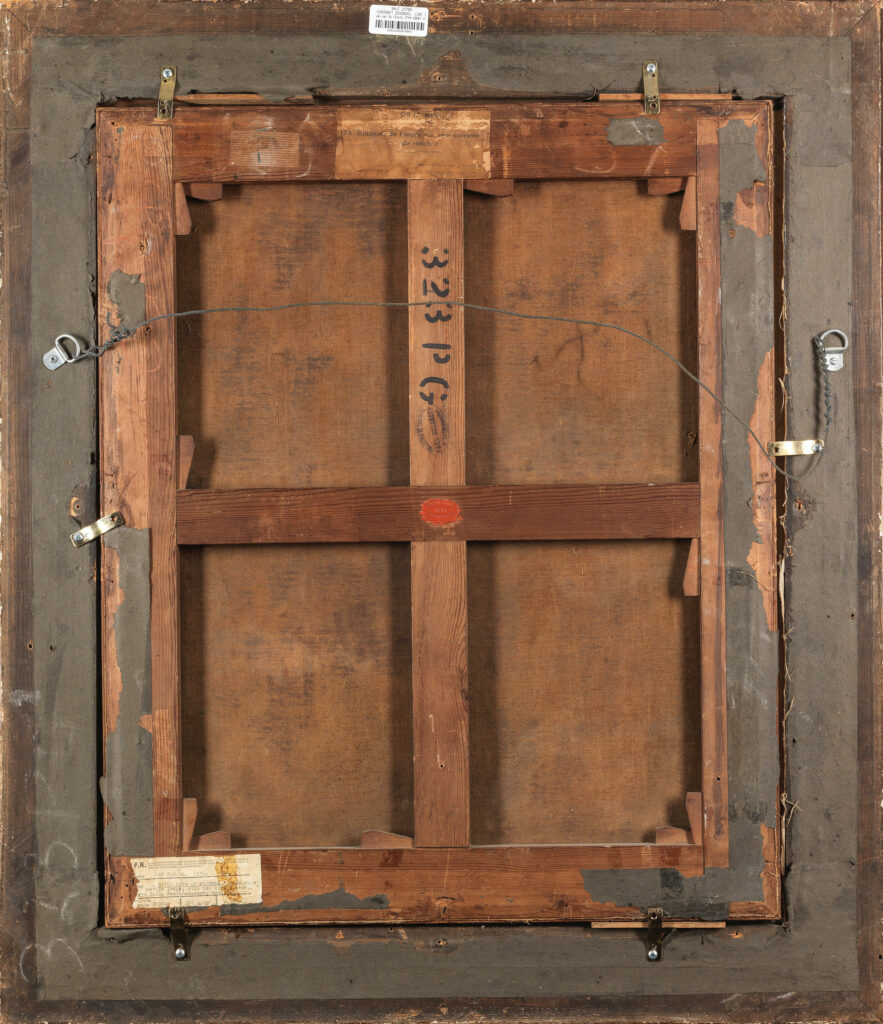 Medium:
Oil on Canvas
Category:
Dimensions:
70.2(h) x 58.2(w) cms
Signed:
Signed lower right 'J Van Os fecit'
Essay:
Jan van Os was born in Middleharnis in 1744. He became a pupil of Aert Schoumann (1710–1792) in the Hague at an early age. Here he worked studiously until 1773 when he was elected a member of the Guild of the Hague. Most of his work relates to an interest in still life paintings which he executed with consummate care. Less well known are his shipping paintings which are quite rare. These are executed with exceptional ability and are usually painted in soft pastel colours.
In 1775 he married the portrait painter Susanna, the daughter of the artist Pierre Frédéric de la Croix (1709–1782). Van Os was also an accomplished poet as well as a painter and towards the end of his career he became the director of the Academy in the Hague.
True to form, Jan van Os has here depicted an elegant composition of a terracotta vase of flowers overflowing with roses, a white tulip, fox gloves, irises, hollyhock, auricula, crown imperial and rich green foliage. Atop the ledge we see two nests, one with eggs and the other with cheeping chicks. Meanwhile several small snails creep along the flowers' stems and water droplets drip from petals, catching the light. The picture bursts with fecundity, apart from one small chick, who has wandered from the nest and looks mournfully out at the viewer, its plumb body stranded on the stone ledge.
Provenance:
The Collection of Paul Delaroff (1852–1913), St. Petersburg,
Presumably his sale, Hôtel Drouot, Paris, 27 April-2 May 1914, lot 174 (as part of a pair); Anon. sale; Sotheby's, London, 11 July 1962, lot 33;
Mrs D.C. Warner, Santa Monica, California;
Private Collection, USA
Literature:
P. Mitchell, Jan van Os, London, 1968, p. 17, cat. no. 3, ill., pl. 3 (as by Jan van Os)