Adriaen Jansz Van Ostade
1610 – 1685
A Study of a Peasant Smoking a Pipe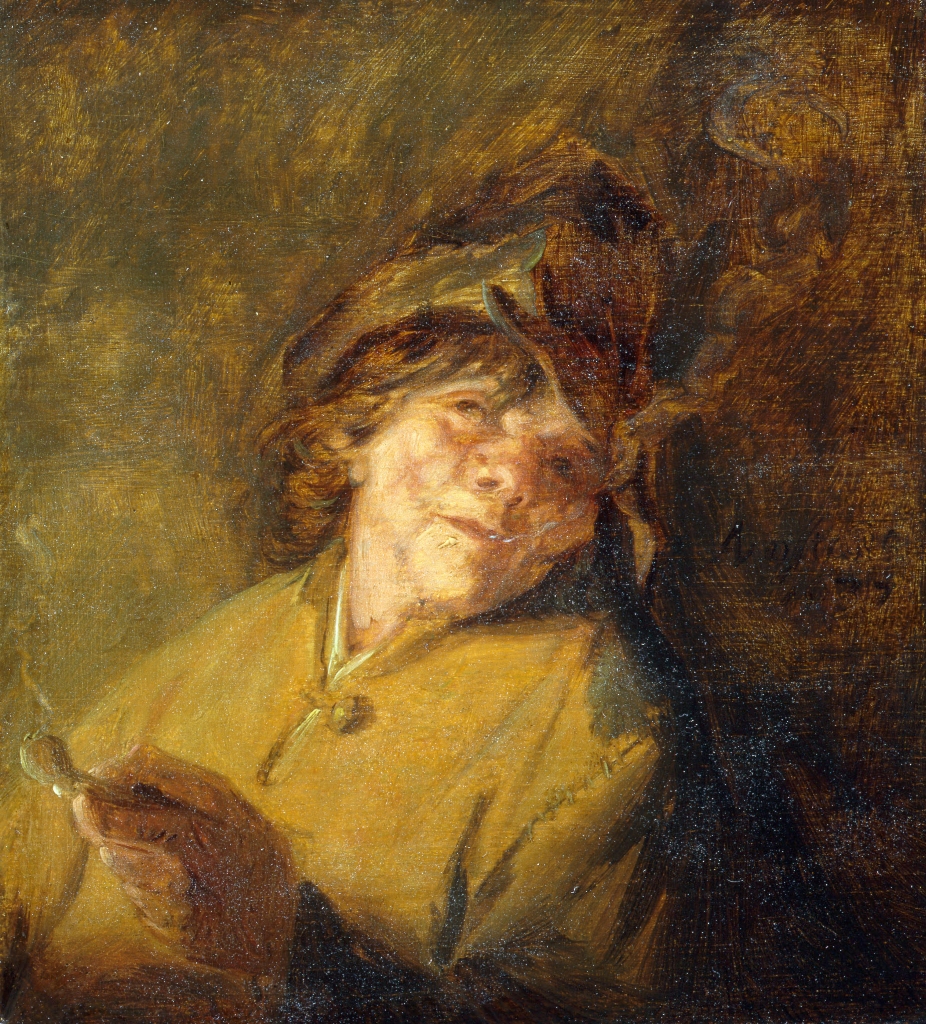 Medium:
Oil on Panel
Category:
Dimensions:
15.1(h) x 13.7(w) cms
Signed:
Signed and Dated 'AVOstade 1637.'
Exhibitions:
Essay:
Van Ostade recalls his teacher Adriaen Brouwer in this vibrant study. Van Ostade was well known for such studies, of which two (one dated 1642) can be found in the Boijmans-van Beuningen, Rotterdam and one (c. 1646) in the Rijksmuseum, Amsterdam (inv. no. A302). Professor Schnackenburg believes this panel to be an early sketch, datable to circa 1637 and relates it to the artist's pen sketches.
Both Dr Hiltraud Doll and Professor Schnackenburg have independently confirmed the attribution to Ostade.
Provenance:
With F. Kleinberger, Paris; sold to Baron August Janssen, Brussels, 1910; With Jacques Goudstikker, Amsterdam, by 1927; Looted by the Nazi authorities, July 1940; Recovered by the Allies, 1948; In the custody of the Dutch Government; Restituted to the heir of Jacques Goudstikker, February 2006
Literature:
C. Hofstede de Groot, 'Beschreibendes und kritisches Verzeichnis der Werke der hervorragendsten Holländischen Maler des XVII Jahrhunderts', Stuttgart/Paris, 1907-28, III. no. 172;W. Martin, 'Catalogue de la Collection de peintures du Baron Janssen', Brussels, 1923, p. 126, no. 85;C. Wright, 'Paintings in Dutch Museums. An Index of Oil Paintings in Public Collections in The Netherlands by Artists born before 1870', London, 1980, p. 355. Old Master Paintings: An illustrated summary catalogue, Rijksdienst Beeldende Kunst (The Netherlandish Office for the Fine Arts), The Hague, 1992, p. 232, no. 1998, illustrated.
Exhibitions:
Rotterdam, Rotterdamsche Kunstkring, Catalogue de la Collection Goudstikker d'Amsterdam, 11-26 June 1927, no. 52; Amsterdam, Catalogue des Nouvelles Acquisitions de la Collection Goudstikker, October-November 1927, no. 98.