Jacques de Claeuw
1623 – after 1694
A Vanitas Still Life of a Violin and Books, an Inkwell, Manuscripts, a Roemer, a Flute, a Crucifix and a Wreath of Flowers on a Cloth covered Table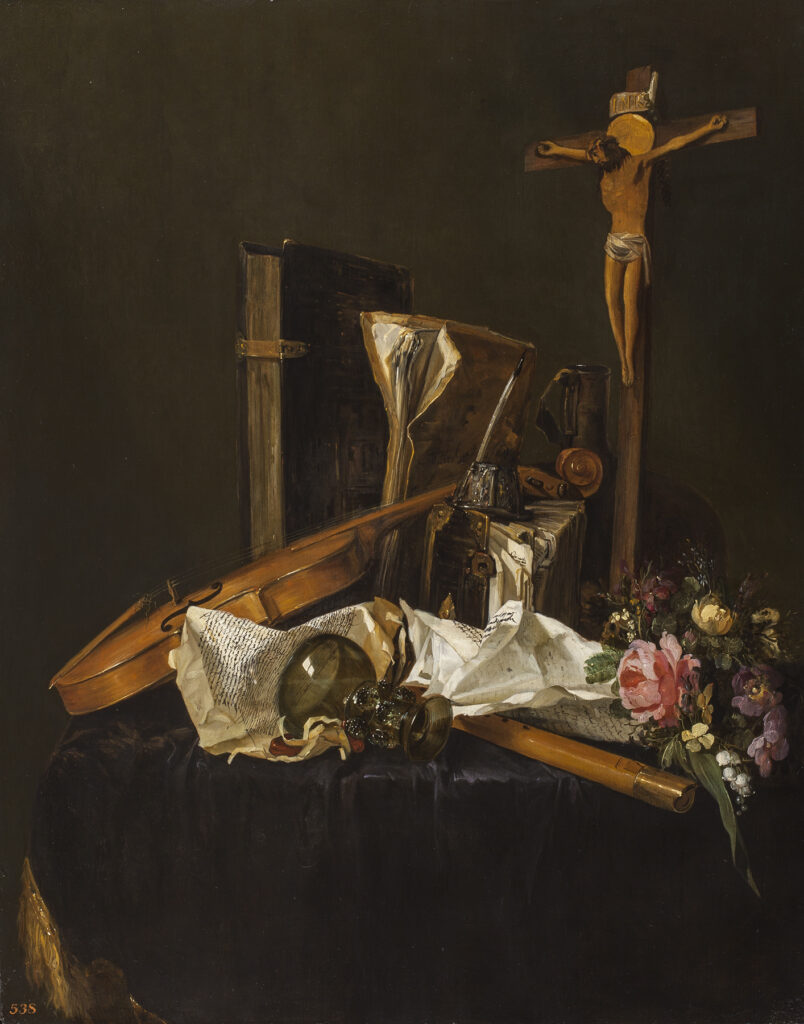 Medium:
Oil on Panel
Category:
Dimensions:
84.7(h) x 67.7(w) cms
Signed:
Signed and Dated on the manuscript: 'JDClaeuw 1649'
Essay:
Jacques de Claeuw was probably taught by Abraham van Beyeren and must have shown a precocious artistic talent as he became a co-founder of the painter's Guild in Dordrecht as early as 1642. In 1646 he was elected to the Guild of The Hague and three years later he married Maria van Goyen (daughter of the the great artist Jan van Goyen), becoming brother-in-law to Jan Steen at the same time. They moved to Leiden in 1651, subsequently to Zeeland in 1666. It appears that they returned to Leiden as he is mentioned there in a number of documents after 1689.
De Claeuw painted predominantly Vanitas still-lives much like the work of Jan Fris and Jan Vermeulen which include books, sheets of paper, dead birds, busts and receptacles. His style is, however, a more individual and painterly one, setting him apart from the tauter paintings of his contemporaries. It is not known who de Claeuw learnt to paint under but it is clear that both he and Abraham van Beyeren were mutually influenced by each other, presumably from when they were both in The Hague. This is certainly evident in their handling of paint and glazing.
Interestingly, and as was common practice with many painters of the genre of still life, in this composition we find a number of objects repeated by De Claeuw which occur in other works; the crucifix and ink well in this piece, for example, are also found in his 1650 Vanitas Still Life (Rijksmuseum, Amsterdam).
The painting is inscribed with inventory Nº 538.
Provenance:
Bought by Robert Kerr, 4th Earl of Lothian (1636-1703), in Europe, in circa 1670;
By family descent to the previous owner
Literature:
Newbattle Abbey inventory, c. 1726/27 ('ane other stil life with a fidle etc, by [Claschye');
Newbattle Abbey inventory, March 1833, no. 538;
Newbattle Abbey inventory, May 1878, no. 538 (Passage);
C. Hofstede de Groote, 'Hollandsche Kunst in Schotland', in Oud Holland, 11, 1893, p. 215 (as hanging at Newbattle Abbey).