Harmen Van Steenwijck
c. 1612 - after 1655
A Vanitas Still Life with a Bust, a standing Sculpture (by Barthélemy Prieur), a Skull, an Oil Lamp, a Japanese wakizashi Sword, Clay Pipes, a Cowrie Shell and other Items on a Stone Ledge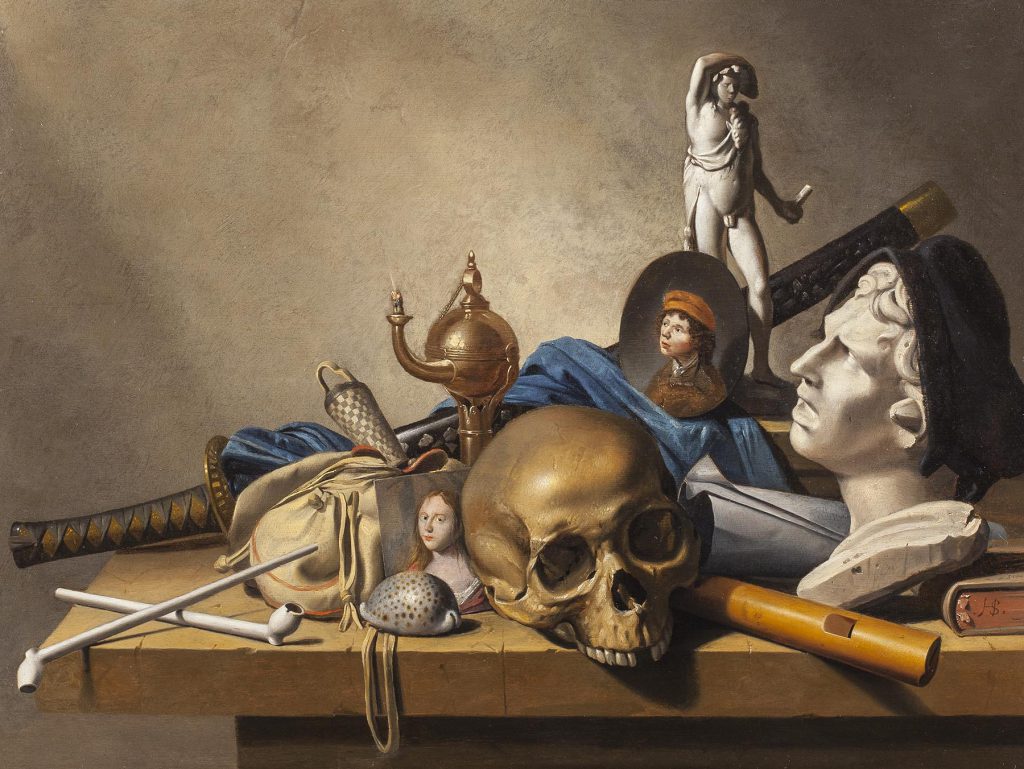 Medium:
Oil on Panel
Category:
Dimensions:
60.8(h) x 81.8(w) cms
Signed:
Signed with Initials: "HS"
Essay:
This work shares some elements with Steenwyck's Still life: An allegory of the vanitiesof human life in the collection of the National Gallery, London (NG1256), most notably the unusual oil lamp and the Japanese (?) sword. This still life is datable to circa 1650. As Koozin (1990) observed, the sword is the same as in a Vanitas still life by his brother, Pieter Steenwijck, from 1654. (According to Koozin, Bredius identified the sword as Eastern, Bergström as North-African, while E. de Jongh described it as a 'Hartsvanger' (heart catcher), often used by naval officers.)
The influence of earlier paintings by David Bailly are tangible in Steenwijck's elaborate Vanitas and particularly in the monochrome element of the palette. Interestingly Bailly's famous 'Portrait of a Young Painter with a Vanitas Still life' (Stedelijk Museum De Lakenhal, Leiden (inv. 1351)) from 1651 depicts many similar items in the still life . This suggests that both artists, also because of their family connection, remained in contact after Steenwijck had completed his training with Bailly.
As mentioned the standing sculpture is by Barthélemy Prieur while the bust fragment is taken from the left hand child of the Laocoön group, one of the best known Roman sculptures in history and now in the Vatican museums.
We are grateful to Fred Meijer for his assistance in cataloguing this painting. We are also gratecul to Malcolm Watkins for his identification of the sword.
Provenance:
Sale London, Robinson & Fischer, 18 May 1939, lot 55;
Private Collection, Ireland
Literature:
K. Koozin, The vanitas still lifes of Harmen Steenwijck: metaphoric realism, Lewiston 1990, p. 55-57, ill.