Pietro Bellotti
1725 – circa 1800
A View of Dresden from the Left Bank of the Elbe with the Augustus Bridge, the Hofkirche and the Frauenkirche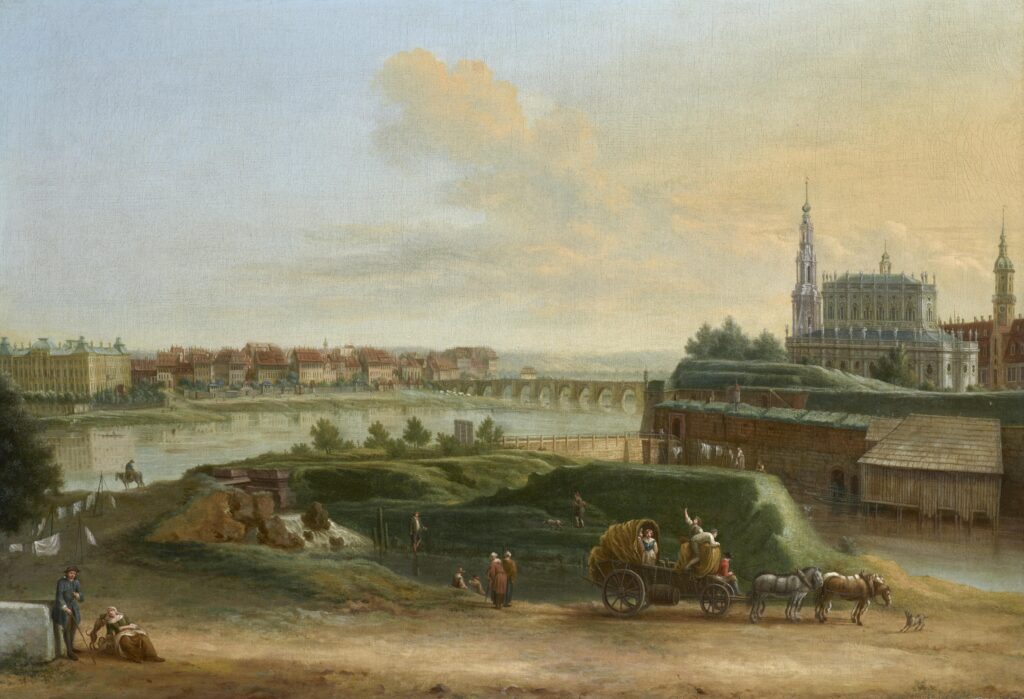 Medium:
Oil on Canvas
Category:
Dimensions:
52(h) x 75.5(w) cms
Signed:
Dated lower left '1795'
Essay:
Pietro Bellotti was the younger brother of Bernardo Bellotto. Like his brother, to whom much of his oeuvre has until recently been attributed, he almost certainly began his training in the workshop of their uncle Canaletto. He then joined the studio of his elder brother Bernardo whom he paid 120 ducats a year for board and training, an arrangement which came to an end on 25th July 1742. The presence of his signature on the back of one of Bernardo's drawings of Lucca provides sufficient evidence to suggest that Pietro accompanied his brother to Rome in 1742.
By 1748 Pietro Bellotti was in France. He married in Toulouse the day after the baptism of his first child on 24th March 1749. He probably remained in France for the rest of his life and between 1755 and 1790 he regularly exhibited vedute of several European cities, as well as some capricci, at the Académie Royale in Toulouse. The largest collection of his work, consisting of seventeen small canvases, is that of the Marquis de Beaumont at the Chateau de Melville, near Toulouse.
A pair of views of Dresden, seen from the right bank of the river Elbe, were with Rafael Valls in 2008.
Such important historical documents were Bellotti's intricately detailed depictions of Dresden that they were used as reference/prototype designs during the substantial rebuilding of the city after the Second World War.