Attributed to Etienne Giraud
active in the second half of the 18th century
A View of Palermo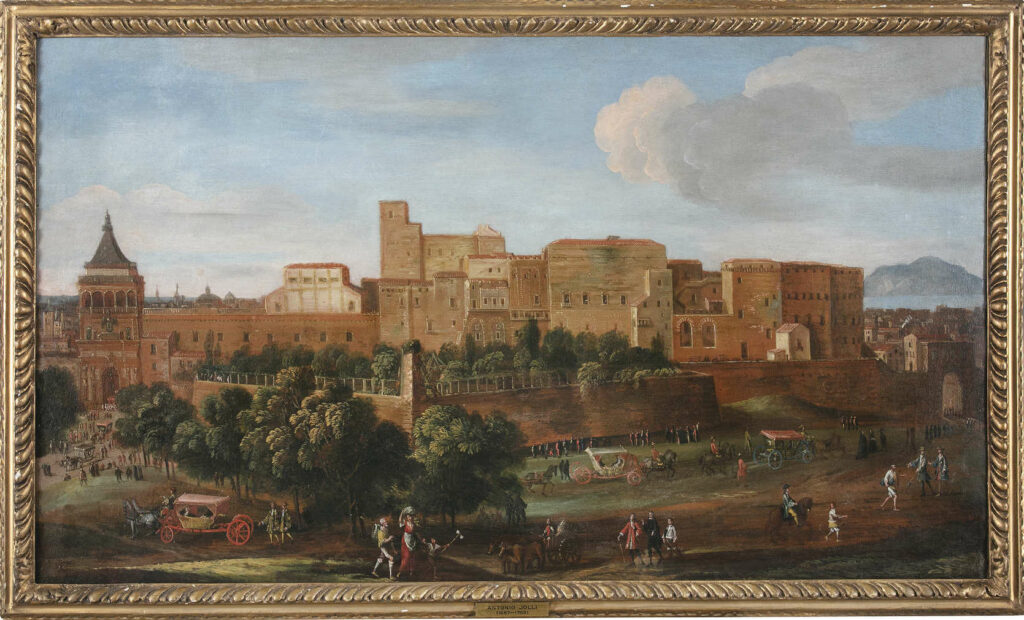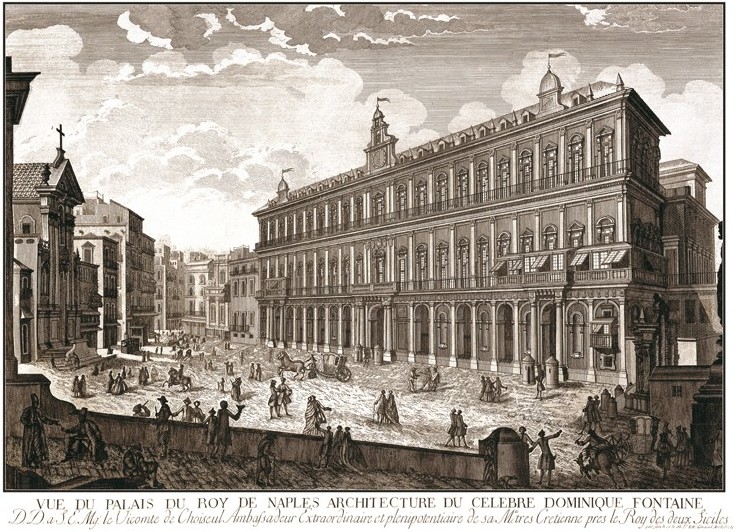 Medium:
Oil on Canvas
Category:
Dimensions:
59(h) x 104(w) cms
Framed Dimensions:
67.5(h) x 113(w) cms
Essay:
Etienne Giraud was an architect, painter and engraver operating in Naples in the second half of 18th Century. He produced a folio of 30 engravings depicting archaeological sites in and around Naples and the coasts of Pozzuoli, Baiae and Cuma. One view of the interior [sic]I of Vesuvius, is described by the artist as 'an aquatint etching in the style of the famous Paranesi', dated 1771 and dedicated to Mr Cavalli, Minister of the Venetian Republic at the Court of Naples with the title 'Le Grand Golfe de Naples, par Giraud, ou Recueil des plus beaux Palais de la ditte Ville.'
This charming view of Palermo, the cultural and historical capital of the island of Sicily, is a highly detailed and interesting composition. In the painting we can see the monumental city gate, Porta Nuova, to the left-hand side, which represents the entrance to the Cassaro, the main thoroughfare and most ancient street in the city. It was built to commemorate Charles V's conquest of Tunis and his subsequent visit to the Sicilian capital. The gate is formed with a typical central triumphal arch flagged by four telamone sculptures of Moorish figures, referencing Charles V's victory over the Ottoman Empire. The adjoining buildings are the Royal Palace of Palermo, or Palazzo dei Normanni, originally constructed in the 9th century by its Islamic rulers, and then subsequently taken over by the Norman conquerors who established it as the main residence for future Kings.
The cityscape is the main focus of the work, with the artist paying particular attention to the architectural features of the differing Norman and Italian building styles of the city. Palermo is dominated by its heavy, castellated, city walls, projecting and receding along the boundaries of the capital and drawing our eye to the buildings in the background on either side.
The foreground is enlivened with the steady stream of horse drawn carriages coming to and from the main gate. The trees are in full bloom, with thick luscious green leaves while in the far distance there is a small glimpse of the blue sea and a view of what is probably the hill of Monte Pellegrino. There is a distinct mix of individuals represented by the artist; courtiers, ordinary citizens, workers and travellers, reflecting the diverse range of classes populating this 17th century port city.
The vantage point chosen by the artist seems to be from a hill looking down towards the city, which is reflective of the position of the Palace at the highest point of the ancient centre of Palermo. The gate and the palace stood on the traditional western side of the city.
Illus: Etienne Giraud: Palazzo Reale di Napoli (etching), 1771.
The dedication refers to the French ambassador Marie Gabriel Florent Auguste, Comte de Choiseul-Gouffier.
Provenance:
Private Collection, Ireland