Frans Vervloet
1795 – 1872
A View of Venice with Figures on the Riva degli Schiavoni looking towards St Mark's Square, the Biblioteca Nazionale Marciana and Santa Maria della Salute in the distance.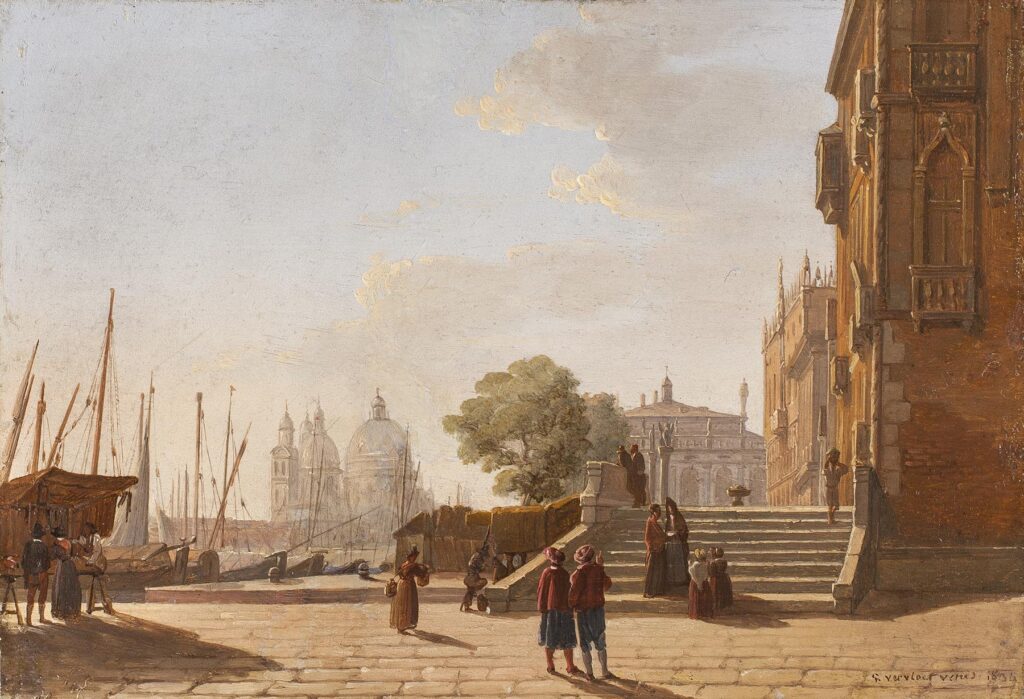 Medium:
Oil on Tin
Category:
Dimensions:
12.5(h) x 18(w) cms
Signed:
Signed, Inscribed and Dated 'F. Vervloet, Venise 1834'
Essay:
Frans Vervloet was born in Malines, Belgium, and began his career as a pupil of his brother Johannes Josephus. From early on in his career he travelled extensively throughout Europe and especially in Italy.
Many Northern European artists travelled to Italy in the early part of the 19th Century and their interest in recording landscape 'en plein air' took the form of oil sketches on paper as the most practical way to capture information quickly on the spot (Posillipo School). Frans Vervloet came to Rome in 1822 where he met Francois Marius Granet, who greatly influenced him. In 1825 he moved to Naples, where he was to spend much of his life and where he befriended the famous landscape artist Anton Sminck van Pitloo. With the help of Pitloo Vervloet established himself as a leading 'vedute' painter and key member of the 'School of Posillippo' as well as gaining the patronage of the King of Naples. Ferdinand II, visiting Venice en route to Vienna to marry the Archduchess of Austria, puchased two paintings from the artist and commissioned three sizeable canvases, which took three years to complete. Many further commissions from the King were to follow and Vervloet was appointed to the role of court painter. With the endorsement of the Court of Naples his topographical views found widespread fame and in 1845 the King presented him officially to Tsar Nicholas I of Russia.
Vervloet eventually settled in Venice where he died in 1872.
Provenance:
Private Collection, Switzerland