Salomon Rombouts
c. 1655 – 1702
A Winter Scene with Skaters on a frozen Canal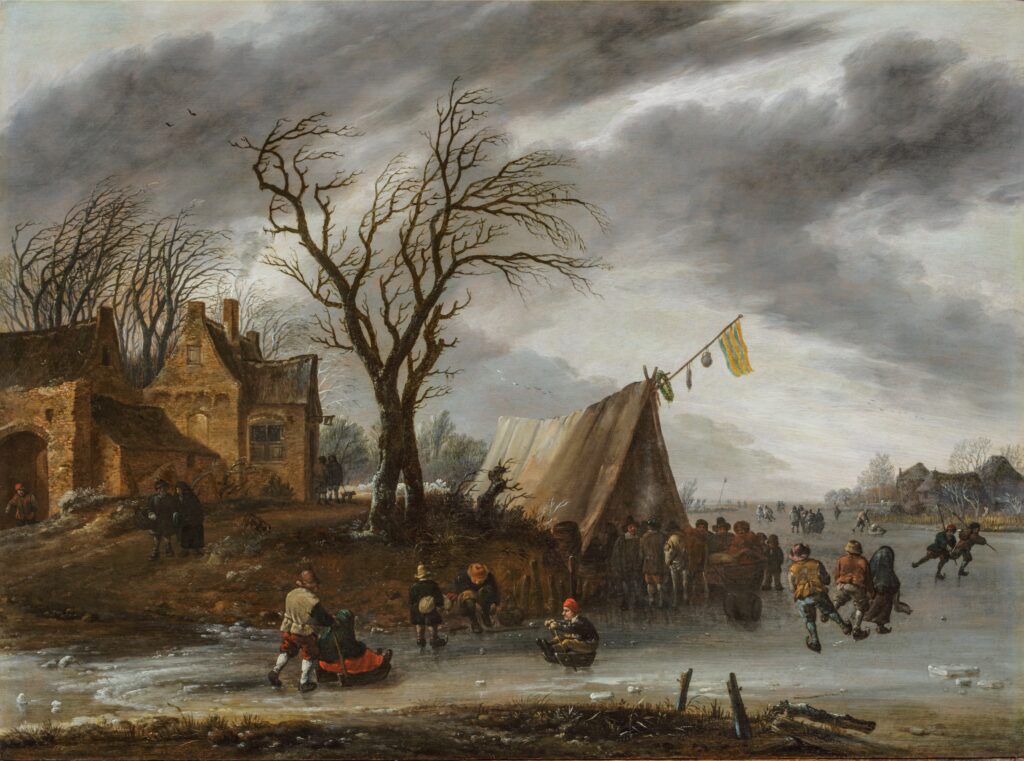 Medium:
Oil on Panel
Category:
Dimensions:
47(h) x 63(w) cms
Signed:
Signed lower right on the plank of wood 'Rombouts'
Essay:
Salomon Rombouts began his career in Haarlem as a pupil of his father, the landscape painter Gillis Rombouts (1630–1678). He became apprenticed to Jacob van Ruisdael (c.1628–1682) and he later worked in the circle of Cornelis Decker (1618–1678) as well as with Roelof van Vries (1631–1681). From these masters of landscape, waterway, and village scenes Rombouts learned to paint Dutch rustic life in all seasons of the year. His village streets and winding forest paths with sunny patches in the foreground are animated by brightly coloured figures, such as he contributed to his father's pictures.
Winter scenes were perennially popular in the Dutch Republic as they allowed the viewer to enjoy scenes of revelry and skating in the harshest month of the year. In the present picture Rombouts has depicted a tavern on the left of the icy highway. The enterprising landlord appears to have opened a tavern in a tent on the edge of the ice, so that skaters on the frozen canal can refresh themselves. Food and drink sold on the ice in the Netherlands was called koek-en-zopie and was typically associated with wintery merrymaking. The flag hanging from the tent appears to be that of the city of Leeuwarden in the Northern Dutch province of Friesland, a city known for its many canals and waterways, much of the surrounding land having been reclaimed from the sea.
Provenance:
Private Collection, Belgium