Jacob de Wit
1695 – 1754
An Allegory of the Arts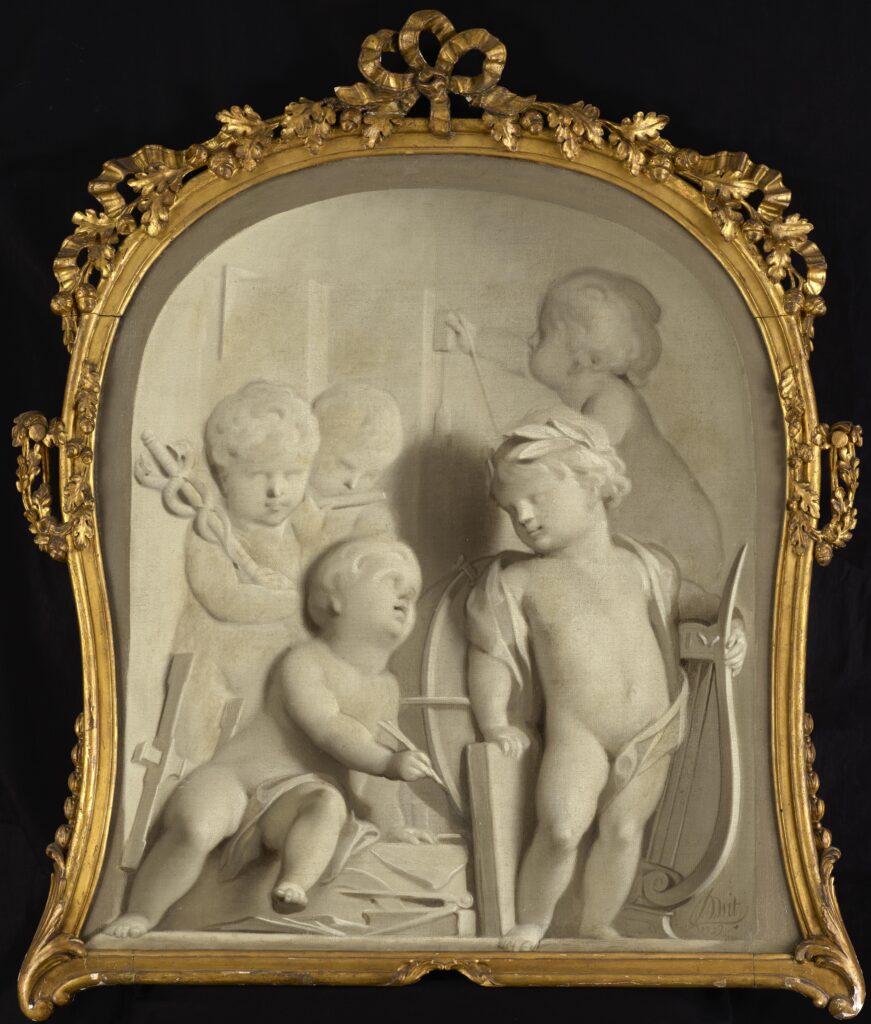 Medium:
Oil on Canvas
Category:
Dimensions:
77.5(h) x 72.1(w) cms
Signed:
Signed and dated 'J. Wit / 1739' lower right
Essay:
Jacob de Wit was born in Amsterdam and from the age of nine until thirteen was apprenticed to the artist Albert van Spiers (a painter and decorator of Amsterdam canal houses who had lived in Rome) with whom he studied for three years. In 1710 de Wit moved to Antwerp to live with his wealthy uncle Jacomo and to work under the direction of Jakob van Hal (1672–1750). Here he studied the works of van Dyck and Rubens, producing many drawings after their paintings, notably the famous ceiling paintings in the Jesuit church by Rubens, now sadly destroyed. He was elected to the Guild here in 1714. In around 1715 he returned to Amsterdam after his uncle had refused to fund his proposed journey to Rome.
Jacob de Wit was an excellent draughtsman, etcher, writer and painter. He became particularly famous for his paintings 'en grisaille'. This colour scheme was to become rather synonymous with the artist, who was dubbed 'the Titian of the Amstel'. The quality of the artist's work in this technique was exceptional. His Rococo ceiling and wall decoration paintings were to become very popular in his own lifetime amongst the wealthy and important Catholic families in Amsterdam. His first profane commissions came from the Cromhout family for their residence on Herengracht and as a direct result of this he started to gain commissions from Protestant families as well. In 1736 he received his most prestigious commission, that of the decoration of the Council Chamber in the Amsterdam Town Hall. Some of his major works were the decorations he executed for the thirty-six chapels in the Jesuit church in Antwerp.
De Wit became immensely wealthy in his own lifetime. Both he and his wife bought houses on the Keizersgracht, and he had even become a collector of paintings himself, amassing a fine collection.
Provenance:
With Rafael Valls, London, where acquired by the previous owner on 8 November 1991;
Collection of Richard D. and Billie Lou Wood