Jan Josefsz van Goyen
1596 - 1656
An Estuary Landscape on the Rhine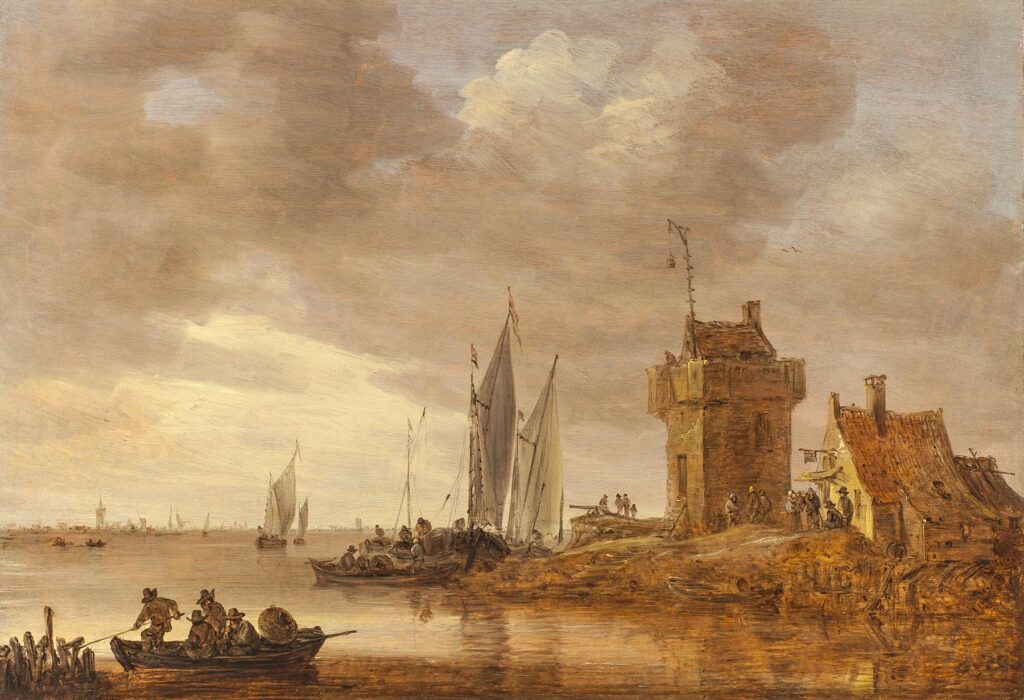 Medium:
Oil on Panel
Category:
Dimensions:
38(h) x 55.5(w) cms
Signed:
Signed with Monogram and dated 1652: 'VG 1652'
Essay:
This painting depicts a watch tower with gallow signal on the Rhine near Lobith and Schenkenschanz, a view that Goyen often repeated (see Beck reference 704 for comparable view, dated 1651). It is a fine example of Goyen's skillfull manipulation of tonal variations. Through a limited colour palette Goyen was able to render natural light and subtle atmospheric effects in shades of brown, green and grey. His use of a low horizon gives the illusion of a broad expanse focusing the eye on the sky.
Provenance:
Sale, Valadon & Co., New York, 26 February 1902, Lot 207 (sold for $375);
Dowdeswell, London;
UK private collection, Sir Charles Turner, London;
Sale, Berlin, Germany, 17 November 1908, Lot 29 (sold for Mk 5600);
Paul Cassirer, Berlin by 1918;
Hungarian private collection, M. von Nemes, Budapest;
Sale, Munich, Germany, 16 June 1931, Lot 47 (sold for Mk 6900);
Belgian Private Collection, Stern, Brussels;
The previous owner's grandfather, private collection, Munich
By descent
Literature:
olhard, Hans, 'Die Grundtypen der Landschaftsbilder Jan van Goyens und ihre Entwicklung', Frankfurt: 1927, p. 182;
Hofstede de Groot, Cornelius, 'A Catalogue raisonné of the most eminent Dutch painters of the Seventeenth Century': Based on the Work of John
Smith (London: Macmillan & Co, 1908-27) no. 811;
Beck, Hans-Ulrich, 'Jan van Goyen, 1596-1656: ein Oeuvreverzeichnis', Amsterdam: van Gendt, 1972, Vol II, no. 706, p. 322. Illustrated.