Jan Josefsz van Goyen
1596 - 1656
An Estuary Landscape on the Rhine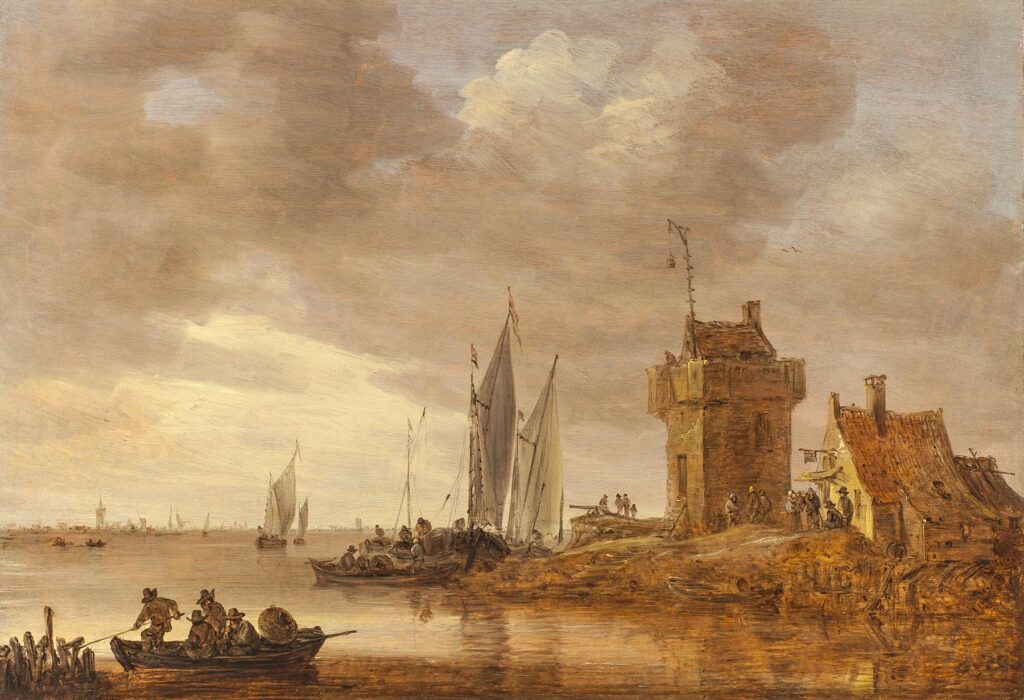 Medium:
Oil on Panel
Category:
Dimensions:
38(h) x 55.5(w) cms
Signed:
Signed with Monogram and dated 1652: 'VG 1652'
Essay:
Jan van Goyen was born and raised in Leiden. He is known to have sold his house there in 1629 to the artist Jan Porcellis, whose marine paintings were of some influence on van Goyen's early work. Of all his masters, however, Esaias van de Velde was much the most important, and his influence is the most traceable in van Goyen's brightly coloured early style.
By the early 1630's van Goyen had moved to the Hague where he became a member of the Guild and was granted citizenship in March 1634. Despite being a prolific artist, van Goyen had difficulty in selling his works throughout most of his career and was constantly trying to improve his financial affairs. His attempt at investing in tulip bulbs was a notorious disaster when the market crashed in 1637, but he fared somewhat better in his property speculations.
Jan Van Goyen was, with Salomon van Ruysdael and Pieter de Molijn, one of the principal exponents of the new Haarlem style of landscape painting. He chose modest scenes to paint, such as simple river landscapes, dilapidated farmhouses and ruined castles, which he rendered in a restricted range of colours. His monochrome landscapes of the late 1630s and 1640s epitomized Dutch landscape painting of the 17th century. His extraordinarily prolific output of paintings as well as drawings meant that his influence on Dutch landscape painting was substantial. As a result our record of 17th century life in Holland has benefited hugely from his oeuvre.
This painting depicts a watch tower with gallow signal on the Rhine near Lobith and Schenkenschanz, a view that Goyen often repeated (see Beck reference 704 for comparable view, dated 1651). It is a fine example of Goyen's skillfull manipulation of tonal variations. Through a limited colour palette Goyen was able to render natural light and subtle atmospheric effects in shades of brown, green and grey. His use of a low horizon gives the illusion of a broad expanse focusing the eye on the sky.
The painting was sold at auction in New York in 1902, where it was acquired by art dealer Charles William Dowdeswell (1832-1915) of London. Dowdeswell owned and ran a frame-making business in Chancery Lane and in 1878, Charles and his son, Walter opened the art dealership Dowdeswell and Dowdeswell. The gallery was one of the first to promote French Impressionism in London and in 1883 hosted the exhibition Societe des Impressionistes. The gallery closed down in 1912, when Walter Dowdeswell joined art dealer Joseph Duveen.
Dowdeswell gallery then sold the painting to London collector Sir Charles Turner who subsequently sold the work in Berlin in 1908. In 1918, the work is known to have been with the renowned German art dealer Paul Cassirer (1871-1926) who played a significant role in the promotion of French impressionist and post-impressionist artists in particular Vincent Van Gogh and Paul Cezanne. The work was sold at auction in Munich in 1931, and bought by a private collector in Brussels.
Provenance:
Sale, Valadon & Co., New York, 26 February 1902, Lot 207 (sold for $375);
Dowdeswell, London;
UK private collection, Sir Charles Turner, London;
Sale, Berlin, Germany, 17 November 1908, Lot 29 (sold for Mk 5600);
Paul Cassirer, Berlin by 1918;
Hungarian private collection, M. von Nemes, Budapest;
Sale, Munich, Germany, 16 June 1931, Lot 47 (sold for Mk 6900);
Belgian Private Collection, Stern, Brussels;
The previous owner's grandfather, private collection, Munich
By descent
Literature:
Volhard, Hans, 'Die Grundtypen der Landschaftsbilder Jan van Goyens und ihre Entwicklung', Frankfurt: 1927, p. 182;
Hofstede de Groot, Cornelius, 'A Catalogue raisonné of the most eminent Dutch painters of the Seventeenth Century': Based on the Work of John
Smith (London: Macmillan & Co, 1908-27) no. 811;
Beck, Hans-Ulrich, 'Jan van Goyen, 1596-1656: ein Oeuvreverzeichnis', Amsterdam: van Gendt, 1972, Vol II, no. 706, p. 322. Illustrated.