Thomas van der Wilt
1659 - 1733
An Exterior Scene with a Woman playing a Lute and a Man training a Dog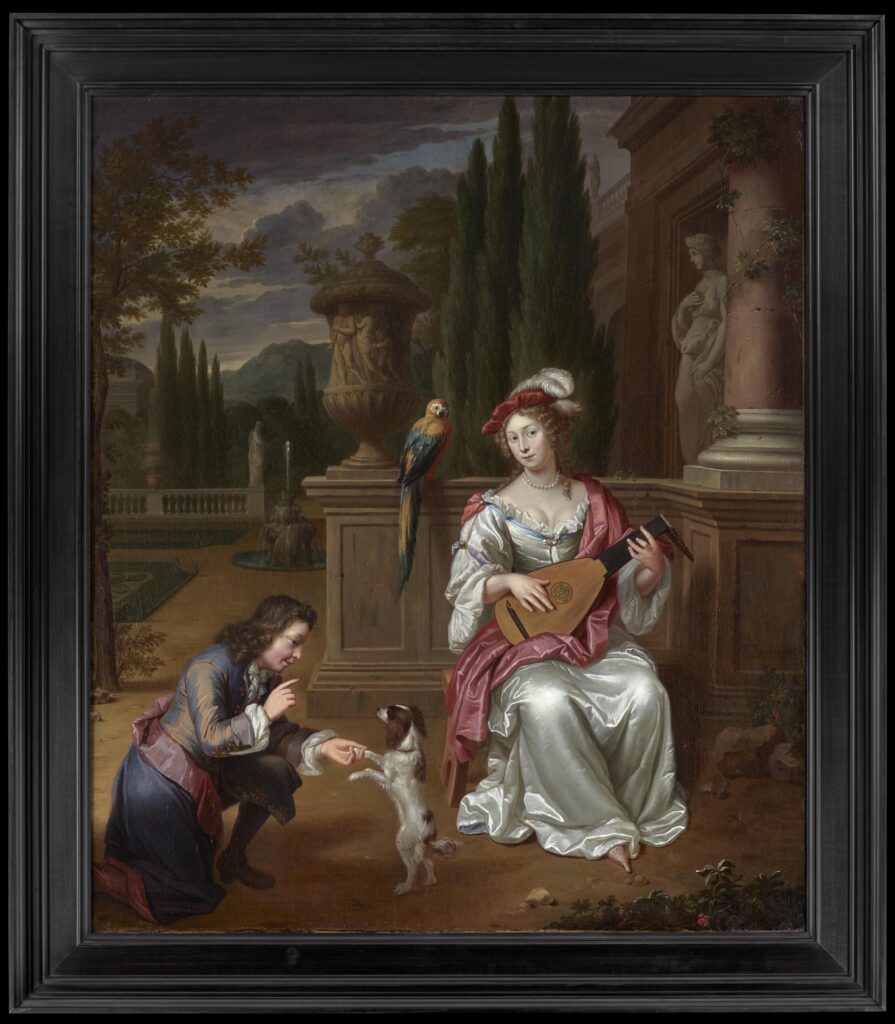 Medium:
Oil on Canvas
Category:
Dimensions:
90.5(h) x 77.5(w) cms
Framed Dimensions:
104.5(h) x 92(w) cms
Signed:
Signed and dated lower right: 'T Vanderwilt. 1699'
Essay:
Thomas van der Wilt was the son of a draper, Willem, in the village of Pershil, near Korendijk. His mother was Emmerentie van der Staf. He began his career as a pupil of Jan Verkolje (1650 - 1693). He lived and worked in Delft and his masterpiece, 'The Anatomy Lesson of Abraham Cornelisz. van Bleyswijck with a Self Portrait' is in the Museum Het Prinsenhof, Delft (inv/cat.nr. PDS277). Like his master, most of his works are on a small scale and are always executed with the utmost care and diligence. His sense of draughtsmanship is excellent and in his own time his work became much sought after. At times some of his portraits resembled the work of Eglon van der Neer and, some of his group portraits and genre scenes on dark backgrounds, for a time, recalled the works of Casper Netscher and Adriaen van der Werff.
In this picture van der Wilt transfers the traditional components of Dutch interior painting into an outdoor setting. The composition appears to be based on a smaller work by his teacher Jan Verkolje, Lute Player and Boy with Dog c. 1673-5 (Cincinnati Art Museum, Accession No: 1946.97). The composition is likely a precursor to Wilt's later work Family Portrait Group in a Classical Setting dated 1708 (sold at Pandolfini Casa d'Aste, 15 May 2018, lot 37). While the Verkolje work represents a scene of relaxed domesticity, the two pictures by Wilt are more ambiguous in their iconography, though they appear to hint at themes of virtue and vice.
In the present picture a baroque Italianate garden is populated by two figures in lavish clothes in the Dutch mode. On the left a young man kneels to hold a small spaniel by the paws, apparently teaching it to walk on its hind legs. Across from him and seated on a chair is a woman dressed in a luxuriant flowing dress. She looks out at the viewer while strumming on a lute, a feathered hat atop her head and a Scarlet Macaw watching her.
Between the two figures a large stone urn depicts a cherub who rips away, or perhaps tries to replace, a toga on a naked woman while a satyr plays his pipe. On the far right a statue of Virtue looks on in dismay.
Perhaps van der Wilt's message is less an allegory on the danger of luxury and sex, and is instead a more ambiguous meditation on the blindness of the virtuous to temptation. In the Dutch Republic music and musicians were often associated with loose morals. This and the woman's voluptuous clothes might indicate that she a prostitute, her gaze suggestive, the lute linked to feminine sexuality. While dogs symbolise fidelity, the uncaged parrot might stand in for vanity, frippery, and over-stimulation of the senses. As she gazes knowingly at the viewer the man teaches the spaniel to be obedient. However, he completely fails to notice the woman's gaze, while the statue of Virtue is similarly powerless to halt the lascivious parade on the urn.
Provenance:
Antikkompaniet, Stockholm.
The collection of Anita Dellborg (1929-2022), Gothenburg;
By family descent to the previous owner