Cornelis Droochsloot
Utrecht 1630 - 1673
An Interior with Figures making merry around a Table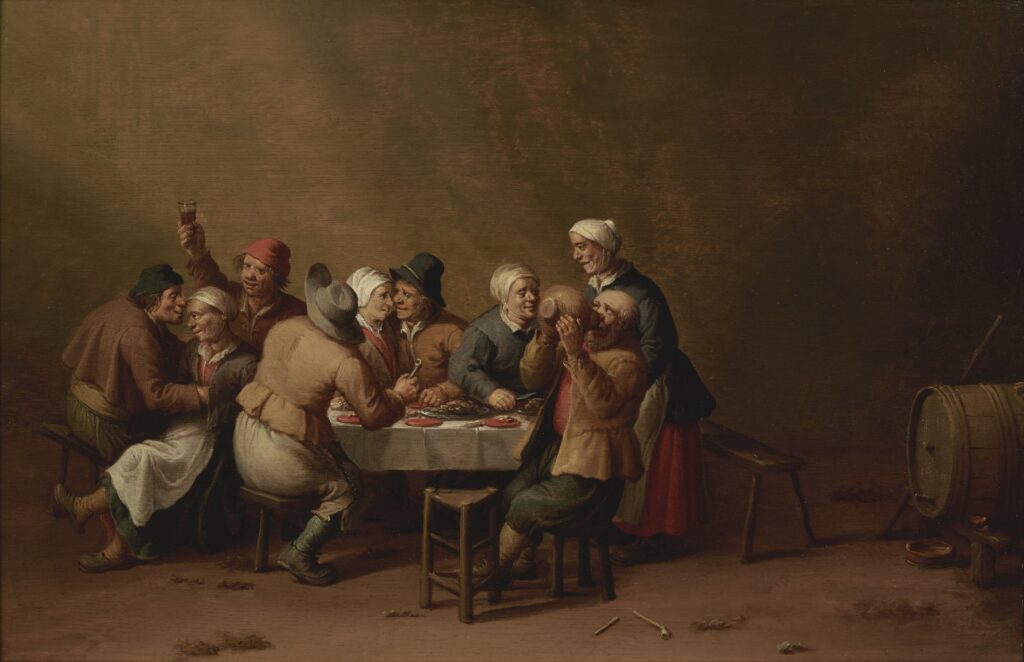 Medium:
Oil on Panel
Category:
Dimensions:
41.2(h) x 62.5(w) cms
Signed:
Signed and dated on the barrel 'JC. DS / 1636'
Essay:
Joost Cornelisz Droochsloot was a Dutch painter of village genre scenes. It is possible that he was a pupil of David Vinckboons in Amsterdam between 1610 - 1615 and this would certainly have explained his exuberant subject matter and bright palette. He was deacon of the Utrecht Guild of Saint Luke in 1623 and held a number of official civic positions. Over his life he taught several pupils including Jacob Duck (c. 1600 – 1667) as well as his son Cornelis (1640 – 1673).
This interior tavern scene is rendered in the reddish hue for which Droochsloot was well known. Typically, the artist depicted scenes of village parties happening outdoors with boors carousing in the streets. However, the present picture is more intimate and suggests the influence of the early propagators of the merry company genre such as David Vinckboons (1576–1629) and Adriaen Brouwer (c. 1605 – 1638). A moralistic tone appears to have been eschewed in favour of representing the local boors drinking, smoking, and flirting without providing a lecture on vice. The picture could perhaps be an allegory of the five senses. From left to right we see touch, sound, sight, smell and taste.
Provenance:
Dutch Private Collection;
With Saam Nijstad, The Hague, by 1978;
Bought there by the parents of the previous owner in the early 1980s.