Abraham Jacobsz. Storck
Amsterdam 1644 - 1708
An Italianate Port with a Triumphal Arch near a colonnaded Building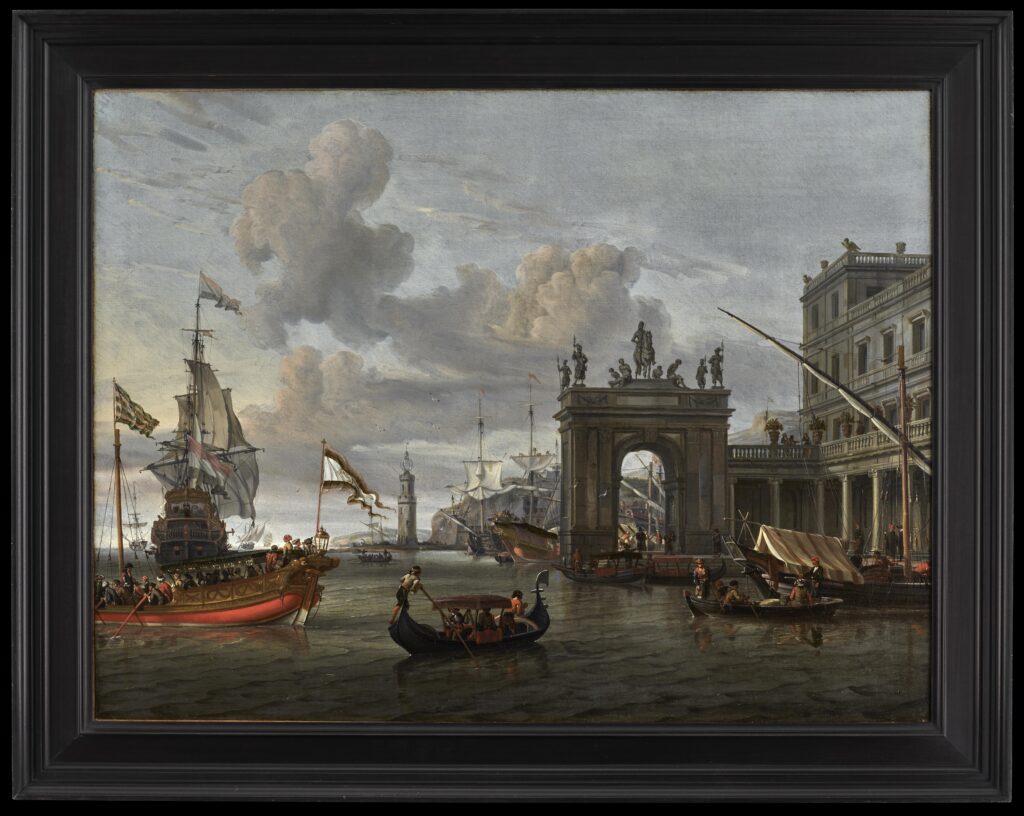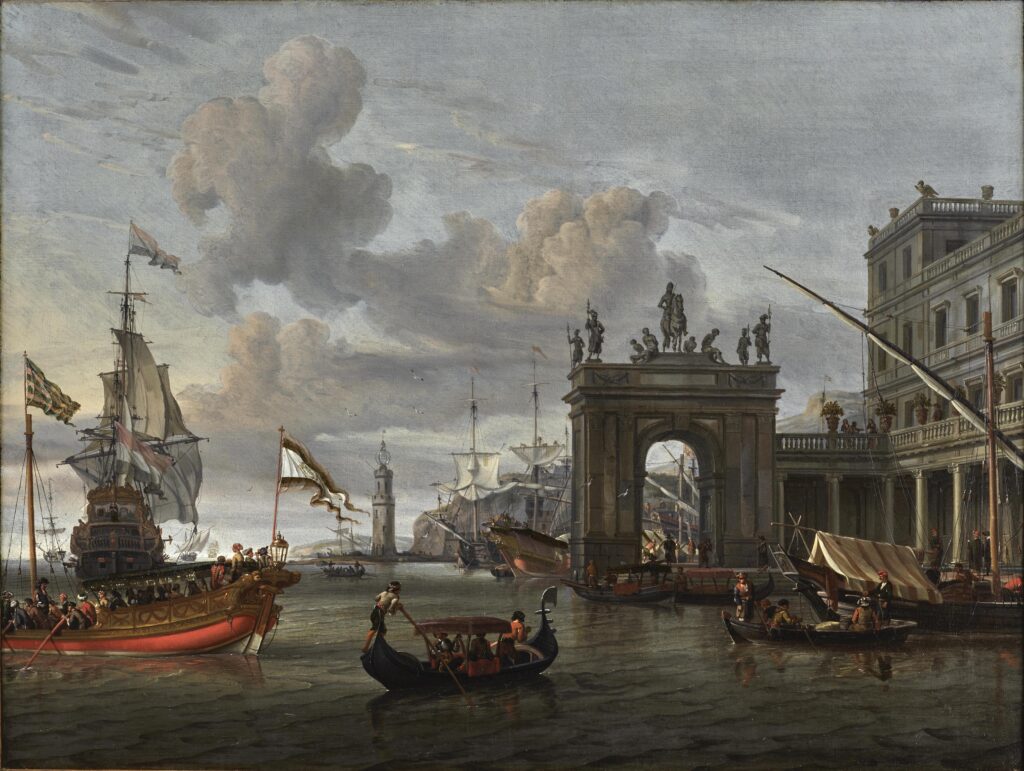 Medium:
Oil on Canvas
Category:
Dimensions:
49.1(h) x 64.8(w) cms
Framed Dimensions:
59(h) x 75(w) cms
Signed:
Signed on the gondola: 'A.Storck'
Essay:
Of the three Storck, or Sturck, brothers, the most prolific and accomplished was Abraham. Almost none of Johannes's work has survived and about fifty paintings (and seventy five drawings) can be ascribed to Jacobus with any certainty. Abraham trained and worked with his father, Jan Jansz Sturck (a fijnschilder painter), and his brother Johannes who was fifteen years his senior. Abraham's fellow Amsterdam marine painter, Ludolf Backhuysen, also had a considerable influence on his work.
He joined the Guild of St. Luke in Amsterdam in 1688 when he married Neeltje Pieters van Meyservelt. Abraham's work encompassed all manifestations of marine painting, such as naval battles, topographical and imaginary harbour scenes, Rhine views, and best of all, his views of recreational sailing and boating on the Amstel and Vecht rivers. It was not only Backhuysen but also Jan Abrahamsz Beerstraten who was to prove influential, especially in his naval battle paintings and townscapes. Despite the age gap the two artists were close friends and they were also distantly related by marriage.
Abraham's work is distinguished by skilful draughtsmanship and use of bright colours, two characteristics that were eminently suitable for his numerous depictions of Italian coastal and harbour scenes. These often contain prominent architectural and sculptural features which are recognisable. The compositions themselves would appear to be imaginary, given that Storck is not recorded as ever having travelled to Italy.
Two similar capricci by Storck at Bonhams London (8 December 2004, lot 134) and Sotheby's Amsterdam (10 May 2011, lot 85) are dated 1692 and 1691 respectively. This provides a likely dating for the present picture to the first years of the 1690s. The three pictures share many elements, most notably the triumphal arch and a Baroque palace to the right, and a harbour scene to the left with sloop in the foreground, gondoliers, and frigate in the middle distance.
The lighthouse in the background of the present picture is suggestive of the powerful port city of Genoa. This is also hinted at by the statues atop the triumphal arch which show a man on horseback with four captives - perhaps the Genoese conquistador Christopher Columbus. Meanwhile, it is interesting to note that the flag of the large frigate proudly displays the Dutch tricolour while the smaller sloop, despite being largely crewed by men with turbans, flies the blue and yellow flag of the Dutch province of Leeuwarden.
Provenance:
Private collection, UK, for at least 50 years