Ludolf Backhuizen
1630 – 1708
Dutch Coastal Vessels off a Harbour Mouth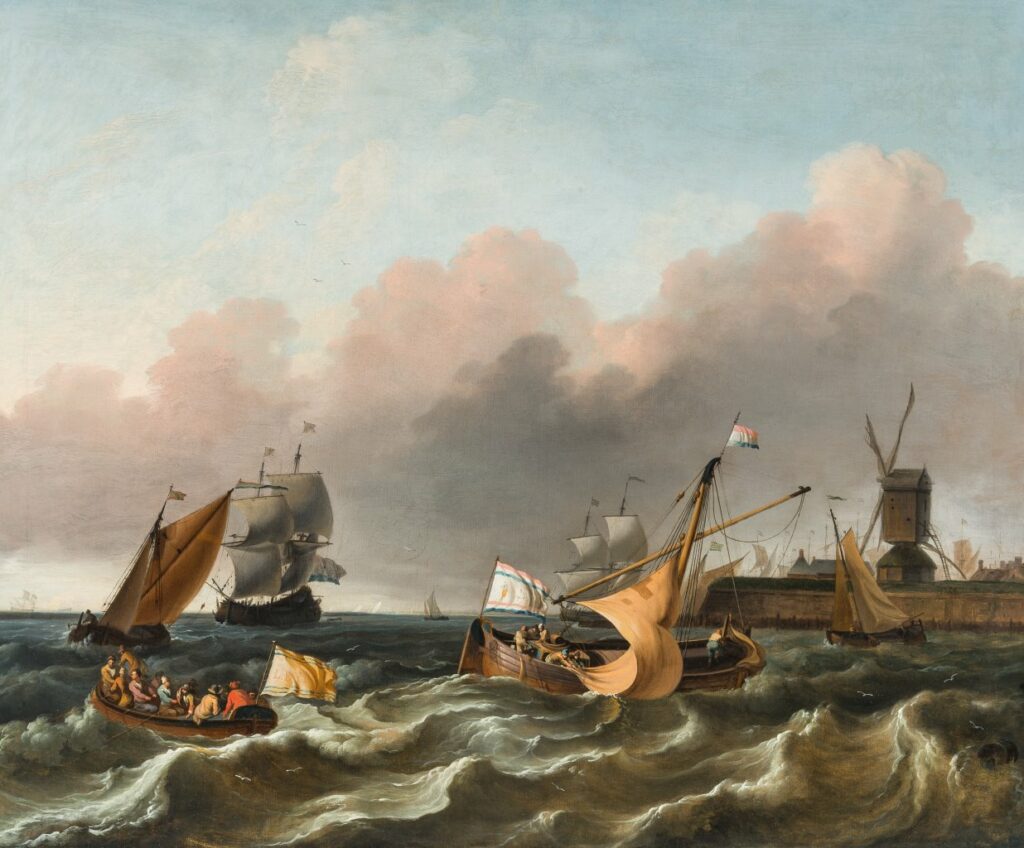 Medium:
Oil on Canvas
Category:
Dimensions:
64(h) x 77(w) cms
Signed:
Signed on the flag lower centre 'LF:YL' and signed and dated 'L. Ba.h/1704' on the barrel lower right
Essay:
Ludolf Backhuizen was one of the foremost painters of shipping and marine subjects of the seventeenth century in Holland. According to Houbraken he began his career as a pupil of Allart van Everdingen and later of Hendrick Dubbels. He had become a recognized marine painter by 1658, the year in which he painted the staffage and ships for Bartholomeus van der Helst's 'Portrait of a Lady' (Brussels, Musée des Arts Anciens), although he did not join the Amsterdam guild of painters until 1663. Thereafter his fame as a marine specialist grew rapidly, winning him, for example, the commission in 1665 from the burgomaster of Amsterdam of a 'View of Amsterdam and the Ij' (Paris, Louvre), intended as a diplomatic gift for Hugues de Lionne, King Louis XIV's Foreign Minister.
With the resumption of hostilities between the Netherlands and England in 1672, the van de Veldes moved to England, and Backhuizen became the leading marine painter in The Netherlands. His success brought him to the attention of many of the leading patrons of Europe, including, according to Houbraken, the Grand Duke Cosimo III de' Medici, King Frederick I of Prussia, the Elector of Saxony, and Tsar Peter the Great, all of whom visited his studio. Indeed, Peter the Great was reputed to have taken drawing lessons from him.
Unlike the Van de Veldes, who were more concerned with representing the technical aspects of sailing vessels and naval battles, Backhuizen depicted the perpetually changing climate and the magnificent skies of the Netherlands. Much of his work, moreover, glorifies Amsterdam and the mercantile trade that had made it a great city. With that aim in mind, he made his first etchings in 1701 at the age of 71, as he proudly stated on the title page of 'Y stroom en zeegezichten' (Views of the River Ij and the sea): a series of harbour scenes preceded by a representation of the 'Maid of Amsterdam' in a triumphal chariot. Backhuizen is also known to have painted some biblical as well as some historical subjects.