Frans Francken II
1581 - 1642
Judith and Holofernes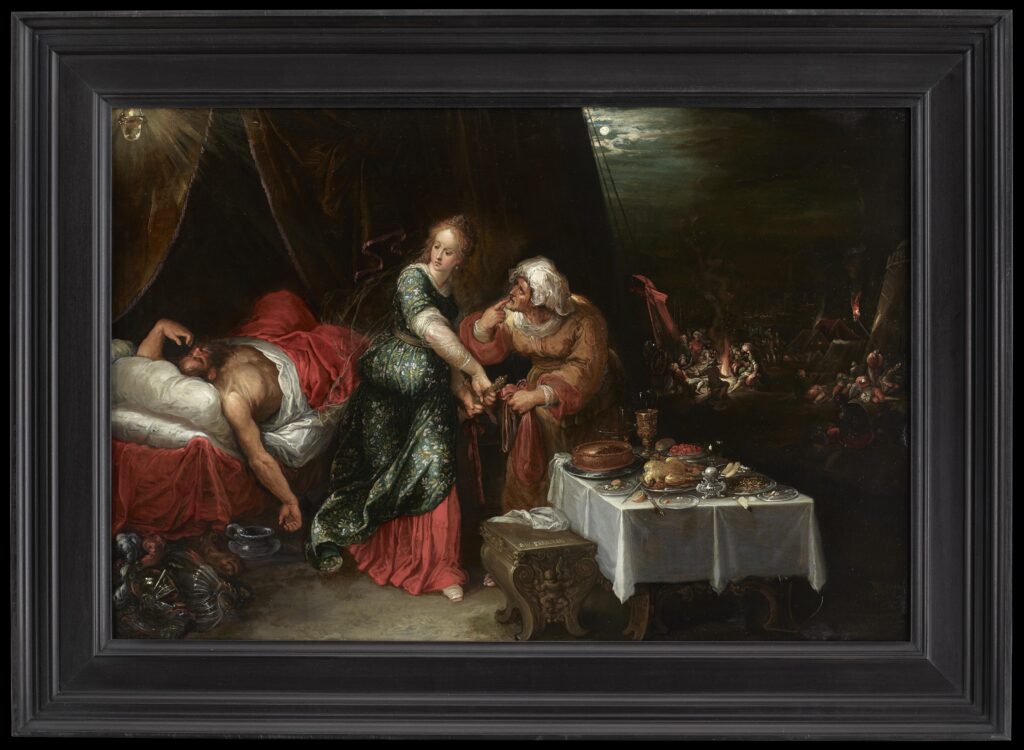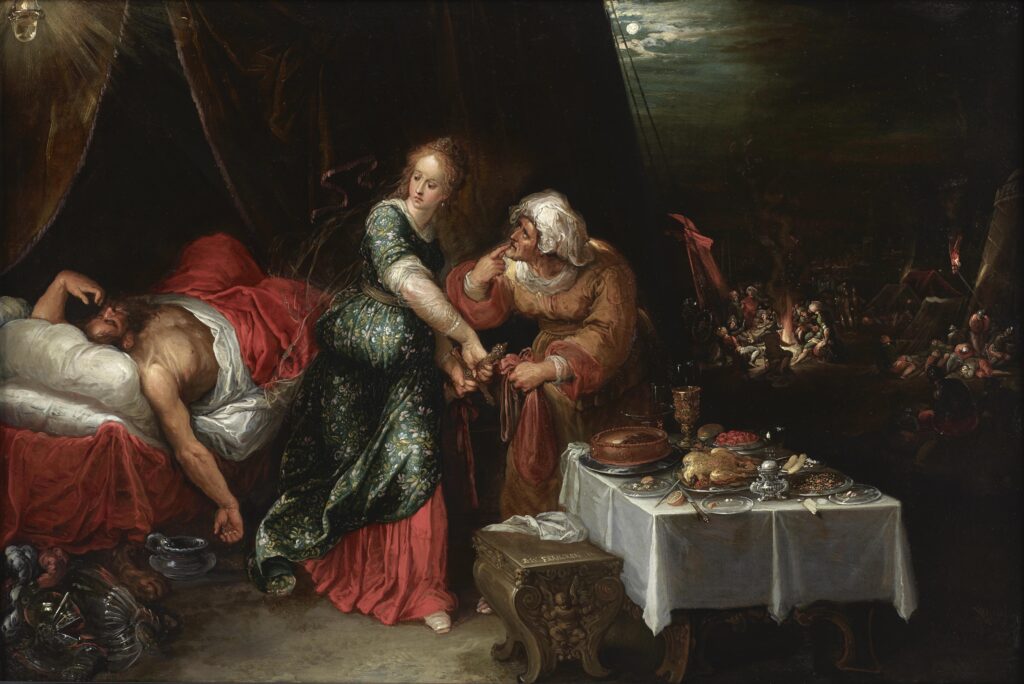 Medium:
Oil on Copper
Category:
Dimensions:
33.5(h) x 49.5(w) cms
Framed Dimensions:
43.5(h) x 60(w) cms
Signed:
Signed on the chair: 'DiY FRANCKEN IN' and again lower right: 'D...FRANCKEN'
Essay:
"The Lord has struck him down by the hand of a woman." (Judith 13:15)
The slaying of Holofernes by the Old Testament heroine Judith grew in popularity during the late Renaissance and reached its apogee in the Baroque period. The story, with its themes of bravery, sex, and murder lent itself well to the tenebrism championed by Caravaggio and Artemisia Gentileschi. Typically, the scene is either represented with Judith in the act of beheading Holofernes, or just after, holding the tyrant's head. Many such depictions have the figures fill the picture plane, making the macabre violence as close and immediate as possible.
Francken has clearly understood this motive, but could not resist including elements of landscape and still life in the right-hand third of the painting; a composition typical of the artist. Here the narrative is fleshed out more fully. We see the camp of the Assyrian army in the background, the men sitting by their campfires preparing to storm Judith's city of Bethulia the next morning. The remains of a banquet for two lie in disarray atop a table where Holofernes gorged himself, encouraged by the wily Judith.
Judith's plan was to leave her city under the cover of darkness dressed in her finest clothes and seduce her enemy. She would eat and drink only what her maidservant had brought, and wait until the lustful Holofernes was overcome with wine. Now Francken shows her drawing the sword that Holofernes foolishly left by his bed. She readies to strike the general while her maidservant holds a bag ready to carry away Holofernes' severed head. Soon they will steal away into the night back to Bethulia as the leaderless army disintegrates.
Angela Jäger of the RKD, Den Haag, has confirmed the authenticity of the work, which is registered there as having been painted solely by Frans Francken II.
Frans Francken was known for his pictures of church interiors, biblical, historical and proverbial subjects as well as genre compositions. He was, in addition, the first artist to paint accurate views of old picture galleries. He was a pupil of his father, Frans Francken the Elder, and he is the best known and most prolific of a large family of painters. He became a master of the Guild of St Luke in Antwerp in 1605 and subsequently deacon in 1616. He married Maria Placquet in 1607. Of their surviving children three became painters in their own right: Frans III, Hieronymus and Ambrosius. He is not known to have left Antwerp his entire life.
Provenance:
Private Collection, Switzerland