Stanislas Victor Edouard Lepine
Caen 1835 - 1892 Paris
'Les Terrassiers' working at the old Montmartre watering place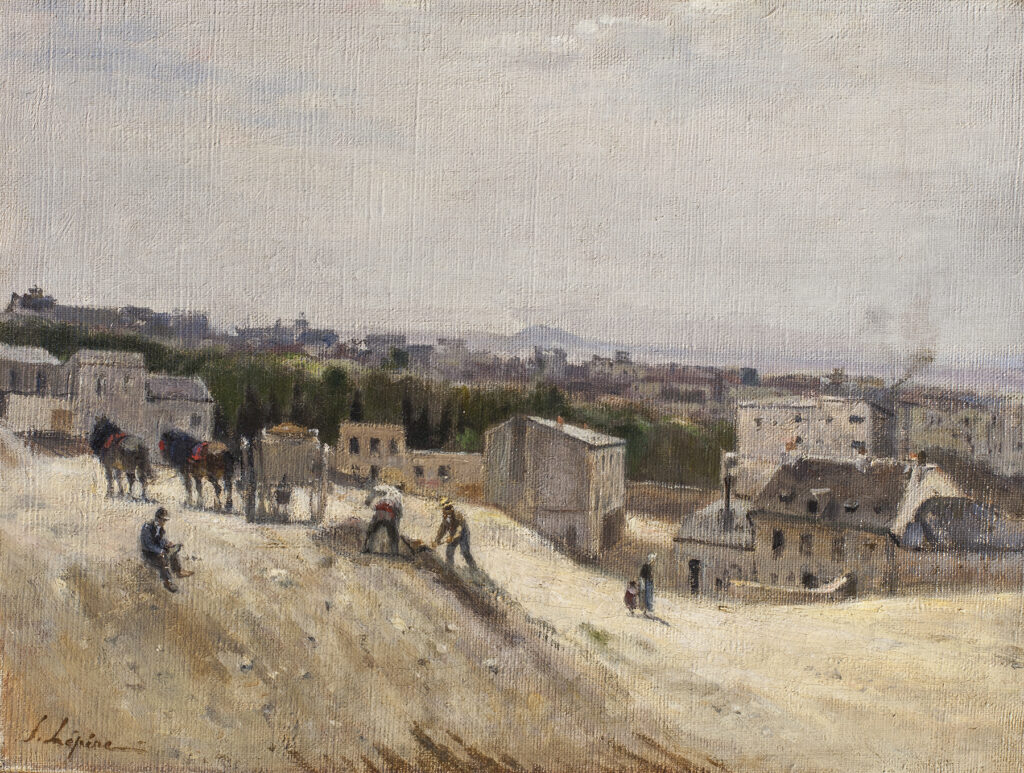 Medium:
Oil on Canvas
Category:
Dimensions:
26.5(h) x 36(w) cms
Signed:
Signed: 'S. Lepine'
Exhibitions:
Essay:
The reverse of the painting bears an old red wax stamp from the Rouart collection as well as inventory labels 19/Rouart, 3945 and 415.
The old 'abreuvoir' or watering place in Montmartre was a once charming spot frequented by many local people and animals in order to rehydrate on the hot summer days. Today it is only the street name (Rue de l'Abreuvoir) that stands to remind us of its previous history.
Lépine exhibited, amongst illustrious company, in the first Impressionist exhibition, held in the gallery of the famous photographer Nadar in 1874. He can be regarded as one of the precursors to Impressionism. His debt to Jongkind, whom he held in high regard, and to Corot, who was to be his teacher during the 1860s, was evident throughout his life.
He came to painting late in life and was of humble origin. Only at the age of 18 did he decide to devote himself to painting and, having saved enough to buy paint and brushes, he taught himself by copying the masterpieces in the Louvre. Once his talent was recognised he began to develop the important artistic connections that helped him on his way. His initial meetings with Adolphe-Félix Cats and Théodule Ribot led to long friendships.
In 1859 he made his Paris Salon debut with a number of paintings of Caen and that same year he moved into a residence in Montmartre. The streets of Paris, the River Seine and Montmartre were to prove great influences on his paintings and he looked to them for his inspiration. Corot's mark is especially evident in these paintings.
Lépine, who was a quiet and modest man, was not successful financially and he struggled to make ends meet despite the fact that he was exhibiting regularly at the Salon. He eschewed the regular watering holes of his fellow artists and kept to himself. However, in an attempt to improve his financial situation he started to work with the dealer Pierre-Firmin Martin who sold the work of Corot, Millet and Cals. Martin introduced Lépine to Count Armand Doria who became an important patron. Nevertheless he still struggled and despite a further arrangement with Paul Durand-Ruel he was forced to organize a number of auctions at the Hotel Drouot. Interestingly his works fetched more than those of Monet, Renoir, Sisley and Morisot in a similar auction run by Monet.
The quiet and unassuming Lépine, whose subject matter and style were so reminiscent of Corot, finally achieved recognition when he was awarded two first class medals and a further third class medal in the 1889 Salon. Well-deserved as this success was, it came too late and Lépine died in 1892, penniless and almost totally paralysed, having won a medal at the Madrid Salon the year before.
Provenance:
From the collection of Alexis Rouart, Paris;
His sale, Drouot Paris 8-11th May 1911, lot 147;
Private Collection, UK
Literature:
Robert & Manuel Schmit, 'Stanislas Lépine, Catalogue raisonné de l'oeuvre peint', Savigny-sur- Orge, 1993, p. 87, n°210