WIllem van de Velde the younger
Lord Archibald Hamilton in the Lichfield engaging the St. Malo Privateer Tyger, 11th December 1695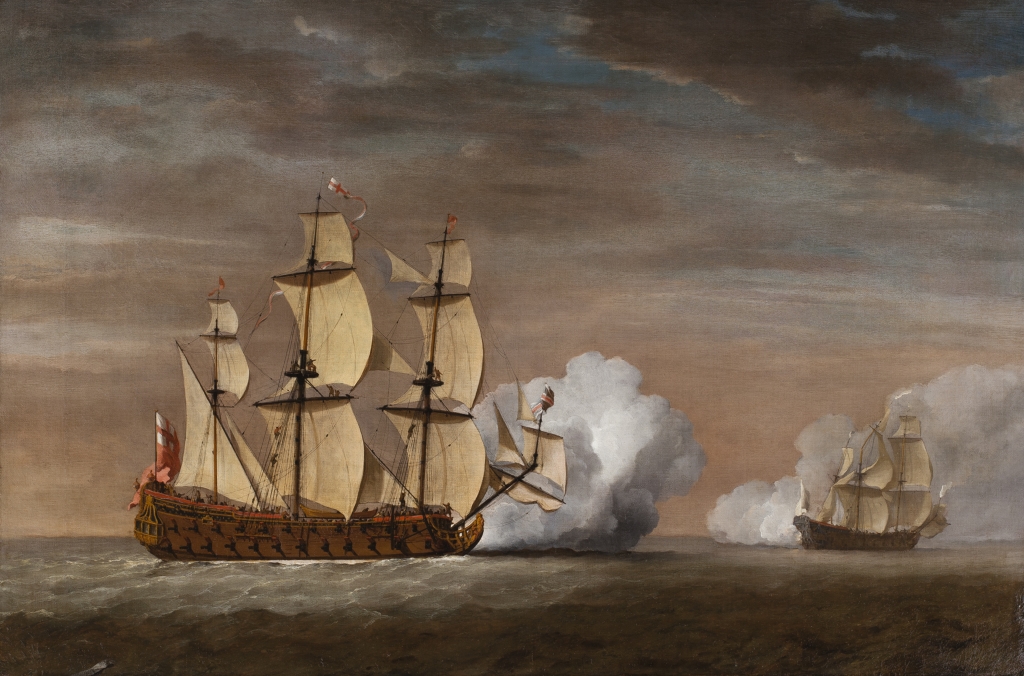 Medium:
Oil on Canvas
Category:
Dimensions:
65.4(h) x 98(w) cms
Signed:
Indistinctly Signed and Dated 1699(?)
Essay:
Lord Archibald Hamilton, seventh and youngest son of William, 3rd Duke of Hamilton and his wife Anne, Duchess of Hamilton, became captain in the Navy on the 11th September 1693 and by the end of 1694 was appointed to a new 48 gun vessel the Litchfield that was being built at Portsmouth. In 1695 he was active in the English Channel pursuing French privateers and this picture appears to commemorate a particular action recorded in the ship's log: "Dec 11 at:8: this morn. saw 2: sayle to Leward we gave chace to one ye Anglesy to ye other. by noon came up with our chase & Engag'd with her fo: 2: hours after which she struck haveing both her topmasts shott away – being a french Privateeer of Snt Malo of: 24: guns Call'd ye Tyger." On his return to civilian life he was the Member of Parliament for Lanarkshire between 1708 and 1710 and again between 1718 and 1734, Queensborough between 1735 and 1741 and Dartmouth between 1742 and 1747. As well as a long serving MP he was also Lord of the Admiralty, Governor of Jamaica and Goverbor of Greenwich Hospital.
M.S. Robinson suggests that the picture may have entered the collection at Warwick Castle together with the portrait of Lord Archibald by Thomas Murray, which still hangs in the state rooms at Warwick, from the collections of one of his children, probably Sir William Hamilton.
We are grateful to Dr Remmelt Daalder, formerly of the Amsterdam Scheepvaartmuseum, who has written a new book on the Van de Velde family (Van de Velde & Son - Marine painters). He classes this painting as an excellent example of a late painting entirely by Willem van de Velde II himself. In this view he diagrees with Robinson but agrees entirely with him over the date. Robinson may have viewed this painting from a photograph as he mentions a Dutch ensign on the French ship which is erroneus. Daalder points to the moderate size of the painting which was also a sign that van de Velde would have painted this himself.
Provenance:
Presumably comissioned by Lord Archibald Hamilton (1673–1754);Probably by descent to his daughter Elizabeth (1720–1800) who married Francis Greville, 1st Earl of Warwick (1719–1773);By descent to the previous owner.
Literature:
Probably Anon., Inventory of the Contents of Warwick Castle, 1806, one of three sea fights mentioned, two as by Van de Velde;
Probably W. Field, An Historical and Descriptive Account of the Town and Castle of Warwick, 1815, p. 204, ('A Seafight by Vandervelde'), in the Compass room;
W. Spicer, Vitruvius Britannicus. History of Warwick Castle, London, 1844 ('Naval Engagement - Vandervelde'), in the Compass Room;
H. T. Cooke, Present State of the Castle, 1846 ('A Frigate in Chase, by William Vandervelde'), in the library, opposite the fire place;
Anon., Inventory of the contents of Warwick Castle, ms., 1900, as ('Sea Piece and Ships'), hanging in the Chinese Corridor;
M. S. Robinson, Van de Velde, A Catalogue of the Paintings of the Elder and the Younger Willem van de Velde, London 1990, vol. I, no. 470, pp. 245–46.