Frans Francken II
1581 - 1642
Phineus interrupts the Wedding of Perseus and Andromeda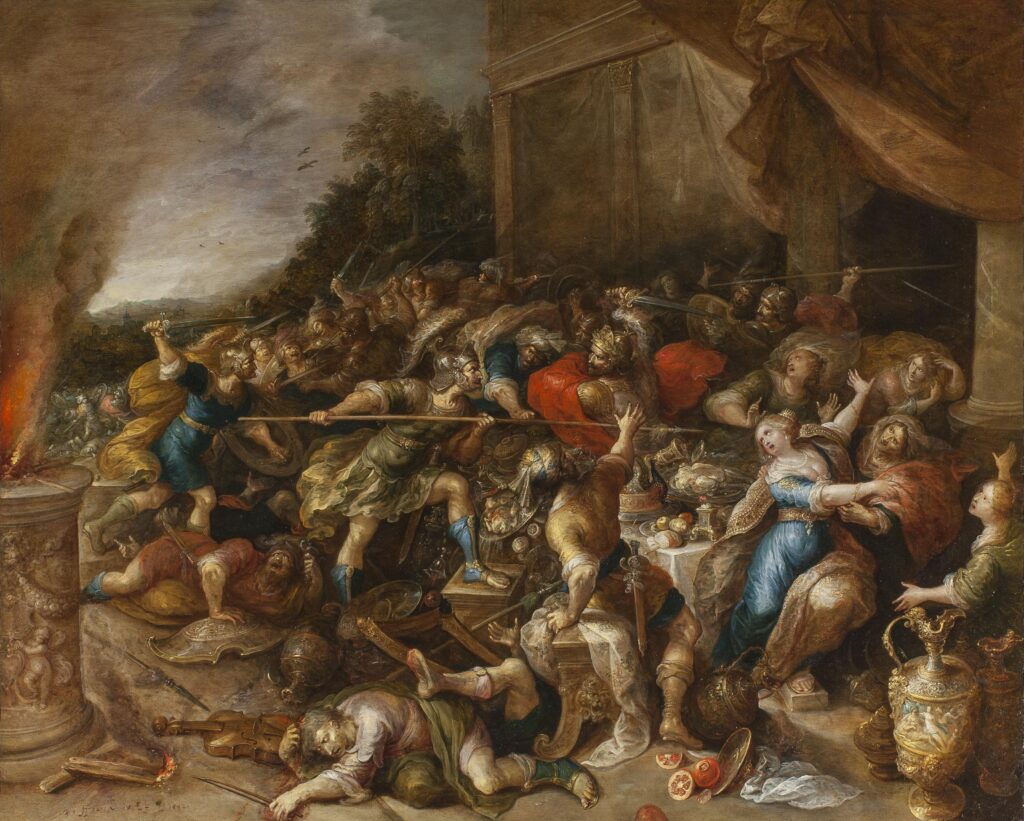 Medium:
Oil on Copper
Category:
Dimensions:
70(h) x 87(w) cms
Signed:
Signed and Dated: 'ffranck. IN.IT f Ao 164.'
Essay:
This Greek mythological story is recounted in in the 5th book of Ovid's Metamorphoses.
Phineus was the spurned suitor of Andromeda who had been usupred after Perseus had saved Andromeda from the huge sea serpent that had been terrorising her father's (King Cephus) kingdom. Perseus was given her hand in marriage as a result (ignoring the fact that she had been promised to Phineus already). Perseus had of course already famously killed Medusa, the serpent haired Gorgon who turned people to stone with one glance.
Perseus beat the attackers by revealing Medusa's head and turning them all to stone, as he had done to the huge sea serpent. Interestingly Francken chooses not to show Medusa's head (unlike most other treatments of the subject) instead focussing on the struggle of the two main protagonists who are placed centrally in the maelstrom of whirling figures.
Provenance:
Private Collection, Italy
Literature:
N. Peeters, 'From Nicolaas to Constantijn: The Francken family and their rich artistic heritage (c. 1550-1717)', in Family Ties. Art Production and Kinship Patterns in the Early Modern Low Countries, Turnhout 2012, pp. 103-117.