Francis Swaine
1725 – 1782
Shipping in calm Waters, with a Jetty in the Foreground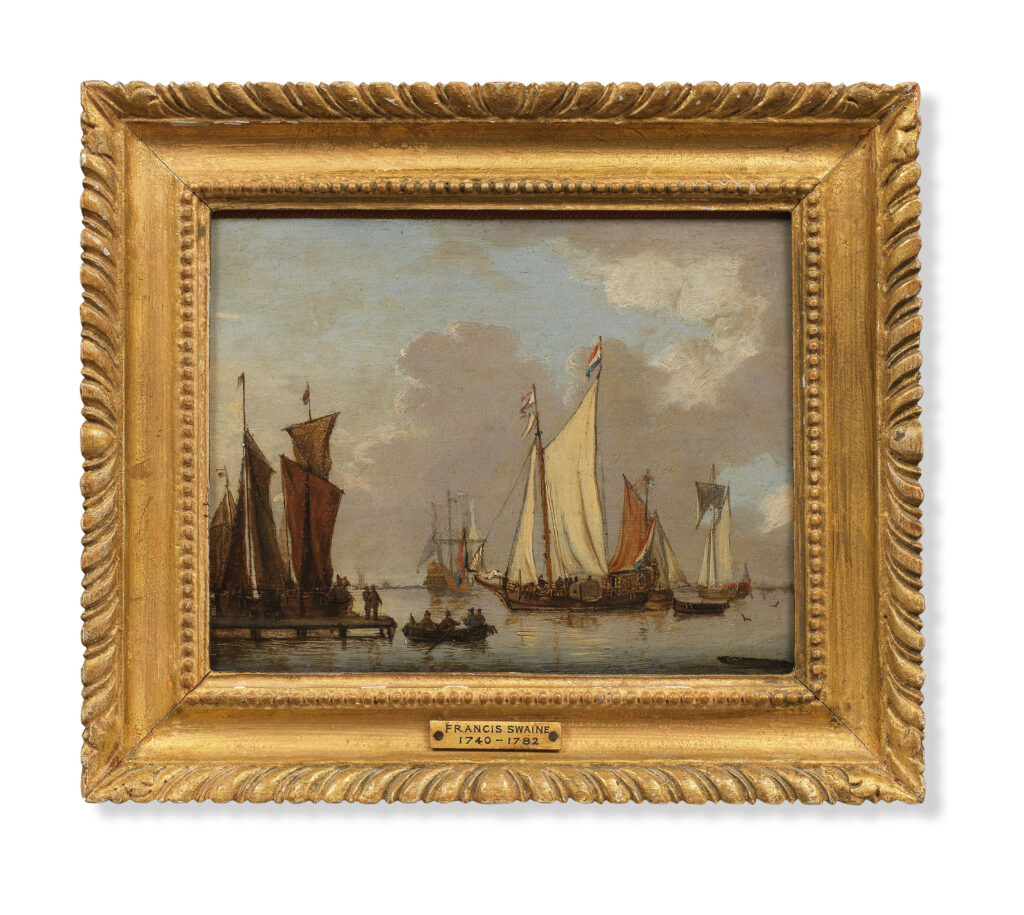 Medium:
Oil on Copper
Category:
Dimensions:
12.7(h) x 15.3(w) cms
Framed Dimensions:
17.5(h) x 20.5(w) cms
Signed:
signed 'F.Swaine' (on spar, lower right)
Paired with:
Essay:
The marine artist Swaine was much influenced by Peter Monamy, who was also his teacher for a time. He married Monamy's daughter, Mary, in 1749 and had two children, one of whom they named after his grandfather. Monamy Swaine was to become a marine painter in his own right. Charles Brooking was another contemporary and a close friend of both Swaine and Monamy, although much of his work is more obviously influenced by Willem van de Velde the Younger. Certainly these three painters employed the formula used by van van de Velde to great success but all display a considerably more informed knowledge of English shipping and its Navy.
Swaine enjoyed a considerable reputation in his day and exhibited regularly at both the Free Society and the Society of Artists exhibitions from 1762 until his death in 1782. He chiefly sent studies of shipping in calm and stormy seas, and harbour views, and naval battles, often on a small scale.
Francis Swaine has been confused with his father, also called Francis Swaine, who was a Messenger for the Navy but who died in 1755.
This artwork is part of a pair.
Provenance:
With St. James's Galleries Ltd, London (according to labels on the reverse)
Sale, Phillips, London, 20 June 1995, lot 21a
Private Collection, UK, 1996 until offered
Sale, Christie's, London, 22 November 2006, lot 60
With Rafael Valls Ltd, London, where purchased by the previous owner