Francisco Michans Gargori
1777 – after 1837
The Court Aviary Keeper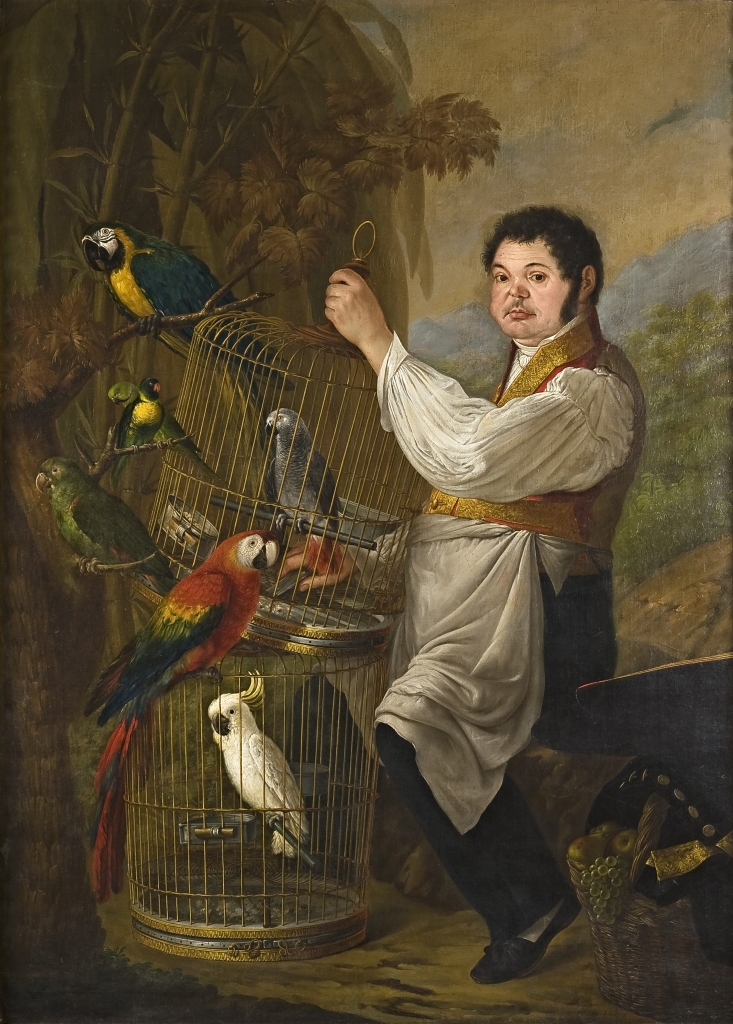 Medium:
Oil on Canvas
Dimensions:
178(h) x 128(w) cms
Signed:
Signed: "F. Michans f"
Exhibitions:
Essay:
The parrots depicted are (from top to bottom):
Blue and Gold Macaw, Masked Lovebird and behind it a Parakeet, African Gray Parrot, Mealy Amazon, Blue-Eyed Cockatoo and Scarlet Macaw.
This highly important and rare portrait of a court servant was obviously a special commission made by the Infante. It should be assumed that this was painted around the same time as the two portraits of the royal poodles, presumably in an attempt to capture the family's pets in paint. The fact that the parrots' keeper is depicted with them is perhaps testament to his character, popularity and loyalty to the royal family. His elaborate waistcoat and richly embroidered hat lying on the fruit basket would suggest that he held an important position within the household. His nature can easily be determined by his friendly, engaging smile and his characterful face. Sadly, we can only speculate as to his true nature as no documentary evidence survives describing this fascinating man.
Provenance:
Probably commissioned by the Infante Francisco de Paula de Bourbon;Spanish Private Collection
Literature:
J. Lopez Terrada: "Nuevos datos sobre el pintor valenciano Francisco Michans Gargori", Archivo de arte valenciano, 2000, vol. 81, p. 39-44.