Bartolomeus Breenbergh
1598 - 1657
The Levite and his Concubine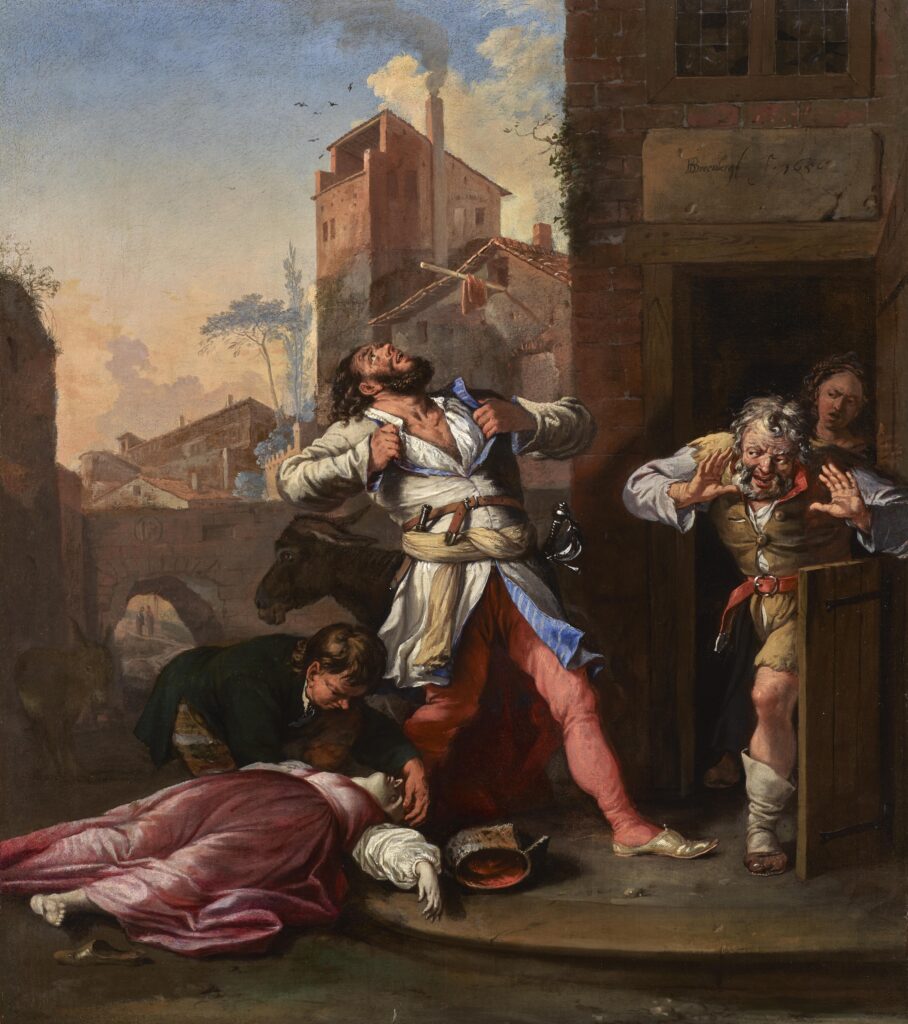 Medium:
Oil on Canvas
Category:
Dimensions:
57.5(h) x 50.5(w) cms
Signed:
Signed and dated above the doorway 'Breenbergh 1656'
Essay:
This recently discovered Biblical scene is one of very few paintings by Bartholomeus Breenbergh to feature figures and narrative so prominently and is almost certainly one of the last artworks he ever completed. One can notice parallels in the composition and the anguished expression of the central figure in The Death of Abel in The Royal Museum of Fine Arts, Antwerp.
The subject of this painting is extremely rare in Dutch painting of the time. As told in the Book of Judges (19-21) the Levite and his concubine (some translations refer to her as his wife) were travelling through Israel. They met an old man in the area controlled by the Benjaminites who allowed them to sleep in his home that night. During the night men from the town came to the house to attack the couple. Instead of facing the attackers himself, the Levite sent out his concubine who was raped and murdered by the men.
The reason for Breenbergh depicting such a violent scene might lie in the contemporary events in the Dutch Republic. In 'The Embarrassment of Riches' Simon Schama describes how the 17th century Dutch often drew parallels between themselves and the Israelites of the Old Testament. Many Dutch artists used Old Testament narratives as allegories to describe their own nation's story, particularly in relation to their struggle for independence.
Perhaps Breenbergh intended this scene to represent the terrible vengeance of the Dutch. After the attack, the Levite gathered together the outraged tribes of Israel and fought the Benjaminites until the tribe was almost wiped out. In Breenbergh's time, the Dutch Republic had recently concluded the first Anglo-Dutch War (1652-54). England, a long-term former ally, was now scorned for the merciless attacks on often defenceless Dutch merchant shipping, and the two nations fought vicious sea battles. A friend had turned enemy, and the states of the Dutch Republic warred with the English on and off for several more decades until a lasting peace was eventually established.
Dr. Angela Jager of the RKD, The Hague, has researched the painting and has confirmed its authorship. The work will be included in the online archive of the RKD under number 306591 as an autograph work by Bartholomeus Breenbergh.
Provenance:
Sarasin-Vischer Collection, Basel (according to the label on the reverse)
Private collection, Switzerland.
Private collection, UK.