Jan Claesz Rietschoof
Hoorn 1652 - 1719
The Morning Gun; with numerous Figures in Boats and a Warship at Anchor in the Distance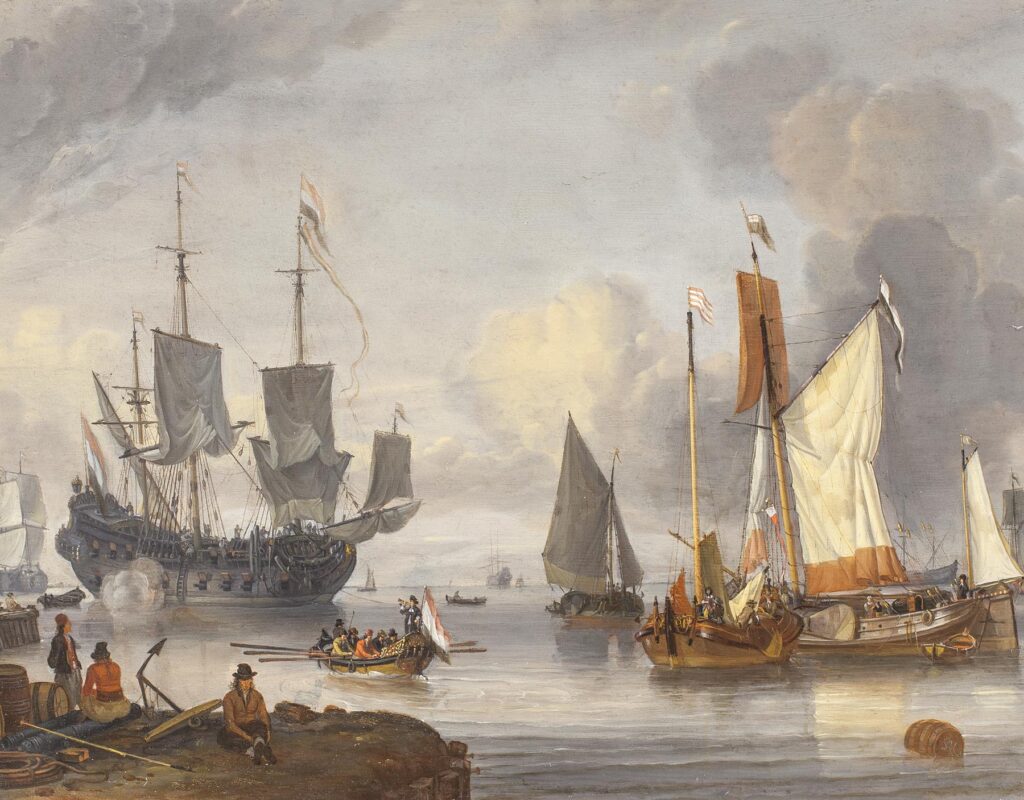 Medium:
Oil on Panel
Category:
Dimensions:
32(h) x 42(w) cms
Signed:
Monogrammed in ligature 'JCR'
Essay:
Jan Claesz Rietschoof began his career as a pupil of Ludolf Backhuysen in Amsterdam. He is best known for depicting boats at anchor or in action and the bright and dark stretches of water reflecting a sky with lively cloud effects. These are well composed and the atmosphere especially well rendered. As with Backhuysen, dark figures often occupy the foreground in front of the light coloured sea. His high finish and meticulous detail in rigging and boat design was clearly a skill he learnt from his master.
It is also clear from his work that he must have known the paintings of Abraham Storck. Stylistically and compositionally he can be extremely close to Storck to the extent that his paintings are sometimes mistaken for those of his contemporary. It is not known if these two ever met or indeed if Stock travelled to Hoorn but they must have known each others work.
He is not known to have moved from Hoorn and his son Henrick (1678 - 1746) became a well known marine painter in his own right having been taught by his father.
In a composition that is closely related to those by Storck a small rowing boat transports an important visitor to the Warship that announces both their arrival and the morning light with a blast from one of its cannon. The billowing smoke freezes in time as Rietschoof assured brushwork captures the moment. The sunlight captured on the sails of the two smaller yachts in the foreground is particularly effective and also reminiscent of the work of Storck.
Provenance:
Deaccessioned from the National Gallery of South Africa (museum label on the reverse of the painting);
Private Collection, South Africa