Josefa Ayalla de Óbidos
Seville 1630 - 1684 Óbidos
The Mystic Marriage of Saint Catherine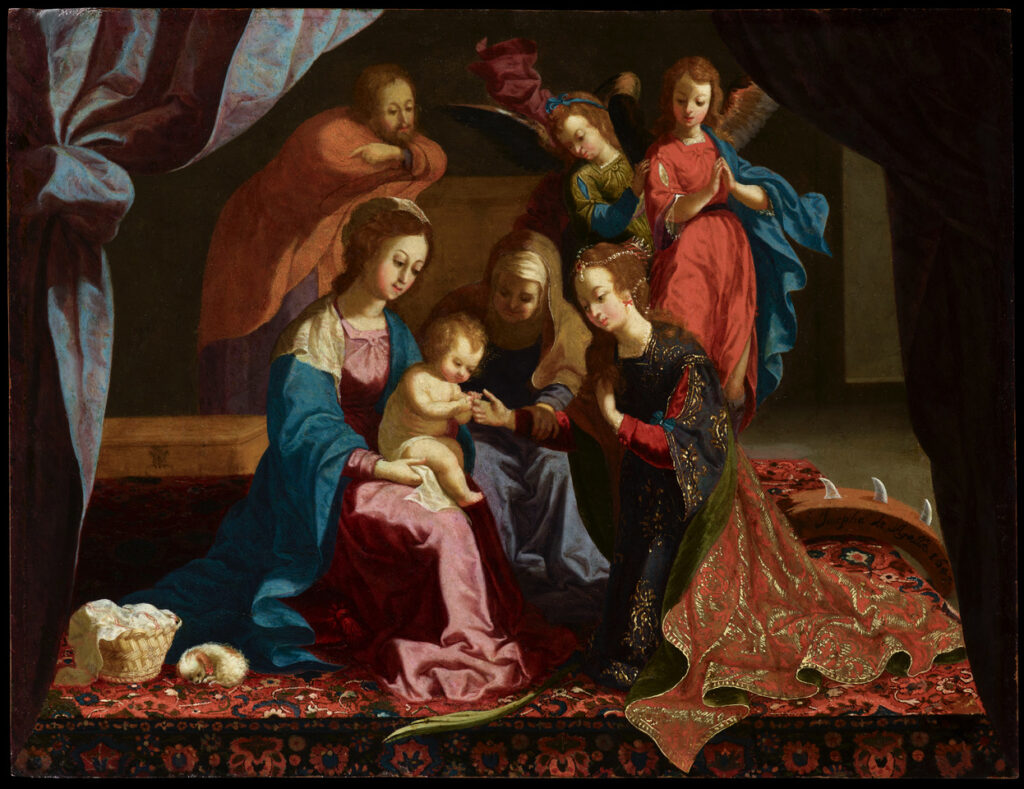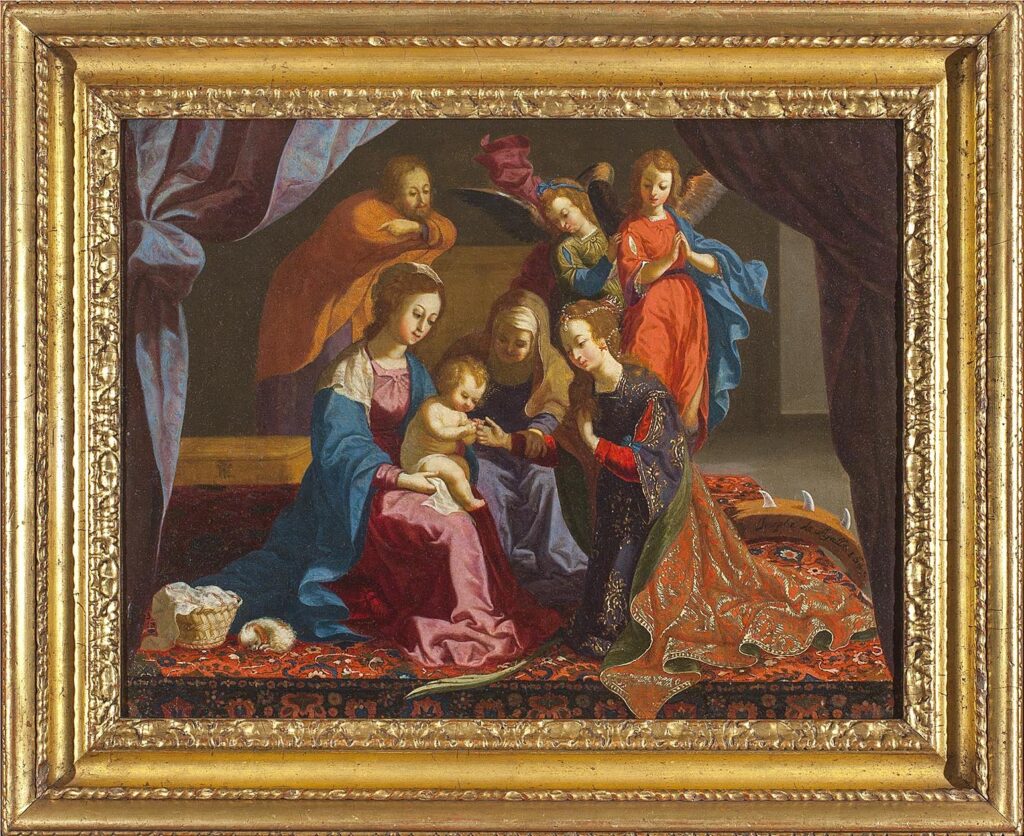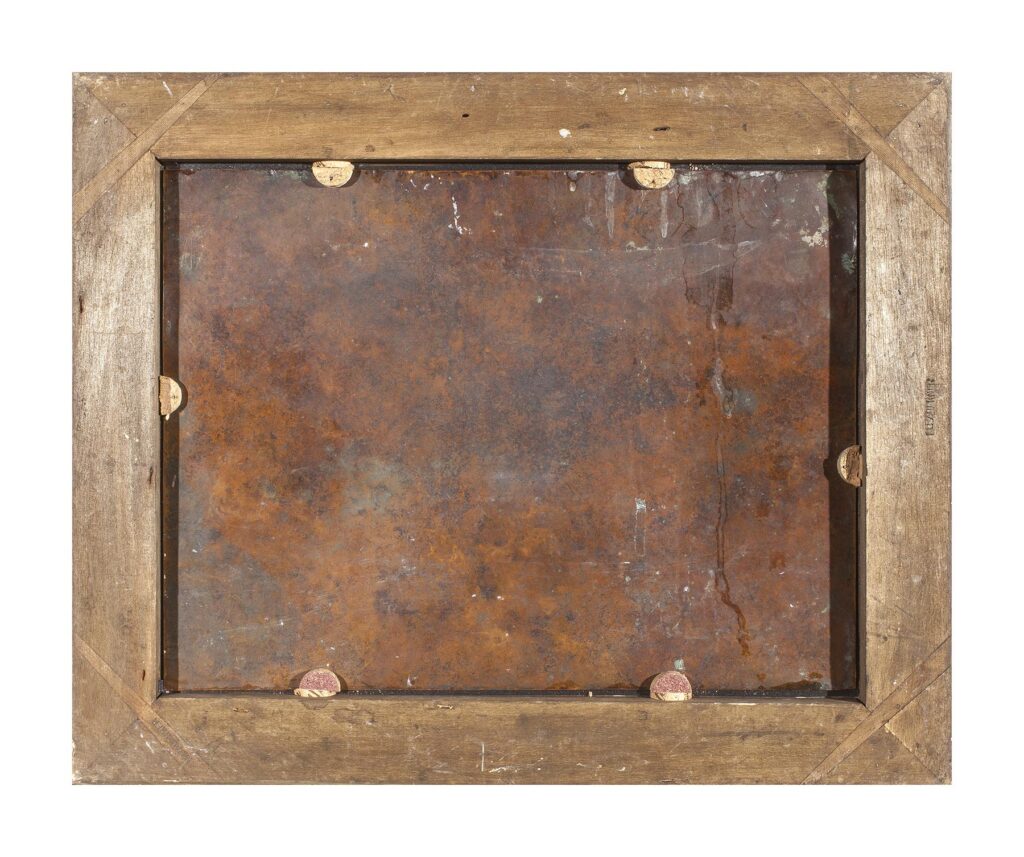 Medium:
Oil on Copper
Category:
Dimensions:
27.2(h) x 36.2(w) cms
Framed Dimensions:
37.5(h) x 45.5(w) cms
Signed:
Signed and Dated 'Josepha de Ayalla 1647'
Essay:
This small devotional copper of 1647 (her earliest known work) was a compostion that she repeated a number of times (all from the same year). Heavily influenced by Titian in its composition. She uses the painting of the same subject of 1528 by Titian (San Zanipolo, Venice), only in reverse. She knew this composition only from the engraving by Cornelis Cort, hence the reversal. Joaquim Oliveira Caetano in the catalogue of the 2015 exhibition of her work at the Museu Nacional de Arte Antiga, Lisbon mentions that four versions are recorded (pp. 69-70). She would have been only 16 or 17 at the time it was painted and so this was either an exercise in repetition to hone her skills, or more likely, proved an immensely prized object given that such an accomplished painting could be painted by such a young woman, gaining her repeated commissions.
The whereabouts of two are known, one being in the collection of the Museu de Arte Antiga, Lisbon, signed and dated 1647 (inv. 197 min), and the other in the National Museum of Soares dos Reis, Porto, signed, undated but dated by Serrão to 1647 (inv. 244 Pin). The Lisbon painting comes from the collection of King Luis I of Portugal and the version in Porto, from the Monastery of Santa Cruz de Coimbra.
The two other paintings of this subject are known from early records (perhaps until now). The 18th century art historian Cyrillo Wolkmar Machado mentioned a further copper dated 1647 which belonged, successively, to the collection of Gonçalo José Silveira Preto, then to the art dealer Francisco Cypriano and, in 1810, was sold to an English merchant (see Colleção de Memórias..., 1826, p. 62). Another painting on copper of this subject is referred to in the 'Catalogue Illustré de la Collection des Objects d'Art Qui Composent le Cabinet de Mr. Antoine Jos', Essingh, Cologne, 1865, p. 61, n. 276. Both these works remained lost until now with the rediscovery of this painting. It is tempting to link our version to the one owned by Francisco Cypriano which is recorded as definitely being dated. Its connection to an English merchant in 1810 seems to be a happy coincidence.
Provenance:
Private Collection, UK, since at least 1981
Literature:
J.O. Caetano et al, 'Josefa de Óbidos and the Invention of the Portuguese Baroque', Museu Nacional de Arte Antiga, Lisbon, 2015, pp. 69-70