Franciscus Gysbrechts
1649 - after 1676
A Trompe L'Oeil of a Wall Cabinet with a Violin, a Hunting Horn, Writing Implements, Silver Gilt Dishes and Engravings, the Glass Doors half opened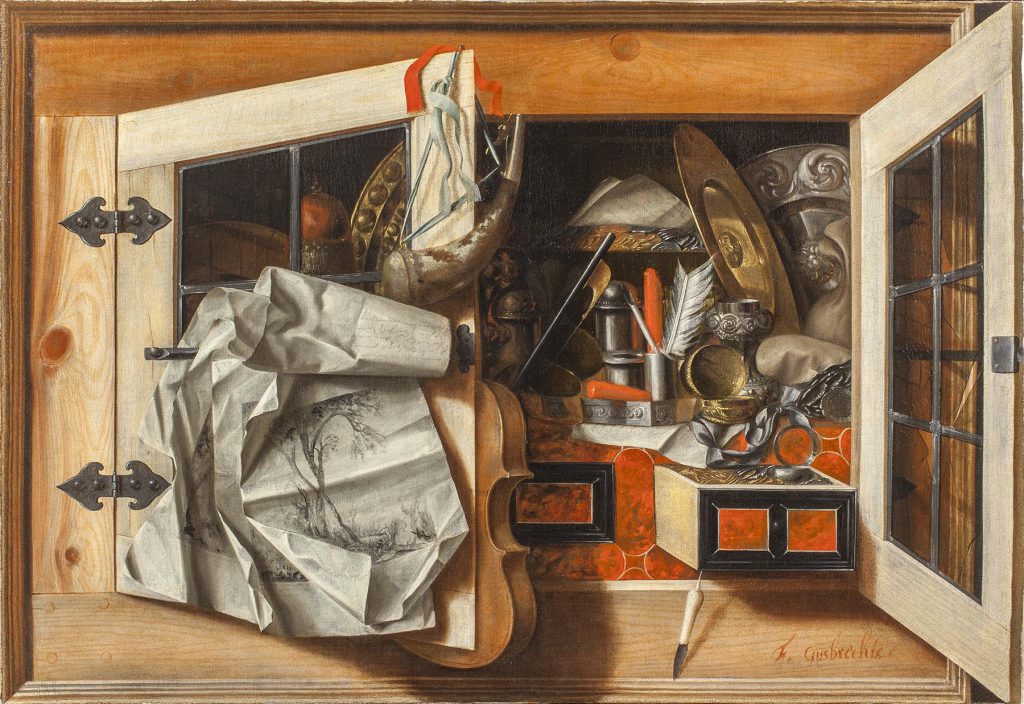 Medium:
Oil on Canvas
Category:
Dimensions:
82.2(h) x 118.8(w) cms
Signed:
Signed: 'F.Gysbrechts'
Essay:
One of the more elaborate compositions in Franciscus' oeuvre the painting is the epitome of the collector's cabinet and a more personal form of the Wunderkammer. His father's use of the clever conceit of a half opened cabinet tended to be somewhat simpler and Franciscus took it a step further, making it a more complicated arrangement.
A trompe l'oeil by Franciscus Gysbrecht of similar dimensions and very similar composition (in particular the tortoiseshell and ebony cabinet drawers), yet with slight differences, is in the Schloss Fasanerie, Eichenzell (Fulda, inv./cat. nr FAS B 539t; see: M. Braun, Cornelis Norbertus Gijsbrechts und Franciscus Gijsbrechts, Berlin, 1994, p. 190-191, nr. 2.2.14, ill.). Similar works depicting half-open wall cabinets by Franciscus Gysbrechts were with C. Frank, London in 1954 and sold at Galerie Koller, Zürich, 20-23 March, 2007, lot 3054. A further example with opened doors and previously with Rafael Valls Ltd is in the Iris & B. Gerald Cantor Center for Visual Arts, Stanford, inv/cat.nr 1999.190.
Provenance:
Private Collection, Belgium, for at least 30 years