Abraham Van Diepenbeeck
1596 – 1675
Two Saints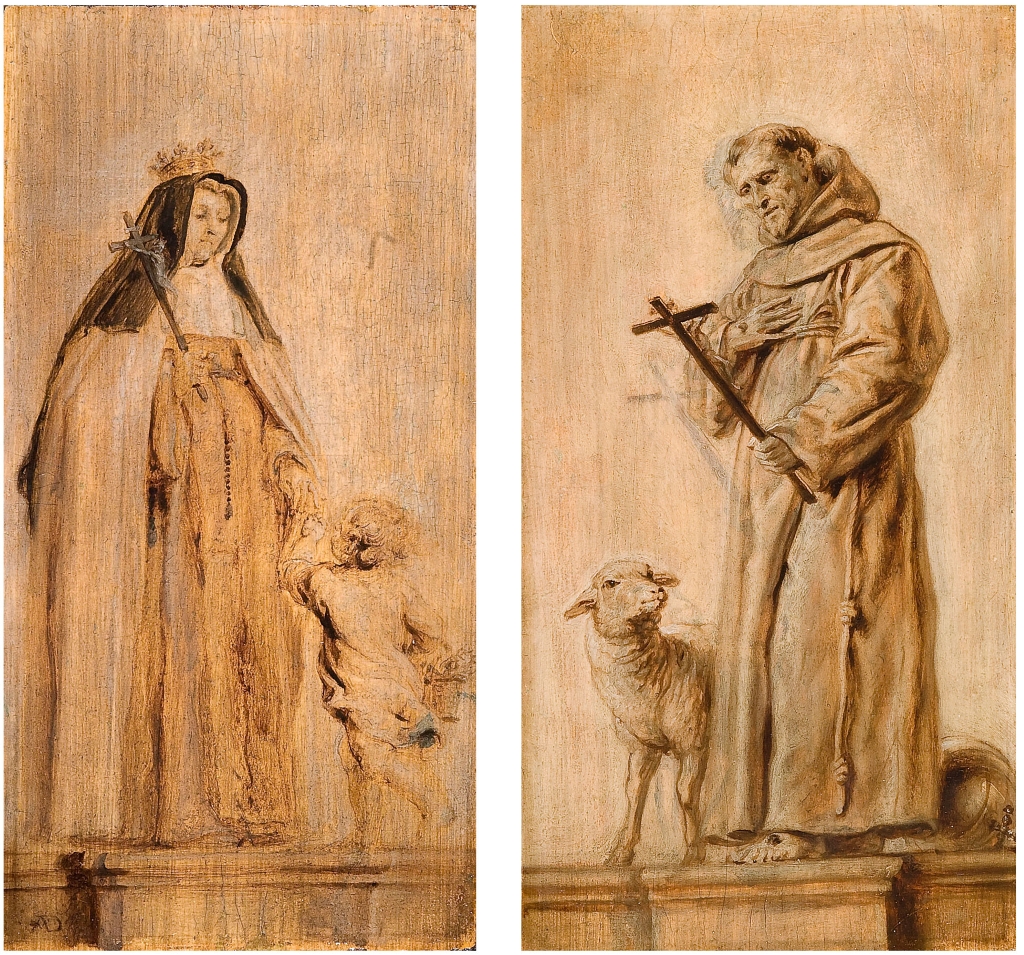 Medium:
Oil on Panel
Category:
Dimensions:
25(h) x 13(w) cms
Signed:
The former Signed with Monogram 'AD'
Essay:
Abraham van Diepenbeeck began his career as a pupil of his father Jan Roelofsz van Diepenbeeck, a distinguished painter on glass. Having moved from his native town of 's-Hertogenbosch, the young Diepenbeeck was elected a member of the glass painters Guild in 1623. By 1636 he had become a burgher of the City of Antwerp. In 1637 he married Catherine Heuvick and they had eight children. Catherine died and four years later, in 1652, Diepenbeeck married Anna van der Dort with whom he fathered a further four children. As a glass painter he was in great demand and the City of Antwerp bestowed an ever increasing number of commissions on him. One of his most celebrated works is the window in Antwerp Cathedral, painted in 1635 and still visible today. However, conscious of the fragility of works on glass, Diepenbeeck gradually scaled down his activities involving this medium and instead joined the studio of Pieter Paul Rubens.
Here he flourished and became a close friend of his master, often asking specifically to help the great painter on particularly important commissions. His most obvious talent, however, lay within the field of grisaille oil sketches and engravings. He visited Italy twice, once in 1627 and again in 1638, this time with Jan Thomas van Ypern. He was a fervent Jesuit and, as a result, much of his work is highly religious with a great deal of mysticism, which became more evident in later life. So much so that it began to affect the quality of his work. Despite this, commissions came quickly to him and some of his most accomplished works were produced in England. One particularly brilliant example was produced after he was summoned by King Charles I to work on a project covering the campaign of William Cavendish, the Duke of Newcastle. Having completed this commission Diepenbeeck returned to Antwerp, where he remained until his death.
These small paintings are characteristic works by van Diepenbeeck, datable to circa 1650 or shortly afterwards. They were painted in preparation for Michel Natalis' engravings of the same subjects. Both panels are inscribed on the verso with the initials A.A. and brushed with old inventory numbers 91 and 92, respectively.
Provenance:
Traditionally thought to have formed part of the Brand Hollis Collection, The Hyde, Ingatestone, Essex
Literature:
The engravings based on these pictures are meticulously described in
J.S Renier: "Catalogue de l'Oeuvre de Michel Natalis graveur Liégois", Liége 1871, pp. 58-59, cat. nos 48 and 50.