Jan Fyt
1611 – 1661
A Hunting Dog with Game including Partridge, a Woodcock and various Song Birds at the Foot of a Tree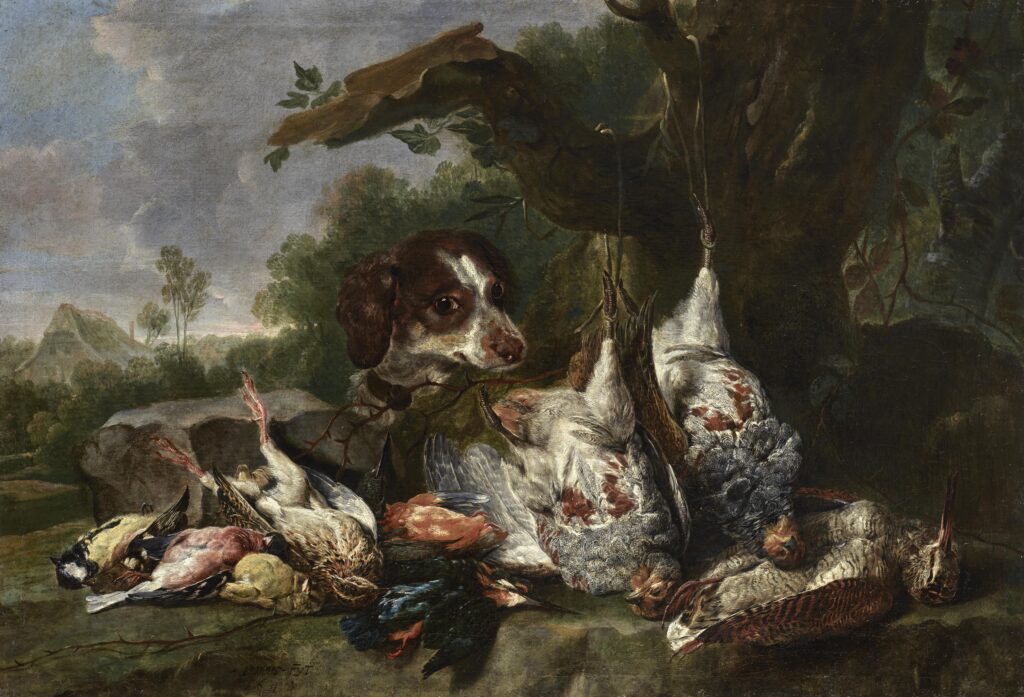 Medium:
Oil on Canvas
Category:
Dimensions:
58.6(h) x 85(w) cms
Signed:
Signed and Dated '.IOANNES.FYT. / 1648'
Essay:
Joannes Fyt was born in Antwerp and at the very young age of eleven was apprenticed to Jan van den Bergh. Having trained there for a few years Fyt moved to the studio of Frans Snyders whose paintings of game birds with hounds and larger hunting scenes with stags, bears and wild boar were to influence the young artist immensely.
Fyt became a Master in 1630 and three years later moved to Paris. In 1635 he moved on to Italy where he travelled extensively, visiting Venice, Rome and Naples.
In 1641 Fyt returned to Antwerp and, apart from a brief visit to Holland in 1642, he was to remain in his home city for the rest of his life. In 1654 he married Joanna Francisca van den Zande and they had four children together.
Joannes Fyt is known to have collaborated with other painters such as Jan Brueghel the Younger, Erasmus Quellinus, Theodor van Thulden and Thomas Willeboirts in his larger paintings, with these artists supplying the figures. However, the artist was supremely competent in his execution of smaller paintings, rendering fur and feathers in a masterly fashion. Most of his paintings are signed, usually in full, and from 1638 he often dated his paintings, giving us an excellent understanding of his artistic development.
Joannes Fyt is known to have painted some flower pictures; these are extremely rare but show no less skill in their execution. His most important pupil was Pieter Boel.
Provenance:
Private Collection, Tuscany;
Acquired from the above by the previous owner approximately 40 years ago