Melchior and Gijsbert Gillisz. d'Hondecoeter
1636 – 1695 and c. 1575 – 1638
A Menagerie of Exotic Birds in a Landscape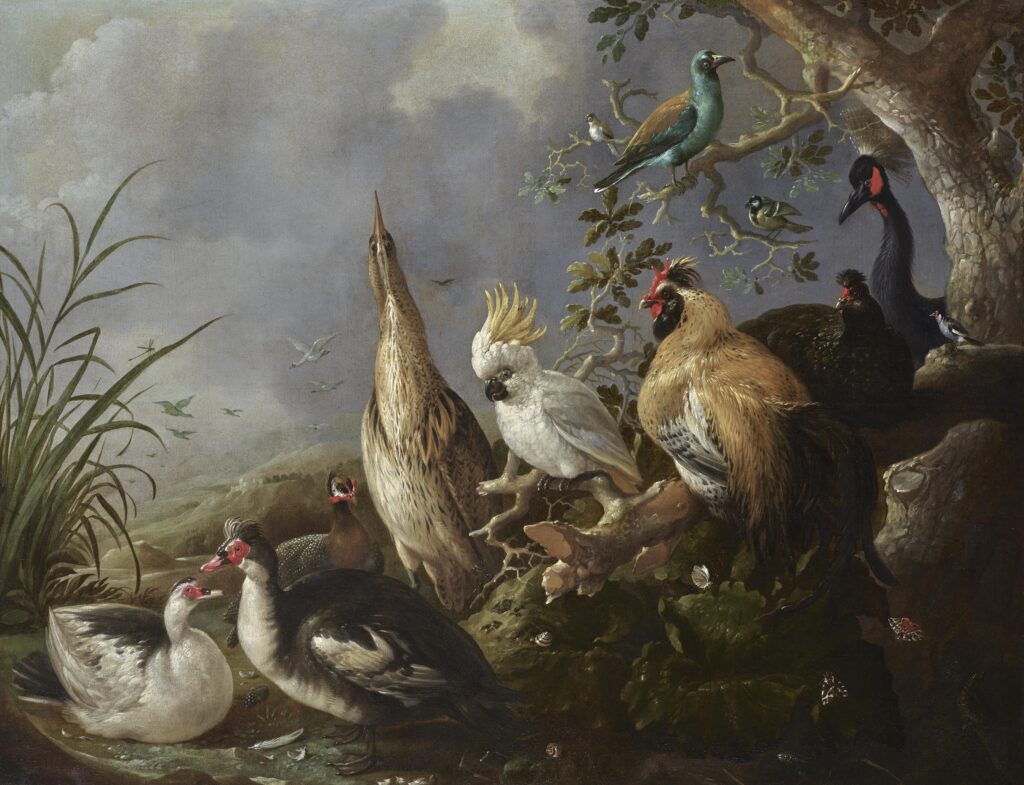 Medium:
Oil on Canvas
Category:
Dimensions:
100.3(h) x 139.6(w) cms
Signed:
Signed 'M.D.H.F'
Essay:
Melchior d'Hondecoeter was a pupil of his father, Gijsbert Gillisz. d'Hondecoeter, in Utrecht. He started work in the Hague and by 1663 had settled in Amsterdam. After his father's death in 1653 he continued studying under his uncle Jan Baptist Weenix, whose works were to prove more influential to the young artist.
Hondecoeter seldom departed from the subject matter of depicting wildfowl, poultry and other exotic species of birds in landscape and farmyard settings. He was acknowledged even in his own lifetime as the master of Dutch bird painting, although many extremely fine still lives by Hondecoeter also exist. These consist mostly of dead game with hunting implements and show just as much attention to detail as in his paintings of live birds.
A natural draughtsman with brilliant powers of observation, Melchior excelled at catching the movement of birds in full action. He often included turkeys or cockerels duelling, or birds of prey flying in to attack, which added considerably to the drama of his work. One of his most interesting innovations was to cut off plants or birds at the edge of a painting, a technique that greatly increases the feeling of naturalness. Melchior introduced classical features into many of his paintings which tends to give them a slightly Italianate feel.
Hondecoeter's works were highly regarded in late seventeenth century Holland, and were to greatly influence many of the 18th century painters of the same genre.
The depicted birds include: muscovy ducks; guinea fowl; an Eurasian bittern (stretching its neck as it typically does); a sulphur-crested cockatoo; a secretary bird; a great tit; a goldfinch; chickens and a European roller next to a firecrest.
This intriguing composition appears to be a very early work largely painted. Joy Kearney has suggested that this may be a collaboration between father and son.