Christoffel van den Berghe
1588/9 - 1628
Christ with St John the Evangelist and Nicodemus seated at a Table in a candlelit Interior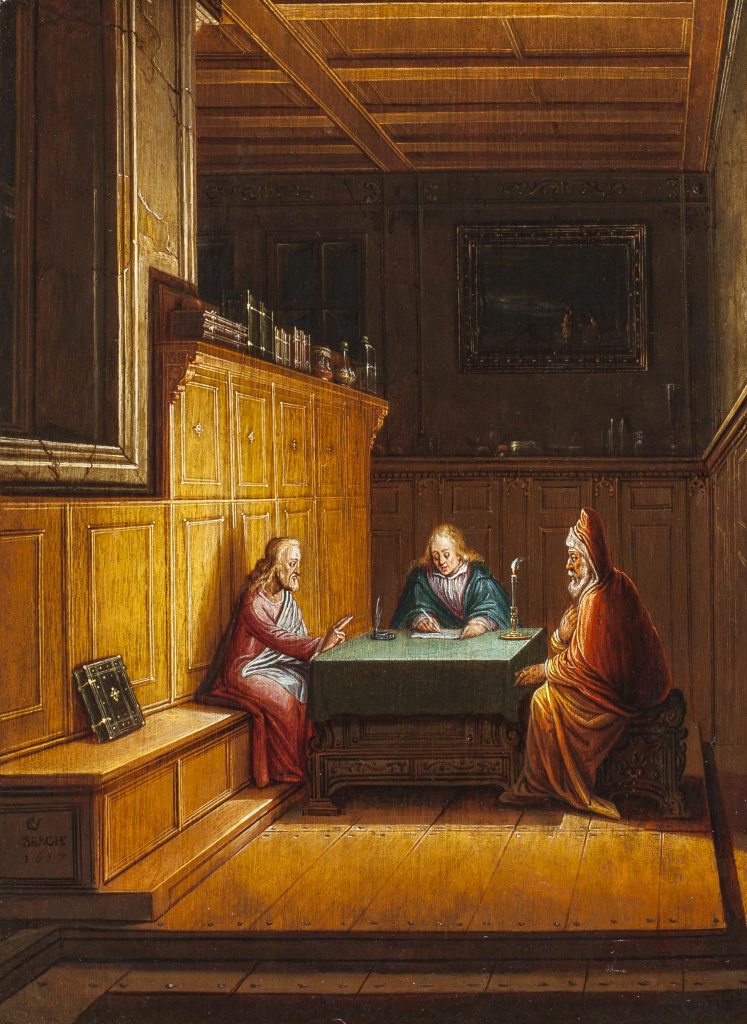 Medium:
Oil on Panel
Category:
Dimensions:
22.6(h) x 16.5(w) cms
Signed:
Signed and dated lower left: "CV/BERGHE/1617"
Essay:
Christoffel van den Berghe is a comparatively elusive painter, who is known only from documentary records, but whose oeuvre has been recently rediscovered and carefully studied.
He painted mostly in Middleburg and was probably the pupil of Ambrosius Bosschaert the Elder, the famous flower painter. He is most well-known for his still-life and landscape pictures, which show some influence from Jan Brueghel the Elder, Adriaen van de Venne and Mathijs Molanus. Two well-known pictures by him of summer and winter are in the Dordrecht Museum. There are currently only two known signed and dated (1617) works by van den Berghe, one of them being a flower still-life in the Johnson Collection, Philadelphia (Cat.648) which illustrates very well his debt to Bosschaert. Indeed his skill was such in this genre that he was sometimes confused with his former master. There are thought to be about another five still-lives of different subjects (including a Vanitas in a private collection) by him. He also painted a few interior scenes both religious ones, taking subjects from the New Testament, and secular ones, including a kitchen interior dated 1642.
Van den Berghe was, at an unknown date, also commissioned to decorate the Church in Middleburg after it was damaged by fire. In 1619 he became a member of the Guild of St. Luke in Middelburg and in 1621 was elected Dean. A document dated 1626 states his intention to marry one Mayken Jans van Giffen, although she later refused to accept him as her husband.
This rare religious subject by the painter is dated 1617 and so along with a flower still life in the Philadelphia Museum of Art they represent the earliest dated works by the painter.
The present scene is taken from the Gospel of John. Nicodemus was a Pharisee with Christian sympathies who came to the house where Jesus was staying under cover of darkness. He wanted to learn and to ask questions about the miracles which Jesus had been performing around Galilee. During this meeting a discussion about what it is meant to be born again occurs, one which is of significant importance and debate in Christian theology.
In the picture we see Nicodemus in his Pharisee's robes seated at a table in a panelled interior. The gestures of Jesus and Nicodemus suggest that of a teacher and student, while John sits in the background writing down the words spoken to be later entered into the Bible.
Provenance:
Mrs Speelman, London;
with Sam Nijstad, The Hague, October 1957;
Purchased in September 1958 by Dr. George S. Heyer, Jr. (1930-2015), USA