Dirck Van Delen
1605 – 1671
The Interior of St. John Lateran in Rome with an Artist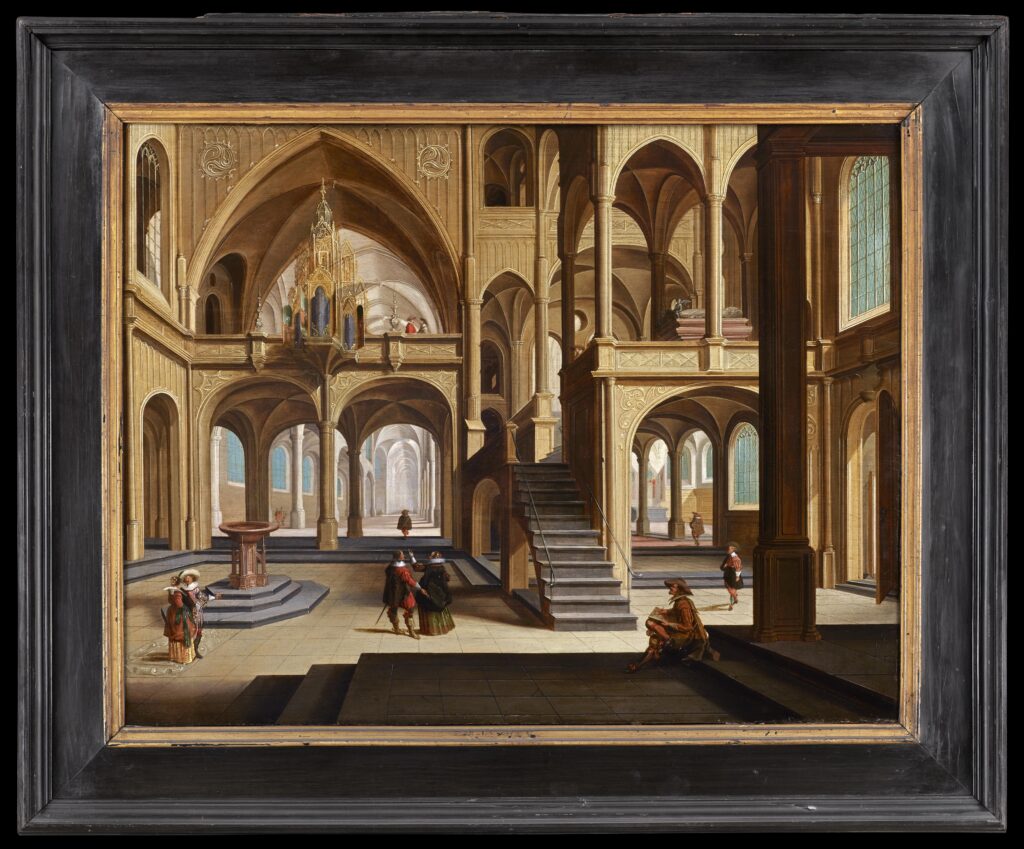 Medium:
Oil on Panel
Category:
Dimensions:
54.2(h) x 69.8(w) cms
Framed Dimensions:
73.5(h) x 89(w) cms
Signed:
carved 'F † ɔ c ɜ' (to the Reverse)
Essay:
Dirck van Delen discovered his abilities as a remarkable painter of architectural compositions at a young age working from the prints of Hans Vredeman de Vries (1527 – 1609). He concentrated on painting interiors of palaces, great halls, fictitious church interiors and extensive garden panoramas with consummate skill. His paintings show the same attention to architectural detail as those of the celebrated master of this subject, Hendrick van Steenwijck (c.1580 – 1649).
In 1639 van Delen was elected a member of the Guild in Middelburg and records show that he paid his annual subscription there until 1666. In his early years van Delen travelled to Italy and it is probable that he was there in 1623, but by 1625 he was married and back in The Netherlands, living in Middleburg. However, he was to settle in nearby Arnemuiden, where he became master of the toll house. From 1628 he was almost continually a member of the town council, usually as a burgomaster. From September 1668 to September 1669 he is recorded as living in Antwerp. He was widowed three times and had at least one son, though no child survived him. At his death in 1671 his estate was quite considerable, clearly augmented by his success as a painter.
This interior view of St. John Lateran is after an engraving by Jan van Londerseel c.1600 which is itself after a painting by Hendrick Aerts. Aerts' original is now lost, but the engraving spread across the Low Countries. It must have been immensely popular as Bernard Maillet in 'Intérieurs d'églises: la peinture architecturale des écoles du nord: 1580-1720' records about 50 versions.
While in Londerseel's print the inscription explicitly names the location as St. John Lateran, before the Baroque remodelling of the church around 1650 the nave had four aisles rather than the three which appear in Londerseel's print and subsequent painted versions, including the present picture. This would indicate that the view is a capriccio rather than an intimate likeness of St. John Lateran.
Van Delen has reduced the amount of intricate carvings, fluting, and statues of saints, deviating from Londerseel and Aerts and thus 'protestantising' the church. The other main difference is in the staffage. In the Londerseel print, kneeling on the corner of the steps in the foreground, is the Pope. In the present picture van Delen has replaced the Bishop of Rome with something more secular (and possibly even autobiographical) - an artist sketching the architecture.
Provenance:
Vincent Amore (according to a seal on the reverse).